5 Bournemouth Stag Weekend Activities
You didn't know you could do in Bournemouth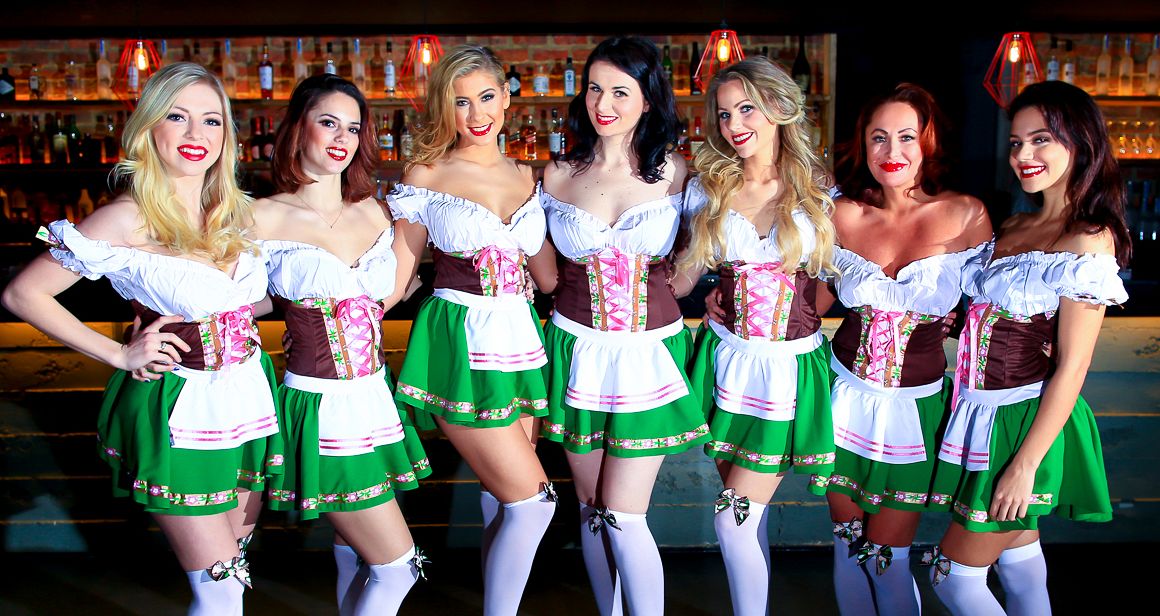 Being based in Bournemouth gives us a unique perspective on the many great activities we have available for your Bournemouth stag weekend. It certainly has all the high octane activities you would expect from a major stag weekend destination, however there are a great many hidden gems that may not spring to mind when planning your stag weekend in Bournemouth. So here's our pick of the 5 activities you probably didn't know you could do in Bournemouth.
Bar Crawl Babes
What could be better than being escorted by some beautiful ladies dressed up like Bavarian beauties (think Oktoberfest!) around all the best nightspots Bournemouth has to offer, at each venue, you simply bypass the queues like the VIPs you no doubt are. The free entry allowing you to keep your beer kitty intact, for now anyway. Take your seats at your table and let our gorgeous beauties wait on you, if you're luck you might even get a little service bell to let her know you're in need of some attention. These girls are amazing fun and will go to the bar for you, take care of your beer kitty and play some classic games with your stag weekend group, which, will probably involve a little drink or two! Bar Crawl Babes are a great activity for your Bournemouth stag weekend to get to know the areas top nightlife for your first night in town.
High Ropes
High in the trees of a well known nature reserve a great adventure takes place in the form of the high ropes course. Not for the feint hearted, this tree top assault course will get your blood pumping as you traverse along a specially designed course with rapid ziplines, demanding scramble nets and tummy churning swings. You'll be forgiven for letting out a Tarzan holler as you rip it down a zipline at electrifying speed, although maybe forgo the Tarzan fancy dress as it gets a bit colder the higher up you are! The High Ropes Course is a great stag weekend activity that'll test your mental skills as well as physical well worth bringing an action camera for this activity, if only purely for the bants material!
Brew your own beer
One for real ale aficionados everywhere, this fantastic stag weekend activity takes you behind the scenes and lets you become a Master Brewer for the day and create your own beer. Our master brewer will introduce you to the various types of hops and the colour and flavours you get when combining various 'notes' to your brew. At the end of the session you'll be able to purchase a cask of your very own to either take home with you or devour it in your hotel room with the lads! The choice is yours.
Party Boat
Starting in Bournemouth, you and other groups are picked up on Bournemouths legendary party bus, and there, with the tunes banging and booze flowing with no shortage of dancing and chatting up the numerous hen groups n board, you'll head to the worlds largest natural harbour, Poole where you'll go onboard the amazing party boat, with its 2 deck levels, dancefloor and fully loaded bar you'll cruise around Poole harbour safe in the knowledge you won't upset any neighbours with your noise levels. A quality sound system and DJ will ensure you're all up and dancing having the time of your life on this floating nightclub, it really is, clubbing with a difference, and what better way is there to celebrating your stag weekend.
Coasteering
Bournemouth is definitely best known for its long reaching beaches, however It's not all about sun, sea and sand. It's also home to a UNESCO world heritage site, The Jurassic coast. A staggering 96 miles of historic rugged coastline stretching from East Devon all the way into Dorset, and it's here you get to experience Coasteering. By utilising the dramatic features of the Jurassic coast at the famous Dancing Ledge, you'll learn from experienced instructors the best way to navigate and tackle the coast using climbing, bouldering and, of course, swimming to traverse your way along one of the most beautiful parts of the Jurassic Coast. CoasteeringCoasteering is a great stag weekend activity and will test your abilities to the limit. Perfect for stag groups who love outdoorsy activities.
These are only a few of the many activities we have available in Bournemouth, we have close to one hundred more to choose from so if you would like more information on any of the above or would like to find out what other great Bournemouth stag weekend activities we have for your groups to do in Bournemouth get in touch with one of our stag weekend specialists on 01202 566100 or on this email address sarah@staghenexp.co.uk