Best Winter Hen do destinations
Something for everyone.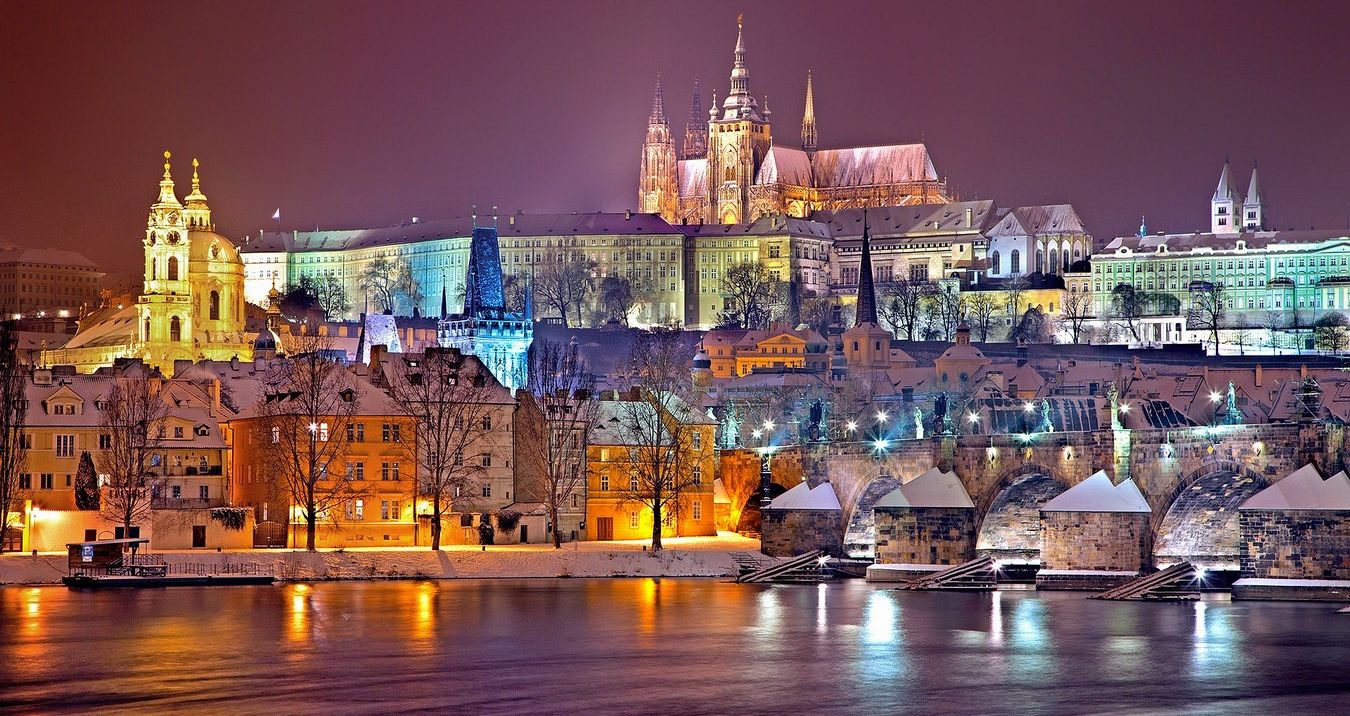 Pictured: Setting the beautiful scene in Prague in wintertime.
Best Winter Hen do destinations
A winter wedding means either an autumn or winter Hen do, but often raises the question, where is going to be good to go at that time of year? The simple answer is that it depends on what you're after, and the great news is there are literally hen do destinations that tick whatever box you're looking to tick, perhaps even more so than summer hen dos. Wherever you're planning to go on your hen weekend there are some prerequisites, first you'll likely want somewhere with year round nightlife, secondly and more importantly it has to have enough activities and things to do so your besties will have a memorable weekend that they'll treasure forever. As ever, we are here to assist in your decision with our carefully curated selection of what we think are the best winter Hen do destinations.
Prague
With its epic nightlife and budget friendly prices, Prague is without doubt one of our favourite Stag and Hen weekend destinations in the summertime, but, so long as you prepare for the weather with lots of warm clothes, it is also one of our best winter Hen do destinations as well. Prague in the winter is much less busy than in the summer, but that means that you have a chance to enjoy the city without being crowded, and Prague under a blanket of snow is a picturesque wonderland straight from a postcard. Prague in winter still has an epic nightlife, but it also has free pop up ice rinks for you to enjoy and in December there is also the wonderful Christmas Market. Whenever we are asked about best winter Hen do destinations, a Prague hen weekend is always an great option.
Bath
Bath is another city which makes our pick for best winter Hen do destinations, simply because it is one of our favourite Hen do destinations. A Bath hen weekend ticks all the boxes, it's classy, the night time scene is lively and you are guaranteed some amazing photos of this beautiful little city with its magnificent architecture. What better time of year than the winter to visit the thermal baths and luxuriate in the warm waters, revered by the Romans for their supposed healing properties? Winter in Bath is a season for hikes across the countryside before relaxing in front of roaring fires in cosy pubs, or maybe for a browse of the Christmas markets in December, under twinkling lights and bustling with festive spirit, before donning your sashes and L plates for a big night on the town. Bath is just as good a place for a Hen weekend in the winter as it is in the summer and had to be included in our selection of best winter Hen do destinations for that reason as much as any other!
Berlin
With a well-earned world-wide fame an outrageous night life, it seems only right to include a Berlin hen do in any pick of best winter Hen do destinations. Berlin gets cold over the winter, with temperatures dropping as low as -10 degrees centigrade, but the nightlife stays as wild as ever! If it snows while you are there, find a hill and you can usually rent sliders to slide down the snowy hillsides and set free your inner child. Berlin is always a popular city for Hen weekends and is much cheaper to visit in the winter than in the summer and is fortunately well equipped with cosy cafes and bars, strange museums like the Computerspielmuseum, a museum for computer games, or the Currywurst Museum, for those who need to know more about this famous street food. In December there are a plethora of Christmas Markets to be visited, one with an ice rink and Europe's longest toboggan slide, another in the grounds of a castle, there is an x rated adults Christmas market if you are up for a giggle, and even a vegan Christmas market for those with a plant based diet!
Barcelona
Moving south for a bit of sunshine on your Hen weekend, our next choice for best winter Hen do destinations is the perennially popular Barcelona hen weekend. What is not to love about Barcelona as a Hen do destination? You have some amazing shopping, a nightlife that never sleeps, breath-taking architecture, beautiful sandy beaches and a bit of sunshine even in the winter! Winters in Barcelona are extremely mild, with temperatures rarely dropping below 6 degree centigrade and without the overwhelming summer crowds, a crisp winters day in the bright sunshine can be the ideal time to enjoy this historic city. If winter sports are your thing you are also only a two hour bus ride away from the ski slopes of Girona, so if you really need some snow you don't have to go too far to find it! Rain or shine there is always something to do in Barcelona in winter, from appreciating the splendour of the Gothic Quarter without a thousand other people pushing past you, to indulging in your favourite Spanish food and drinks, or taking a bus tour of the city with your girls before hitting the town for your big night out, Barcelona is a destination which delivers the goods for your Hen weekend year round, so it has to be on our list for best winter Hen do destinations!
Tenerife
Our final entry for best winter Hen do destinations is that island of eternal spring, Tenerife. Tenerife is the winter Hen weekend destination for those Hens who don't like winter! This volcanic island in the South Atlantic is a tried and tested Hen weekend location and the sun drenched south of the island basks in warmth year round. The resorts of Las Americas and Los Cristianos are geared towards large numbers of tourists year round, however as the winter is considerably less in demand than the peak summer season you can get some fantastic deals on accommodation and flights to the Canary Islands during the off season months. For those who want a bit of snow, Mount Teide tends to be snow-capped during the winter months, leading to situation where you can spend the morning topping up your tan on the beach and the afternoon wading through snow at the peak of Mount Teide. A Tenerife hen do is a must for some summer sun.
The Stag and Hen Experience has been creating the best bespoke hen weekends since 2009, so, if you're looking to plan a hen weekend package anywhere in the UK or abroad, get in touch on 01202 566100 or via this email address admin@staghenexp.co.uk and one of our expert hen do organisers will help you put together a fantastic hen weekend package for you and your group.