Free and cheap things to do on your Birmingham Hen weekend
Loads on offer!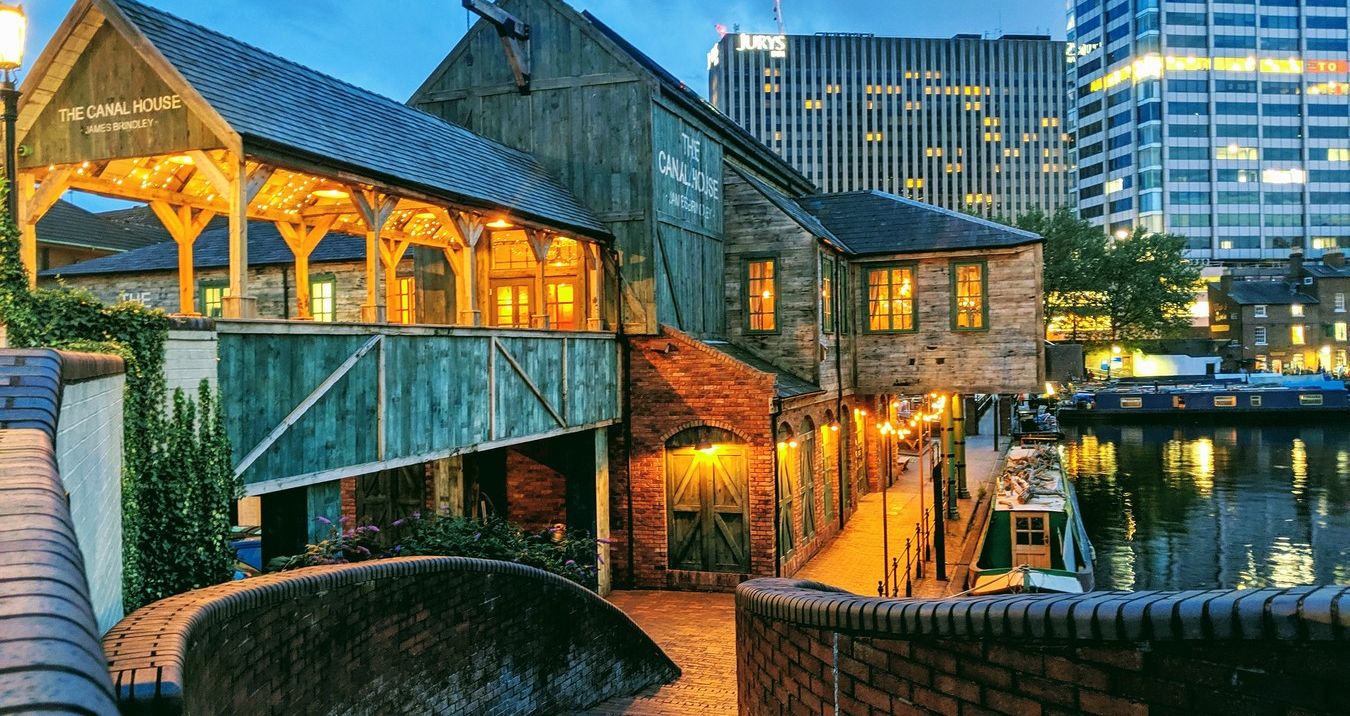 Pictured - The charismatic Canal House
Free and cheap things to do on your Birmingham Hen weekend
Often referred to as the UK's second city and being the social, cultural, and commercial centre of the Midlands, Birmingham has everything that you will need for a wild Hen weekend. While Birmingham is replete with bars and restaurants to suit all tastes, a lively nightlife and plenty of shopping, there is also plenty to do and see without breaking the bank. Here are our suggestions for free things to do in Birmingham on your Hen weekend.
First on our list of free things to do on your Birmingham hen weekend, is to suggest a stroll through the Jewellery Quarter. The Jewellery Quarter is an area of central Birmingham which has the highest concentration of jewellery businesses in Europe. It is estimated that 40% of all the jewellery produced in the UK is produced in the Jewellery Quarter. In addition to the hundreds of jewellery retailers and manufacturers, the Jewellery Quarter is also home to a thriving food and drink scene, with plenty of great restaurants, bars and cafes for you and your girls to enjoy when you are done window shopping! The Jewellery Quarter is also home to the Pen Museum, the only museum in the UK devoted to the pen making industry and the Museum of the Jewellery Quarter, which offers a unique insight into working life and the history of the Jewellery Quarter and is also free to enter.
Next on our list of suggestions for free things to do in Birmingham on your Hen weekend is a visit to Birmingham Library. A library wouldn't normally be high up on your list of things to do on a Hen weekend, however the Library of Birmingham is well worth a visit, as much as anything for the roof terraces, the Library provides two outdoor garden terraces, where you can and the girls can enjoy a picnic, but at the tenth story summit of this impressive modernist building is a panoramic viewing gallery where visitors can enjoy absolutely stunning views across the city from one of its highest points, perfect for the view and any Instagram pics you want to take.
If you have some free time and you fancy a picnic in the park during your Hen weekend in Birmingham then why not make your way to Eastside City Park? This park, opened in 2012, is free to visit and provides over 14,000 square metres of landscaped green space for you to picnic on, as well as a Canal water feature, some 300 trees and a square featuring water jets. On opening Eastside City Park doubled the amount of open green space in the city centre and has since received a Green Flag Award. A must see for any Birmingham hen do.
Further out from the city centre, in the South of Birmingham, another popular picnic venue is the Cannon Hill Park. This park covers some 250 acres and includes formal parkland as well as 120 acres of conservation and woodland plantations. Cannon Hill Park is an ideal location for a picnic or a stroll during your Hen weekend in Birmingham and there is even a lake for boating in the summer! For those Hens who feel like being particularly active on their Hen weekend, Cannon Hill Park is also the venue for the weekly Parkrun, which starts at 9am on Saturday morning. This fun and friendly 5 kilometre community event is free to enter and you can walk, jog or run, depending on how fit you feel!
Another recommendation for a free afternoon on your Hen weekend in Birmingham is to visit the Public Space at BBC Birmingham. The Public Space is open 7 days a week and offers you, amongst other things, the opportunity to try out as a newsreader or weather presenter in front of the green screen using an autocue and also the chance to take selfies with Dr Who's TARDIS and Derek the Dalek as well as the Peaky Blinders!
For those lovers of Lord of the Rings, Birmingham has its own Tolkien Trail, as befits the city where Tolkien lived, worked and was inspired. Unfortunately it is a bit too spaced out to be easily walked, however you can follow a small section from Sarehole Mill (the inspiration for Old Mill in the Hobbit) to 264 Wake Green Road (Tolkien's childhood home) and then from here to Moseley Bog (inspiration for the Old Forest) to give you a taste of the magic of Middle Earth on your Hen weekend in Birmingham!
Another free thing to do on your Hen weekend in Birmingham is to take a walk along the canals. Birmingham had more canals than Venice and, although they may not have the Venetian charm, they still make for a nice afternoon's stroll and also give you a slightly different perspective of Birmingham. Maybe visit the Famous Canal House, which boasts the largest beer garden in Birmingham for those beautiful summer evenings.
For those lovers of Baroque and Gothic Revival Cathedrals, Birmingham won't let you down. Birmingham has two cathedrals for you to visit on your Hen weekend, the Grade 1 listed Baroque style St Phillips Cathedral represents the Church of England and the Grade 2 listed Gothic Revival style St Chads represents the Roman Catholic church, both cathedrals are close to each other and extremely photogenic, if you have some free time on your Hen weekend in Birmingham.
This is just selection of the many free activities Birmingham offers your hen do. There is the IKON Gallery for those lovers of modern art, a Donkey Sanctuary and not to forget the Birmingham Museum and Art Gallery, for Egyptian Mummies and Pre-Raphaelite art. Birmingham is a bustling vibrant city, offering something for everyone on your Hen weekend.
The Stag and Hen Experience has been creating the best bespoke hen weekends away for over 12 years, so, if you're looking to plan a hen weekend package anywhere in the UK or abroad, get in touch on 01202 566100 or via this email address admin@staghenexp.co.uk and one of our expert hen do organisers will help you put together a fantastic hen weekend package for you and your group.