Free things to do on your Aberdeen Hen Weekend
Perfect for when you're not partying hard!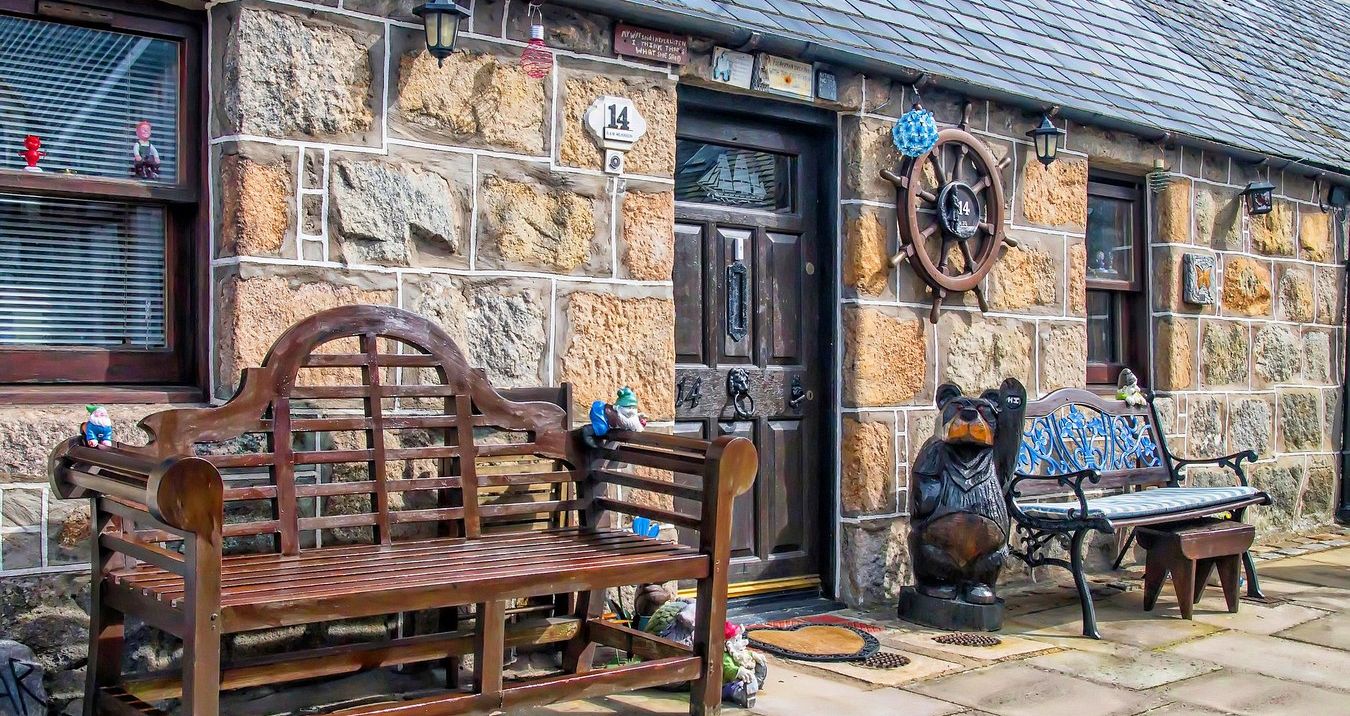 Pictured: A charismatic fisherman's hut in Aberdeen Old Town
Free things to do on your Aberdeen Hen weekend
Aberdeen is a lively cosmopolitan city on the North East coast of Scotland. Aberdeen, as the third largest city in Scotland, has a lively nightlife and is therefore ideal for a hen weekend. The city has a history dating back to the Stone Age, with evidence of settlers at the mouths of the Rivers Dee and Don dating back to 6000 BC. Aberdeen, as a city, provides a wide variety of free attractions for you and your hen do to enjoy on a free afternoon, so here is our roundup of the best free things to do on your Aberdeen hen weekend
Aberdeen Beach is just a short walk from the city centre and provides 2 miles of sandy beaches for you and your Hens to enjoy, stretching between the mouths of the Dee and Don rivers. At the south end of the beach is a picturesque 19 th Century former fishing village called Footdee (pronounced "Fittie" by the locals). Footdee will provide you with some fantastic photos for your hen weekend in Aberdeen as it was designed by the same architect as Balmoral Castle with the cottages all facing inward in squares to protect them from the fierce ocean storms. If you have a free afternoon on your Aberdeen hen weekend we would highly recommend a visit to Footdee if you really want to feel like you are stepping back in time!
No Aberdeen hen co would be complete without exploring Old Aberdeen. Although there is a gratuity based free walking tour available, this is something that you can also undertake yourselves on a free afternoon as self-guided tours are available. We would recommend a visit to Kings College, which was built by Papal Bull in 1495 to house the University and features the 15 th Century Kings College Chapel. We would also recommend a visit to the magnificent St Machar's Cathedral, which was built in the 19 th Century on the same site that St Machar established a place of worship on in 580AD. Kings College and St Machar's are free to enter and will certainly add some culture to your Aberdeen hen do!
A picnic in the park is always a great way to spend some free time on a hen weekend without breaking the bank. Fortunately Aberdeen has a number of open green spaces which are free to use including Hazlehead Park and Johnston Gardens in the west of the city, or Seaton Park in Old Aberdeen.
Hazlehead Park was opened in 1920 and is surrounded by woods, giving it cool paths and trails as well as beautiful fields. Johnstone Park is a characterful park featuring ponds, streams and miniature waterfalls and is very Instagramable. Seaton Park is right next to St Machar's and provides wide open green space bounded by a river. All of these parks are free to enter, so if the weather is on your side and you have a free afternoon, why not have a picnic in the park on your Aberdeen hen do?
Another fun way to fill time on a free afternoon on your Hen weekend is to follow the Aberdeen Sculpture and Curios trail around the city centre. This self-guided tour will take you to 23 diverse sculptures ranging from the traditional to the contemporary. Amongst the historic figures to be found and selfied with are those such as Robert the Bruce, William Wallace and Robert Burns. The self-guided tour is free to download and available from the Aberdeen City Council website and is a great way to find your bearings around the city centre on your Hen weekend
If the weather is not on your side during your Hen do, then Aberdeen has a number of museums which are free to enter. The most popular of these is the Aberdeen Maritime Museum, which is located in historic Shiprow in the city centre, overlooking the harbour. The Maritime Museum is the place to go to learn about Aberdeen's rich maritime heritage from trading, fishing and shipbuilding to the discovery of North Sea oil and gas and exhibitions include a 25 foot tall replica of the Murchison Platform, which is the largest oil rig in the world.
Another museum which is free to enter is the Tollbooth Museum, which is housed in a former 17 th Century jail. This museum features exhibits of prison cells and law and order equipment and is a fun and entertaining way to spend some free time on your Hen weekend in Aberdeen.
Another rainy day attraction in Aberdeen which is free to enter is the Aberdeen Art Gallery. The Aberdeen Art Gallery was recently the subject of a £34.6 million pound refurbishment and if you are art lovers then this is a fantastic way to spend some free time on a rainy afternoon on your Hen weekend in Aberdeen. Here you will find 19 permanent galleries featuring some of Scotland's best known artists such as Henry Raeburn, as well as works from others such as William Hogath and Claude Monet.
If you and your Hens are lovers of the great outdoors, then Aberdeen is an ideal city for your Hen weekend as it is located so close to the Scottish Highlands. For those who enjoy Hill Walking, the breath-taking hills of Aberdeenshire are only a short distance from the city and can be reached in under half an hour, where you can wander freely as you please.
A Hen weekend in Aberdeen has something for everyone, whether it is nightlife and eating out, historic locations, beautiful parks, a sandy beach or the outstanding natural beauty of the Scottish Highlands we highly recommend Scotland's third largest city as a Hen weekend destination.
The Stag and Hen Experience has been creating the best bespoke hen weekends away for over 12 years, so, if you're looking to plan a hen weekend package anywhere in the UK or abroad, get in touch on 01202 566100 or via this email address admin@staghenexp.co.uk and one of our expert hen do organisers will help you put together a fantastic hen weekend package for you and your group.