​My Aberdeen Stag Weekend
We had a blast!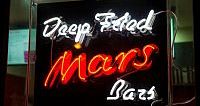 Pictured: The world famous Deep Friend Mars Bar is widely accepted to have been invented in nearby Stonehaven.
My Aberdeen Stag weekend
I've just got back from my stag party Aberdeen and I had an outrageously good time. The lads all sorted it out for me and paid for my place. They'd all been really secretive about it all and I didn't even know we were going to have my stag do in Aberdeen until we'd gone well past Edinburgh!
The lads had booked a Travelodge for my Stag weekend, the appropriately named Aberdeen Central was exactly that and 10 of us checked in and dropped off our bags before heading straight out to the nearest pub, which turned out to be The Bridge Bar, just across the street. This place was a proper bloke's boozer, so much so that they didn't even have a ladies toilet! They did a decent beer at a really good price and there were plenty of TV's showing plenty of sports so it wasn't a bad spot to start off my Stag weekend in Aberdeen. We had a few beers to get things started but they didn't do food at The Bridge, so we headed off into town in search of sustenance. This was found at O'Neills, which was only a short walk away, so we whiled away the rest of the afternoon there, watching the office workers drift in about 5.30 and the atmosphere change from lazy afternoon to start of the stag weekend party energy
The lads had booked a table at a comedy club for the Friday night of my Aberdeen stag weekend and we jumped into taxis at 7 and sped off to the Breakneck Comedy Club, which was only a mile or so away. The show there was great, all of the warm up acts really go the audience going and the headliner was some Glaswegian guy who had us all falling out of our seats with his no holds barred style!
After the show I found out that the lads weren't done with me yet and that they'd sorted us all out guest list admission at the local strip club so it was back into taxis and off to the Private Eyes Gentleman's Club. This place was quite up market as strip clubs go and the girls here were stunning and really could dance. There were regular stage shows and because I was the stag I got pulled up on stage for a dance with one of the girls, which made my evening!
The Saturday morning of my stag party Aberdeen I was reluctantly awoken at about 7.30am and after bolting a quick breakfast we were picked up by a minibus to head off into the wilds of Scotland for a morning of fun! We arrived at a place called the Lochter Activity Centre where we started off the activities on what they called Lochterstone. This turned out to be massive outdoor karting track which was apparently based on Silverstone. One of the instructors told me that the track was over 1km long and the karts could be pushed up to 60kph. The karting was an absolute blast and after that we moved on to Clay pigeon shooting. The Instructor here was really good and all of us managed to hit at least one clay. Digger driving was up next and learning to control that metal monster was a real highlight of my Aberdeen stag weekend. We finished off with Blindfolded 4x4 driving where you have to try and drive blindfolded with everyone else giving you directions, which is as much fun as it sounds!
We got back to the hotel in the early afternoon and we had a few hours looking around Aberdeen, down at the port and around the city centre. For the Saturday night of my Stag do in Aberdeen the lads had a night on the town planned. We started off the evening in Revolutions, where the lads had booked and prepaid for a two course meal with a drink. From Revolutions we headed practically next door to a place called Slain's Castle, which was a vampire themed bar in a former Gothic church! I thought this place was really cool and there was a really friendly crowd in there, so rather than head off to another bar, we stayed there until it was time to head off to a nightclub called The Tunnels, which was actually in actual tunnels! The Tunnels was absolutely kicking when we got there so it was a good thing that the lads had managed to get us on the guest list for the evening, otherwise we probably wouldn't have even got in. As it was we were able to queue jump straight in, which was a real plus. The Tunnels topped off an amazing evening, they had DJ's playing all night and the crowd were really up for it. Aberdeen certainly knows how to party and the Tunnels was a fitting end to my Aberdeen stag do, which as far as I was concerned, had gone off with real style!
I was really impressed with my Stag weekend in Aberdeen. I think my mates really managed to outdo themselves in booking it. Everything was up to scratch, decent accommodation, really cool activities and only the best nightlife venues! Aberdeen was a brilliant city to party away my last weekend as a free man and I'd recommend it to anyone.
The Stag and Hen Experience has been creating the best stag weekends away for over 12 years, so, if you're looking to plan a stag weekend package anywhere in the UK or abroad, get in touch on 01202 566100 or via this email address admin@staghenexp.co.uk and one of our expert stag do organisers will help you put together a fantastic stag do for you and your group.