My Liverpool Stag Weekend
Lived up to expectations.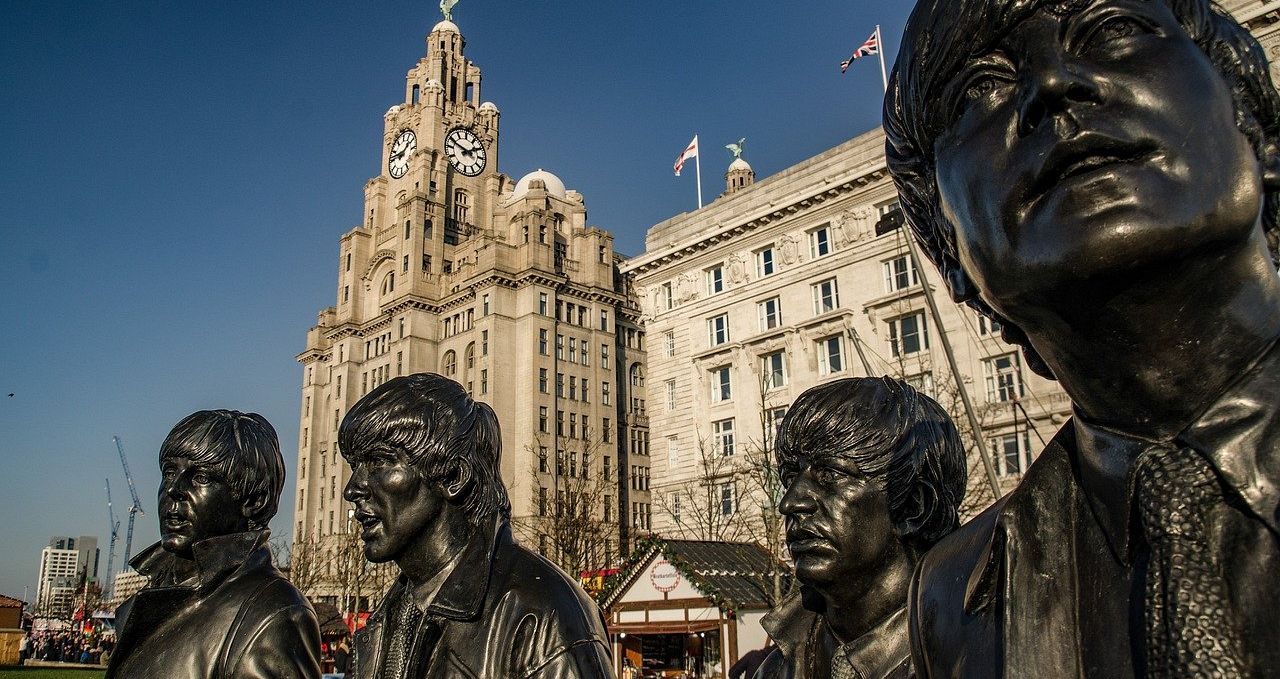 Pictured: Who else, but The Beatles!
The weather was beautiful for my Liverpool Stag weekend which was a real bonus! There were 14 of us in total and we had booked ourselves a weekend in the Printworks Apartments in Henry Street. We had four two bedroom, two bathroom apartments between us and the apartments had a double and single bed in each bedroom and a sofa bed as well, so everyone had their own bed for the night. The apartments were really smart and modern and were fitted out with everything we needed, from a full kitchen to satellite TV (not that we intended to stay in and watch TV!)
The Printworks apartments had a really handy location, they were only a few minutes' walk away from the Liverpool Central station so we didn't even need to catch a taxi! The building itself was really impressive, with copper cladding on the outside and all in all everyone was pretty impressed with our accommodation for my Liverpool Stag weekend.
After we'd checked in the apartments it was time for the first event for my Stag weekend in Liverpool which was Zorb football! The venue wasn't too far away and we all jumped into taxis. Zorb football meant getting strapped into individual Bubble suits and then having a game of football, although rather than tackling people for the ball, the most effective tactic is to body-slam your opponent off the ball and then watch them bounce end over end! Zorb football was amazing fun and an ideal Stag weekend activity, after a 30 minute game of football we played a couple of other games like British Bulldog, and by the end of the hour session I'd worked up a real sweat and felt ready for a well-earned drink!
After stopping off at the apartments for a quick shower and change (lucky we had all those en-suite bathrooms!) it was time to head into the city centre for the first night on the town of my Liverpool Stag weekend. We started off the evening with a curry at the Spice Lounge, an Indian restaurant just down the road from the apartment which was recommended by the concierge. The food was really good and just what we needed to fuel ourselves up for a night out!
After our meal we took a ten minute stroll over to the Cavern Quarter and hit our first bar for the night, which turned out to be a Slug and Lettuce bar. Even though it was only about 8 o clock it was getting quite busy, with the last of the after work drinkers mixing with the first of the Friday night club crowd. We had a couple of drinks here before heading off to another recommendation from our concierge at the apartments, a place called The Merchant, which was also really busy and had a really good party vibe. We had decided that we didn't want to party ourselves out on the first night of my Liverpool Stag weekend, so rather than head to a nightclub we went to a strip club called Angels Paradise. Angels Paradise was a top choice, the girls were stunning and the club was quite classy as strip clubs go! Once they found out we were a Stag do, I was pulled up on stage by two of the girls for a public dance which really made my evening.
For the Saturday afternoon of my Liverpool Stag do, the plan was to do some Go-karting. We had booked in to the Teamsport Go-karting which was conveniently only about a mile and a half from the hotel and we were booked in for the 50 lap race. We were seriously impressed with the track, which had an overpass and loads of corners from the long and smooth to hairpins and the 200cc Go-karts really shifted! Everyone thoroughly enjoyed the experience and it is one I would recommend for any Stag weekend.
After a couple of hours karting we were ready for something to eat, so after another consultation with the helpful concierge we went to a restaurant called Blakes, which was in a Beatles themed hotel in the Cavern Quarter. This was actually quite reasonably priced and my steak was amazing, with the friendly service it was a good recommendation and set us up nicely for the Saturday night shenanigans of my Liverpool Stag weekend!
Since we were in the Cavern Quarter we decided that we had to visit the Cavern Club! I don't think any Stag weekend in Liverpool would be complete without a visit to the birthplace of modern pop music! The Cavern Club rocked, they had live music playing when we arrived and the band was really tight. We stayed here for a couple of hours before heading off to a place called Sgt Peppers, just to keep the Beatles theme going, before finishing off the evening in the Mansion nightclub, where we had booked VIP tables for all of us, because we had paid for these upfront we had a £1200 bar tab to get through and waitress service at the table. Needless to say no-one is too clear on the details but everyone was in agreement that we had an amazing time.
My Liverpool Stag weekend was a big success, we all had a really good time and it was the send-off that I wanted for my last weekend of freedom! Liverpool was an amazing city to visit for my stag do, there was so much going on, the people were really friendly and for a major city the prices weren't too bad either. Liverpool was the perfect choice Stag do destination, the apartments we stayed in were really comfortable, there were loads of good eateries close to where we were staying and the nightlife was out of this world.
The Stag and Hen Experience has been creating the best stag weekends away for over 12 years, so, if you're looking to plan a stag weekend package anywhere in the UK or abroad, get in touch on 01202 566100 or via this email address admin@staghenexp.co.uk and one of our expert stag do organisers will help you put together a fantastic stag do for you and your group.