Relaxed Hen Party Ideas
Five relaxed hen party ideas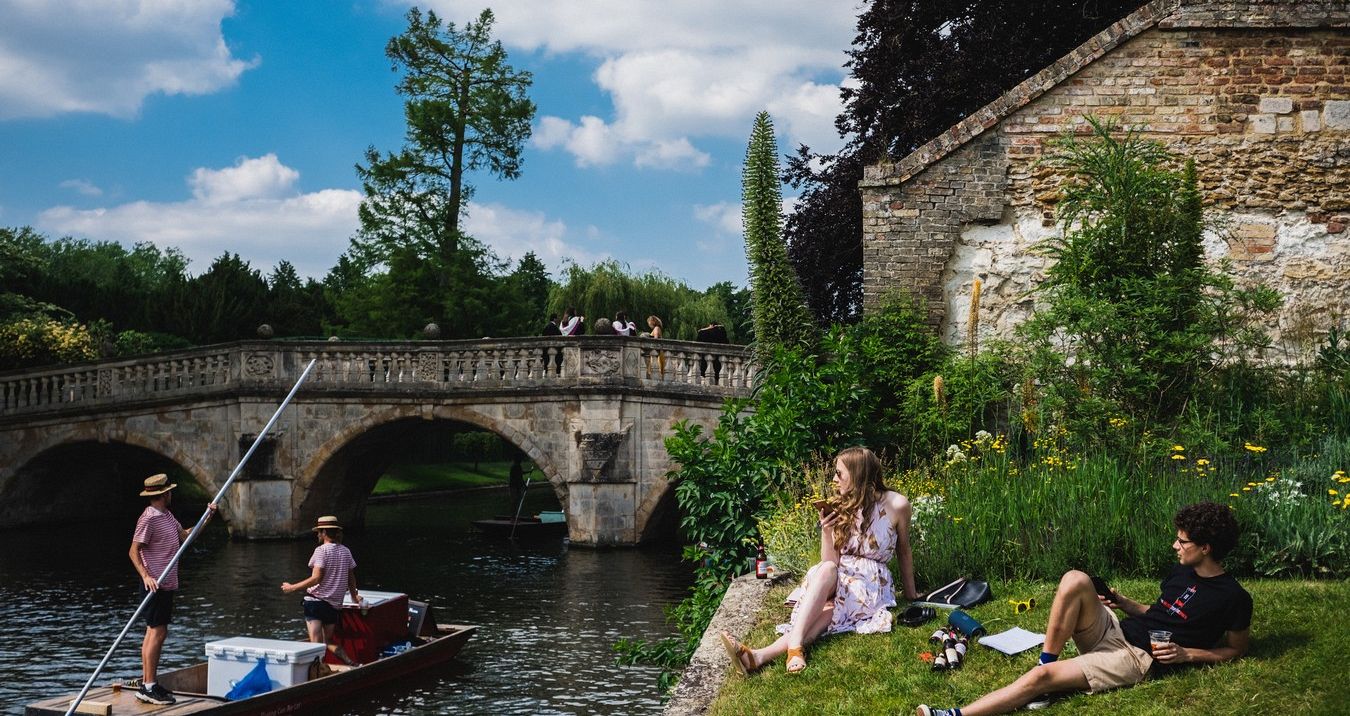 Fantastic photo of Cambridge by Chris Boland
Relaxed Hen Party Ideas
Not every Hen weekend has to be crammed full of thrills, spills and wild excitement and some Hens often prefer to take a far more relaxed approach to their Hen dos. A Hen do is a great way for those of your friends who don't know each other to get to meet in advance of your big day and sometimes the best way for them to get to know each other is to enjoy a nice chilled Hen do activity together. Here at the Stag and Hen Experience we have such a wide variety of activities available to choose from, that we have tried to narrow down the options for you, with our selection of what we think are the top 5 relaxed hens party ideas
Punting
The first of our 5 relaxed hen party ideas is our Punting and afternoon tea package, which can be enjoyed in the University cities of Cambridge and Oxford. Punts are long, narrow, flat-bottomed boats propelled by poles and both the River Cam in Cambridge and the River Cherwell in Oxford are ideal for this activity. Punting has traditionally been a favoured student activity at the two Universities and what better way to spend a chilled afternoon with your girls than on the water taking in the magnificent sights to be seen in these two historic towns. Punts can be hired as a "self-drive" option or chauffeured tours with an expert punter can be arranged for those who don't want to get too wet! When you have done with punting, why not treat yourselves to a mouth-watering afternoon tea to finish off a chilled out afternoon in style. Unlimited bubbles can be arranged as well! If you want our top 5 chilled Hen do activities, then Punting and afternoon tea simply has to make the list!
Bottomless Brunch
The next of our 5 relaxed Hen do activities is the Bottomless Brunch, an ever popular activity for Hen weekends. Bottomless Brunch consists of a late morning or early afternoon meal and a set time period, normally two hours, for you and your ladies to enjoy your meal and unlimited alcoholic drinks, including prosecco and cocktails, depending on the package or venue. Bottomless Brunch is available nationwide and comes in all themes from the typical Full English Breakfast or similar to Caribbean, Mexican or Asian cuisine. If your idea of a chilled early afternoon is relaxing with your ladies over some quality food as you sip your way through unlimited drinks for up to two hours, then the Bottomless Brunch will be the one of our 5 relaxed Hen do activities that will be for you.
Psychic Hen Party
The next of our 5 chilled Hen do activities is the Psychic Hen Night. This mind-blowing activity consists of a celebrated psychic with over 20 years of experience coming to you to give readings to each one of your Hens to let them know what the future holds for them! What better addition to a ladies night in than some psychic guidance can you think of? Who is going to meet the man of her dreams? Who is going to get that promotion they've been chasing at work? Who is going to have 6 children? If you want to know the answer to these questions, then you can find out at the Psychic Hen Night, one of our most popular relaxed Hen party ideas!
Spa Day
A list of relaxed Hen party ideas would not be complete without the ultimate chill out activity, the Spa day! Have a swim, a sauna or steam room and then maybe a pamper treatment to really get yourselves relaxed. If your nails need doing, then there's a pedicure or a manicure to be had, or maybe you fancy a massage to ease your stress away? The choice is yours! Destress and reinvigorate yourselves with a Spa day! If you have booked a cottage or henhouse then why not have the pampering come to you? We offer the incredibly popular Mobile Pamper option where the treatment comes to you as you chill out at home with a glass of bubbly and a few party games. If you're planning a big night out, then why not get your hair or nails done, or another of the various options available, so you go out looking and feeling your absolute best. Whichever option you choose, the Spa day and the Mobile Pamper earn a well-deserved place on our hen party ideas listicle.
Crafternoon
The final entry on our list has to be the Crafternoon. A Crafternoon is where you, together with your favourite ladies, spend a nice relaxing afternoon learning a new craft. The craft you want to learn is down to you and we have a great selection of Crafternoon activities available including, but not limited to, Chocolate making, Cupcake making, Fascinator making, Jewellery making, Knicker making and many more. Whichever craft you choose to learn can come to you if you have your own cottage or hen house, or if not then we can arrange a venue for you, close to where you are staying. The Crafternoon is a fantastic way to chill out with the girls having fun whilst also learning something new and is always popular as a way to spend an afternoon on a Hen do. The Crafternoon is a fantastic way for all your friends to get to know each other and is the last, but certainly far from the least, of our relaxed Hen party ideas for you to enjoy.
The Stag and Hen Experience has been creating the best bespoke hen weekends since 2009, so, if you're looking to plan a hen weekend package anywhere in the UK or abroad, get in touch on 01202 566100 or via this email address admin@staghenexp.co.uk and one of our expert hen do organisers will help you put together a fantastic package for you and your group.