Stag Do Ideas Newquay
Friendly and Trendy Cornish Coast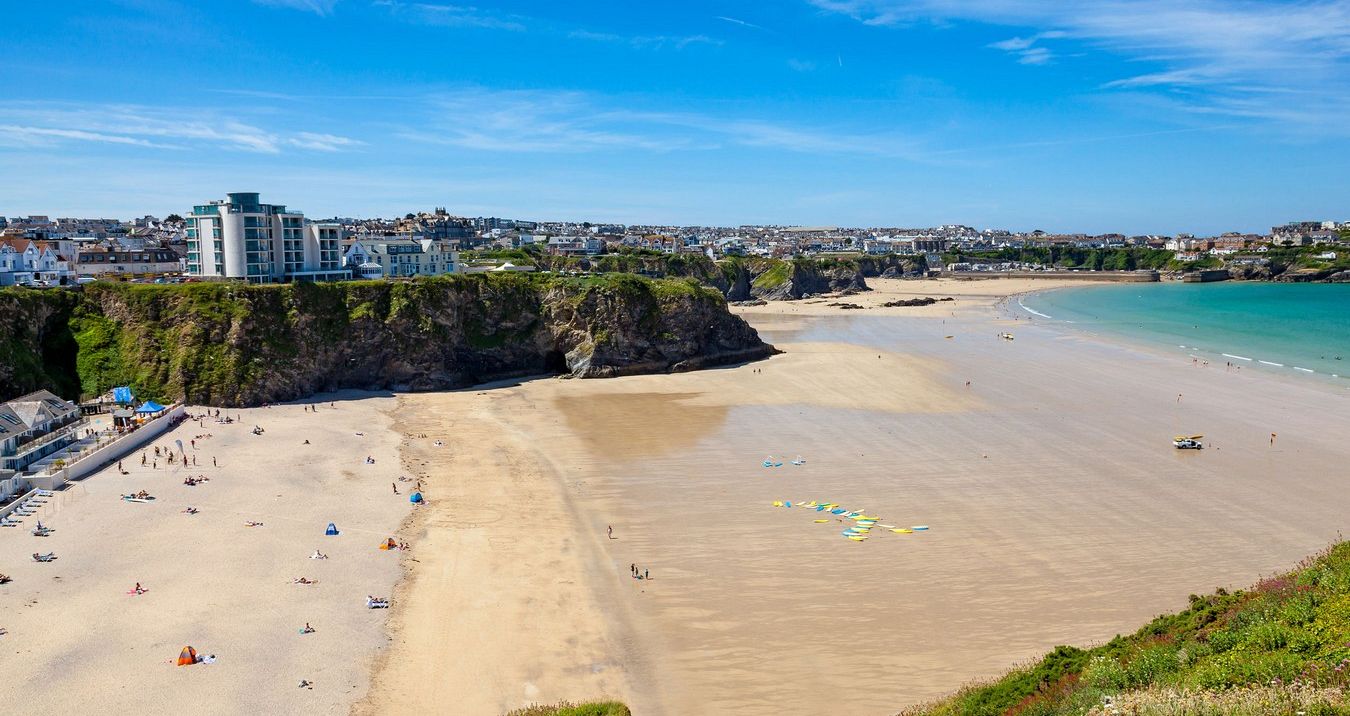 Stag Do ideas in Newquay
Newquay is a town in the northwest of Cornwall which is a fishing port, seaside resort and future spaceport! As the surf capital of the UK it is also a lively party town and if you are looking for Stag do ideas in Newquay there are plenty for you.
With a year round population of 20,000, which grows in the summer months to over 100,000, there are plenty of holiday accommodation ideas for your Newquay Stag party to choose from. For those who are travelling on a budget there are plenty of clean, cheap, friendly hostels to choose from and these provide a great party atmosphere in the summer with the wide variety of visitors that Newquay attracts, most of them looking to party! If hostels aren't your style Newquay has a plethora of decent hotels for your Stag weekend, which provide fantastic value for money in the winter months but can be expensive in the summer, particularly if you don't book well in advance. If you have a large group then why not ask about one of the private houses we have available which can sleep up to 20 people and has its own cinema room as well! With so many options it's worth making a list of Stag do ideas in Newquay for your accommodation.
If you are going to have your Stag do in Newquay and you are looking for Stag do ideas in Newquay then why not think about having a go at surfing. Newquay is the surf capital of the UK for a number of reasons and one of them is the beach break at Fistral. Powered by Atlantic rollers, Fistral Beach produces powerful, hollow waves which are ideal for surfing. If your Stag party wants a great activity idea in Newquay then we recommend that you get in at least a morning's surfing. Surfing is not only great exercise, it's also the best hangover cure known to man and words can't describe the exhilaration of riding your first wave. We totally recommend surfing if you are looking for Stag do ideas in Newquay!
Surfing isn't the only activity Newquay offers though, and if that is not your cup of tea there are plenty more Stag do ideas in Newquay to keep you all entertained.
Clay pigeon shooting is an increasingly popular activity for a Stag weekend and if you want to do this in Newquay, the nearest shooting range is only about 10km outside of town, so don't forget your plus fours and get blasting at those pesky clays! Quad Biking is another Stag favourite and another activity to which you will have to travel as it takes place about 20 minutes' drive outside of Newquay. The track has banked bends and table tops, steep inclines, rocky descents and water splashes to keep you on your toes and test your riding ability. If you fancy trying your arm at Power Kiting or Buggy Kiting, you can do that at this centre as well. Put this one on your list of Stag do ideas in Newquay.
In the summertime we can also offer Inflatable Games as a Stag do idea in Newquay. This is the same as the old TV favourite "It's a Knockout" which was a feature of tea time TV viewing in the 70's and 80's. For those who haven't seen it, it's a riotous mix of huge inflatable costumes, water, foam and falling over, all taking place on an inflatable obstacle course! We totally recommend this activity for your Newquay Stag weekend ideas if you are looking for unbridled hilarity and a great bonding exercise.
Another Stag do idea in Newquay is Coasteering. For those not in the know, this is activity involves putting on a helmet and scrambling around a rocky coastline across rocks and then ends in a cliff jump into the water. You do get a qualified instructor and safety kit, but this activity is not recommended for non-swimmers, however if you and your stags want an active, heart pumping, downright thrilling activity for your Stag weekend, then this one belongs on your list of Stag do ideas in Newquay.
Nightlife is going to play a massive part on your Newquay Stag do and if you want an idea of where to go then we recommend Berties Nightclub. Berties has been a stalwart of the night scene in Newquay for so long it has become legendary. Everyone who has been to Newquay has their own Berties stories (or Berties blanks!!) and this is one place that you will have to visit. Besides Berties, there are plenty of other clubs and bars so you are in no way limited for nightlife in Newquay and in the summer months the town is absolutely bouncing with party goers. One of the newest nightclubs in Newquay is the Eden Bar which is a three venue club across three floors, including a normal bar, a cocktail bar, and the only Latin nightclub in the whole of Cornwall or there is always Whiskers, a cat themed nightclub. In short, if you are looking for nightlife ideas for your Stag do ideas in Newquay list then you have plenty to choose from!