Stag Houses For Smaller Groups
Top 5 UK Stag Accommodation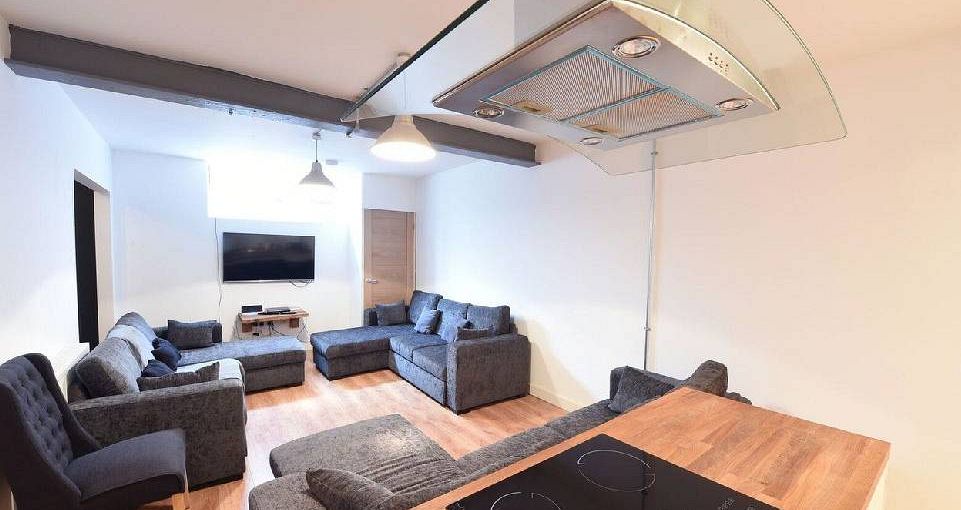 Pictured, The Reds Manchester stag house, comes with a hot hub.
Top 5 Stag houses for smaller groups
These days, Stag dos are increasingly moving away from booking a hotel for the weekend in favour of renting Stag houses. The advantages of booking a Stag house over a hotel is that you have don't have to worry about other guests being disturbed and also that you and your group have a bit of privacy, for example if you want to book a stripper, a whiskey tasting session or a Nude Life drawing class. Here at the Stag and Hen Experience we have a wide range of Stag house accommodation available, including some substantial properties suitable for large groups, however smaller groups do not need to miss out on the fun, as we have made a selection of our top 5 Stag houses for smaller groups.
The Harries - Liverpool
Our first suggestion for a Stag house for smaller groups is The Harries in Liverpool. Liverpool is one of our most popular Stag do destinations as it offers all the activities that you would possibly need for a first class Stag weekend, in addition to top notch nightclubs and a fantastic variety of restaurants and bars. Harries is a selection of apartments in a high end block, just opposite the world famous Cavern club, one time home venue of the Beatles. Harries is ideal for smaller groups as each apartment will comfortably sleep between 8 and 10 people and the block itself is right in the heart of the Liverpool nightlife scene. The apartment itself is well equipped, with comfortable beds, a fully fitted kitchen and a spacious living area, complete with a flat screen television and plenty of seating for your group. Harries is ideally positioned for a Liverpool Stag do and is highly recommended as a top Stag house for smaller groups.
Fair View - Blackpool
For those of you looking to have your Stag weekend in the brash seaside resort of Blackpool, we have Fair View, an excellent Stag house for smaller groups. Blackpool is a destination that could have been designed with Stag parties in mind, with a great selection of accommodation, nightclubs and bars, and of course the famous Blackpool Pleasure Beach. Fair View is located within easy walk of the beach and provides comfortable and well equipped accommodation for up to 8 Stags. The accommodation also provides no less than 3 bathrooms, ensuring that even if one of your group likes to take their time getting ready, it won't hold up the whole group. With the addition of an outside decked area, Fair View provides a superb base for your Blackpool stag do.
The Red 2 - Manchester
Manchester is another hugely popular Stag do destination and being England's second city it has a wealth of nightclubs, bars and activities to make for an unforgettable Manchester Stag do. The Red apartments are located in Manchester's fashionable Northern Quarter and they will give your group a fantastic proximity to Manchester's legendary nightlife which is only a short walk away. The Red Apartments are four apartments in a corner block, with three apartments sleeping up to 14 guests and the fourth up to 20. Although all the apartments are well suited for Stag groups, we would unhesitatingly recommend the Red 2 apartment, as not only does it provide well appointed, tastefully decorated accommodation, it also has an outside area with a hot tub for you and your Stags to enjoy. The outside area has plenty of seating and a bar area as well, making it a perfect Stag house for smaller groups.
3 Alpha and 3 Beta - Bristol
For those who are looking further south for a Stag do destination, Bristol is a city which never lets anyone down and also provides a great range of accommodation, in addition to a vibrant night life and party scene. Our top recommendation in Bristol, for Stag houses for smaller groups, would have to be the 3 Alpha Beta party houses. These two three storey townhouses are located close to Bristol's bohemian city centre and within easy reach of its awesome nightlife. Each house has been designed specifically for smaller groups and provides spacious and congenial accommodation. The ground floor of each property is set aside for social space, with both a large kitchen/diner and a well-equipped living room providing plenty of seating and a 55 inch Smart TV, in addition to an outside courtyard space to chill out with your morning coffee or a nightcap at the end of the evening. Each townhouse has 4 bedrooms providing sleeping arrangements for 8 people in addition to sofa beds and each property has three cloakrooms with showers, providing more than enough facilities for the smaller group. The 3 Alpha and 3 Beta party houses in Bristol are a superb choice of accommodation for smaller groups looking to enjoy the delights of a Bristol stag do.
Sienna Cottage - Brighton
Last, but not least, in our selection of Stag houses for smaller groups, we head down to the South Coast of England for that perennially popular Stag do destination, Brighton. Situated just a short distance from London, Brighton is an iconic seaside destination which has all the ingredients to ensure that you will have a Brighton Stag do to remember and amongst the many Stag houses we have available in Brighton for the smaller groups, we would recommend Sienna's cottage for your consideration. This charming, historic, 200 year old cottage is in the heart of Brighton's trendy Laines district and provides top quality accommodation only a short walk from the night time action. The accommodation in Sienna's cottage comprises two large bedrooms, providing beds for up to 6 people, and a lounge dining area with a flat screen TV and enough seating for your whole group. For those Stag groups that want to cater for themselves or maybe book a private chef to cook for them there is also a well equipped kitchen. What really sets Sienna's cottage apart from other Stag houses for smaller groups in Brighton is the roof terrace, which is a suntrap which provides an ideal space to sit out and enjoy your morning coffee with views across the Brighton rooftops, a perfect for that Brighton stag do nightcap.
There you have it, a small selection of some of our most popular stag accommodation across the UK that cater for smaller groups. If you want to browse our full selection of you would like more imformation about any of our amazing stag do accommodation, please get in touch, we'd love to hear from you.
The Stag and Hen Experience has been creating the best stag weekends away since 2009, so, if you're looking to plan a stag do package anywhere in the UK or abroad, get in touch on 01202 566100 or via this email address admin@staghenexp.co.uk and one of our expert stag do organisers will help you put together a fantastic package for you and your group.