Bath Hen Do
Amazing from start to finish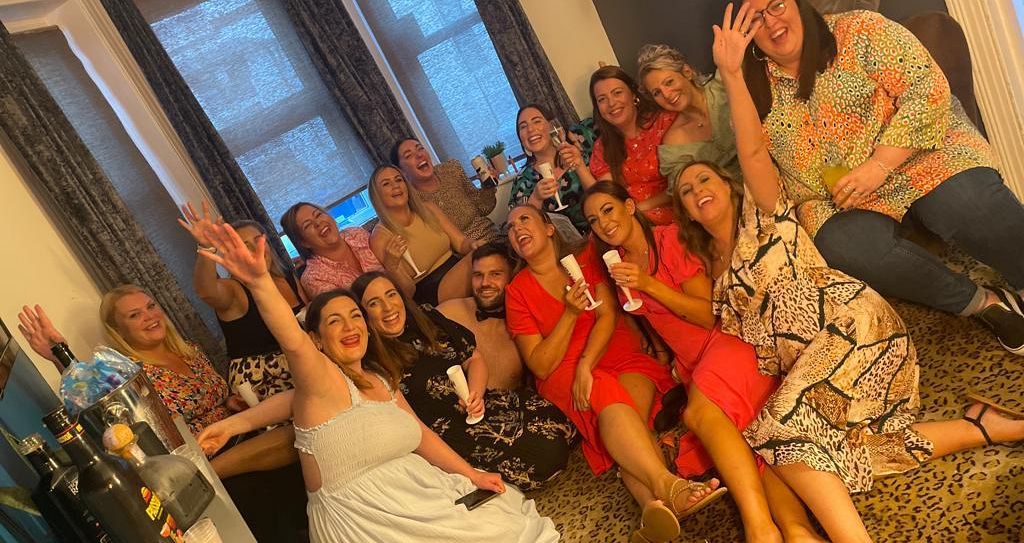 My Bath Hen Do
When my husband-to-be proposed to me, I was overjoyed. My first thought was how great it was going to be - I was going to get to marry the man I loved, have a wonderful time, and involve all of my friends and family in a joyous celebration. My second thought was "I get a hen do!"
Sitting down with Katy, my maid of honour, to plan the hen weekend, I opened my mouth to say where I wanted to go, and she cut me off by saying "I assume you want to go to Bath", which made me laugh because it was an obvious choice. I've always loved Bath - I grew up not too far from there, and it seems as if the majority of the important moments in my life (meeting Katy, going to university, being proposed to) have all happened in this beautiful city.
But that was all I knew that we were doing. I let Katy plan the rest of the weekend without any input from me, so all I was told was that I was being picked up on the Friday morning and driven to Bath in time for lunch. The morning came around and I jumped into her tiny little pink Clio, excited to see what the weekend had to offer. The drive down was great, as we chatted the whole time while listening to the kind of music that I never get to have on in the house (because apparently it's too cheesy!).
Pretty soon we pulled up into the driveway of a house that was a little way outside of Bath, and Katy said with a big grin "We're here". I got out and headed towards the door, and when I opened it I saw all of my other friends gathered around in the dining room of a beautiful Bath hen do cottage, banners and balloons surrounding them, and they gave me a huge cheer. The hen do had begun.
After settling down, I asked if I was going to have to get ready for us to go out again, and Katy said "why bother, we've got the entertainment coming to us." Pretty soon the entertainment arrived, and it was a cocktail making class being laid on in the house, so we didn't even have to move. The cocktail making itself was amazing, and the fact that there was a very nice looking cheeky butler serving us (with just an apron on) made the whole thing just that much more special.
After the cocktail making was over and we all had a good buzz on, we jumped into a couple of taxis and went into Bath proper. After a little bit of walking around enjoying the sights (which is something I always love to do in Bath), Katy led us down a little side street and into a room where we all got to make our own fascinators! I love fascinators (and have a wide selection of them at home), so the chance to make one with all my friends was something I was always going to enjoy, and it was great fun.
Then it was time to get some drinks in. Katy told me confidently that we had a plan, and we started hitting up some of the more popular chain bars in Bath. Slug and Lettuce, Yates', Revolutions, anywhere else you can think of, we visited to try out their cocktail menu and see if they had a dancefloor that we could occupy. I love going out drinking and dancing with the girls, and this whole evening was full of that. We found ourselves in a nightclub in a cellar towards the end of the night, which was so friendly and good fun that we spent hours in there until we finally fell into taxis and went back to our cottage for a well deserved night's sleep.
The next morning (and when I say morning, I do of course mean afternoon), we all got up, ate a bit and then piled back into taxis to continue the fun. I was a bit alarmed after we got into the taxi as I noticed that all the other girls were carrying bags and I hadn't brought anything, but Katy assured me that everything was in hand. We made it back into the city centre and were immediately heading into the Thermae Bath Spa, which is one of my favourite places in the entire world.
Katy handed me over a bag which contained a personalised swimming costume with my name and "Bride to Be" emblazoned on it, which I happily put on and then we all spent three hours relaxing in the pools, hot tubs and more – a perfect way to spend the afternoon of a hen do.
Then it was back to the cottage for a takeaway dinner (because sometimes you just want takeaway chinese rather than to bother going out to a restaurant), and then it was time for night two on the town. And we did what often happens in a second night out. We started with the intention of going to all different places than we had been the night before – so we visited a few local pubs (which were all very friendly), and it was all going really well. Then we dropped into Revolutions as we were walking past and it seemed churlish not to, and soon we were back on the same bar circuit that we had been on the night before. Not that we really minded! The bars in Bath are always so friendly and welcoming that it doesn't matter if you visit five of them or fifty of them, you'll always have a great time.
We ended up back in the same nightclub as before, as we'd had such a good time the previous night that we just wanted to replicate the feeling – and it was an amazing night. In fact, there was a moment where I stopped and just watched my friends dancing across a dancefloor, with great music playing and a drink in my hand, and I realised just how perfect my Bath hen do truly was.
The Stag and Hen Experience has been creating the best bespoke hen weekends since 2009, so, if you're looking to plan a hen party Bath package or anywhere in the UK or abroad, get in touch on 01202 566100 or via this email address admin@staghenexp.co.uk and one of our expert hen do organisers will help you put together a fantastic package for you and your group.