Bucket List Stag do Activities
Once in a lifetime Stag ideas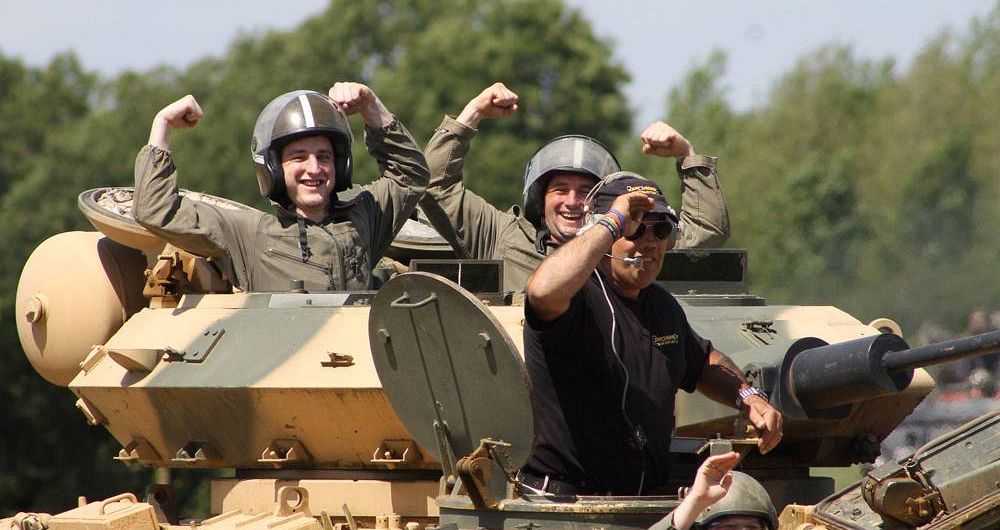 Bucket List Stag Do Activities
Stag Do activities are a strange beast. For some people the key is finding things that they really love and just doing that or a variation on it. So if you love Football then you could try Zorb Football, Goggle Football, Electric Shook Football, Footgolf, etc. But for some people the key to a Stag Do activity is getting the chance to do something that you'd never get to do at any other time of your life. After all, every stag do is unique, so why not embrace the uniqueness and pick an activity that you'll never forget?
With that in mind (and after some quizzing of our colleagues, friends and customers), we've come up with our very own Bucket List of Stag Do activities – the activities that you really ought to try at least once, and a stag do is the best place to try them!
Tank Driving
Available in: Budapest, Derby, Leicester, Northampton, Nottingham and Prague
This one's pretty self-explanatory from the name, isn't it? I mean, it's getting the chance to drive a tank. To be clear, we're not talking about some little, pokey, one-man fake tank here. No. We are talking about driving full-sized tanks. The ones that take three or four people to move. You'll get the chance to tackle obstacle courses, and maybe even battle each other depending on the specific package. Lets be honest, this is a huge fantasy for many of us – who wouldn't want to drive one of the largest vehicles possible?
Carsmash
Available in: Amsterdam
This is a pretty new addition to our list of unique stag do activities, but it's definitely one to consider for any Amsterdam Stag Do. Carsmash is the basic idea is that you get to smash up a real, actual car. A bit like the bonus round in Street Fighter II, although you won't need to do it with your bare hands, you'll be armed with mallets, golf clubs or baseball bats to really let loose. It's the sort of thing that is fun but also exceedingly cathartic – highly recommended as a way to let off some steam (and we all need a method to let off some steam in this day and age, don't we!)
Fly Boarding
Available in: Benalmadena, Bournemouth, Bratislava, Marbella, Puerto Banus, Riga, Wroclaw
Many of you may think that you've tried every possible sport where your feet are attached to a board. Skateboarding, Surfing, Snowboarding, even Mountain Boarding are all great, but none of them will give you the same rush as a session of Fly Boarding. But what is Fly Boarding? Well, to put it simply, it's like having a water powered hoverboard, which allows you to fly high above the sea. Powered by a jetski that the instructor is controlling, you'll quickly find yourself flying higher and higher - you can even try to pull off some tricks if you dare, just don't be afraid to plunge headfirst into water if you get them wrong!
Bobsleigh
Available in: Budapest, Prague, Riga
Speaking of activities you'd never get the chance to try in the UK, Bobsleigh is an obvious one. Not because of health and safety aspects, not because of legislation, but simply because we don't have the required weather! If you've ever watched Cool Runnings, then you can imagine just how thrilling and exciting a bobsleigh ride can be, so why not give it a whirl?
Tower Jump
Available in: Bratislava
This is a truly unique activity, only available in one destination, and is such a unique opportunity that it cannot be overlooked. This tower jump is famous – after all, it gives you the chance to jump from a 110m tower and freefall for four seconds before you end in a controlled descent. The adrenaline rush is immense, and it is unlike anything you've ever done before. This is one of those activities that sounds way too wild on paper – you question whether it's real. Trust us, it is real and you won't regret giving it a go on your Bratislava Stag Do.
Freefall Simulator
Available in: Bristol, Ljubljana, Prague, Riga, Warsaw
Quite a lot of the time, people call us with wild ideas of skydiving for a stag weekend. Now that's perfectly doable, don't get me wrong, but it is pretty expensive, and the drop-out rate (I.e. the number of people who don't jump once they are up in the plane), is pretty high. Instead, a better option (and one that means you can experience the adrenaline rush of skydiving without paying through the nose), is the freefall simulator. For those of you who don't know what it is, allow me to explain. This activity is basically a giant fan that blows you up in the air with the same force as if you were skydiving. This way you get to experience the freefall flight you would experience while skydiving, but in a much more controlled environment. It's an amazing experience, and should definitely be one of those activities you try on a stag do.
Zombie Apocalypse
Available in: Birmingham, Northampton
Who doesn't like zombies? Whether you are a huge George Romero fan, are obsessed with the Walking Dead or whether Zombies is your go-to mode in Call of Duty, this Zombie Experience is an activity that you should definitely try on your stag do. You'll get to explore a deserted location, desperately searching for supplies, sanctuary and a way out. You'll be armed and dangerous as you try to battle your way through the real life zombies that are getting in your way as you explore the area, desperate to escape. It's not an activity for the faint hearted, but will be something that you bond over and will always remember!
That's our bucket list of Stag Do activities. Which ones appealed to you? Do you have anything on your bucket list that you think we should add? Get in touch and let us know – if we get enough good ideas then we'll do another one of these bucket lists.