Budapest Stag Weekend
Excellent bang for your buck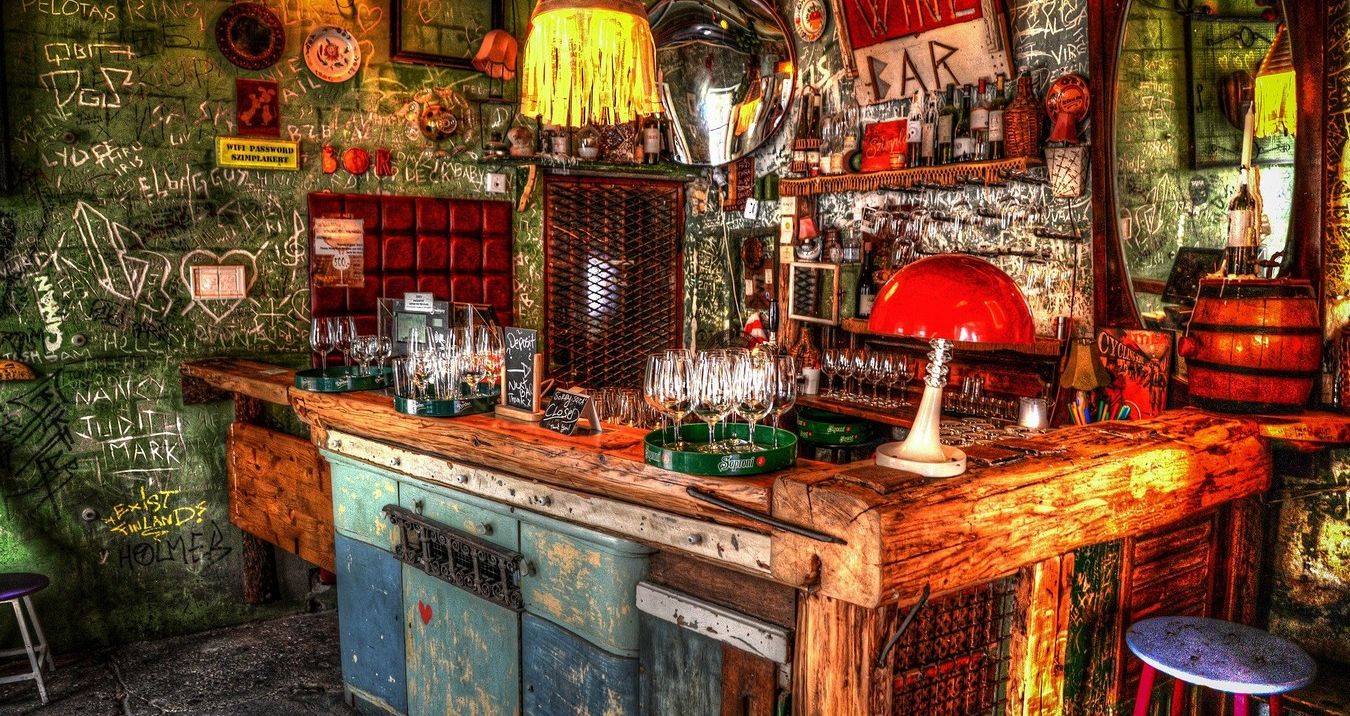 Picture: Budapest Ruin Bar
Stag do in Budapest
Budapest is a mecca for Stag weekends – it has everything you'd ever need to ensure that you have one of the most amazing weekends of your life. The accommodation is plentiful, the activities are exciting and the nightlife is out of this world. But as well as taking part in planned activities, a trip to a new country is enhanced by taking in some other spontaneous stag weekend activities, exploring and experiencing the sights and sounds of a new place. So with that in mind (and with several us having visited Budapest on several occasions bot on stag weekends and city breaks), we thought this would be the perfect time to highlight some of the great things you can do around the city for free (or in some cases, spending just a small amount of money).
Visit Some Sights
Whilst on your Budapest stag weekend there are various sights and locations in Budapest that are world famous, and certainly worth a visit while you are there, if only for the Instagram opportunities that are available! Heroes Square is one such place, with a 36 metre high column topped by a statute of the angel Gabriel as the central point, this beautiful structure is one of the most commonly photographed places in the city, making it a must-visit for all concerned. If you like views across the city (and have enough energy to climb a hill), then Castle Hill is definitely worth a visit too. As you can tell from the name, Buda Castle sits atop this hill, and the grounds of the castle are free to explore, so as well as getting a gorgeous view across the whole city, you can also explore the gardens of this wonderful castle as well. There are plenty of other locations to visit as well – Budapest's parliament building is imposing and impressive, sitting as it does on the banks of the Danube, and Kerepesi Cemetary is Europe's largest outdoor statue park, which is also worth a visit on your walkabout on your stag weekend.
If you enjoy sightseeing but aren't sure where to visit first, the other option is to find a free walking tour – these are usually available twice a day and are an absolute fountain of knowledge. Just remember if you do enjoy one of these tours to tip the guide accordingly at the end as that's how they make their living so make sure you empty your pockets on your stag do tour around Budapest.
Absorb some culture
There aren't really any museums in Budapest that are free to enter, sadly, but you will find most of them are under a fiver, so if you do want to breath in some culture whilst on your Budapest stag weekend, then there are some great options there as well. The Hungarian National Museum is huge and covers exactly what you would imagine, being full of more than three and a half million items showing Hungarian history. Alternatively, if you prefer the arts, then the Ludwig Museum of contemporary art is great – located on the banks of the river, this gallery will show you some of the best in Eastern European art, so it'll be a nice change from seeing the same old famous paintings you tend to see in Western European museums.
But, for some on your stag weekend, the absolute crown jewel of Budapest museums might be the House of Terror. This is a brilliantly designed, unique, interactive museum that reveals all of the aspects around the facist and communist regimes that have occurred in the country over the years – it's even set in the building that used to house the Nazi headquarters in the 1940's. One tip for this though – it's advisable to pay a tiny bit more and get the headset guide, as all the descriptions are written in Hungarian, so without the guide translating for you, you'll miss out. It's definitely worth checking out whilst on your Budapest stag weekend.
Fill your belly with local delicacies
Eating ain't cheating! Obviously you'll be eating meals in local restaurants throughout your Budapest stag weekend, but if you want to get a feel for the kinds of things that the locals eat day in and day out, then a visit to the Great Market is probably a good idea. You'll easily be able to find all sorts of food that you've never tried at a great price (and there are free samples available throughout, so you can try before you buy) – you could even grab enough bits and pieces to head out for a picnic at lunch rather than going to another restaurant – which is always a nice change, especially in good weather which tends to be in July, where average temperatures are a decent 21 degrees centigrade, which is perfect for stag dos that enjoy the sun.
Visit the City Park
Budapest's city park is home to one of its most famous thermal baths, as well as the Budapest City Zoo. Both of those cost money to enter, but the surrounding park is free and you can wander it at your leisure, taking in the beautiful setting, admiring the large number of statues, and just generally relaxing. It's also a perfect place to have that picnic that you bought the ingredients for at the Great Market! We highly recommend going in the thermal baths at some point on your stag weekend, it's a fantastic setting and great experience. Also worth mentioning that there is a SpaTY! Which is basically a thermal spa that plays banging tunes and serves bber, wine and cocktails, definitely something to consider on your stag do, although, we advise to book early as it fills up fast.
Have a drink in a Ruin Bar
A Ruin Bar? I hear you cry, What the hell is a Ruin Bar? That's simple, it's a bar that has been set up to reclaim a derelict space in the city and make it a useful place once again. Szimpla is the most famous of these bars, and is the originator of the concept, having been established back in 2004. Now, some seventeen years later, ruin bars have become an integral part of the cities nightlife, as well as tourist attractions in their own right, with groups often seeking them out to take photos and enjoy a drink in these unique settings, so why not make that a part of your stag do and experience drinking in one of these famous bars?
That's just a few of the local activities available to you within this Hungarian paradise, and we've not even covered those things which cost you a bit more money - though if you are looking for a paid activity to include on your stag do, we have a huge range of activities you can do on your Budapest stag weekend, most of which are unique as well as some of the classics. Has this helped you plan your Budapest Stag Do? Do you have any suggestions for things we have missed? Are you now desperate to get your Budapest Stag Do planned? Then just get in touch on 01202 566100 or via email naomi@staghenexp.co.uk and together we will create a Budapest stag weekend package you and your group will be talking about forever.