Free and Cheap things to do on your Oxford Hen Do
Five of the best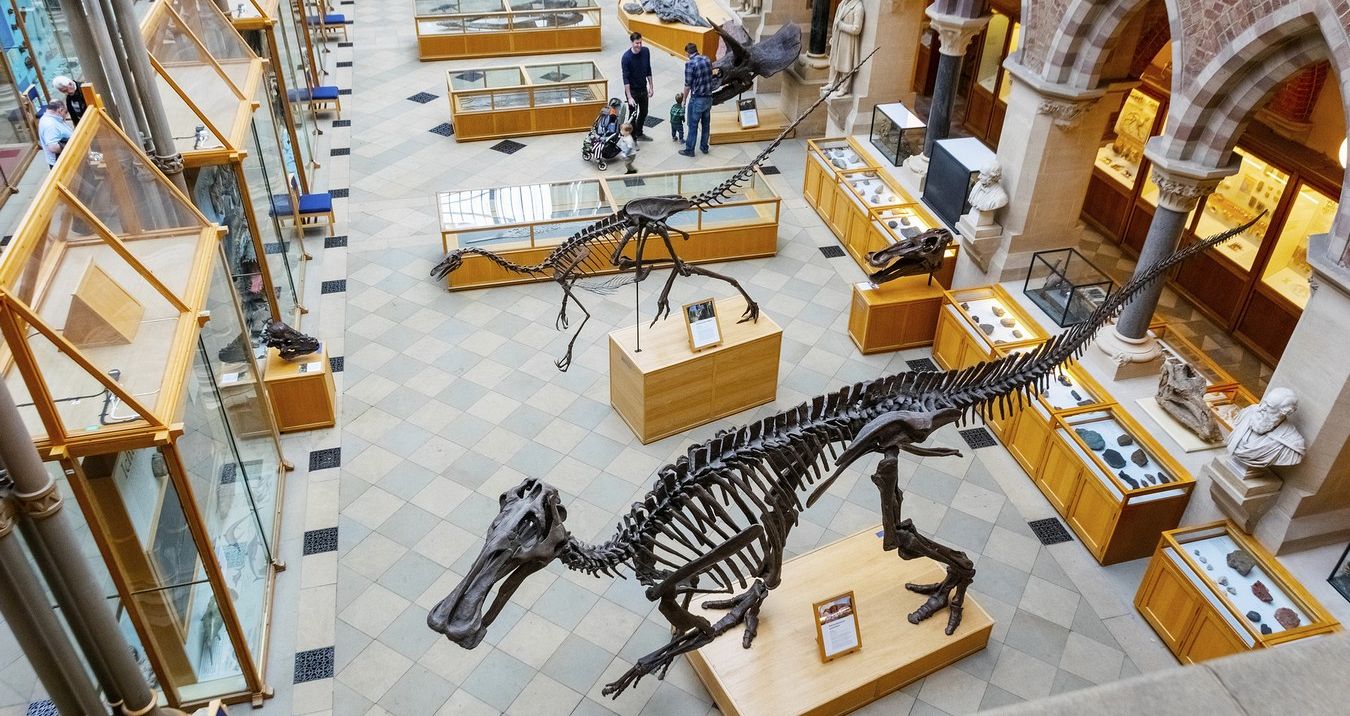 Pictured: The amazing Natural History Museum, who doesn't like dinosaurs eh?!
Free and Cheap things to do on your Oxford Hen Do
Oxford is a classy city, and is often the home of the classiest of all hen dos. Class, however, doesn't come cheap, and while you can get a great value Oxford Hen Do, it's always worth knowing about things that you can do during the day that won't cost you much (or anything at all) in order to make sure that you are all kept entertained for the entire weekend.
We've done some research, and compiled this great list for you, to ensure that you'll fill your whole Oxford Hen Do full with wonderful memories and great experiences without breaking the bank.
Explore some history with amazing museums
Oxford has an amazing array of museums that are either free or very reasonably priced to get into. These include the famous Ashmolean Museum which was the very first public museum in Britain – it contains all kinds of extraordinary items such as drawings by Leonardo da Vinci, paintings by Picasso, Constable and Rubens (to name but a few), artifacts from Prehistoric Egypt and a death mask of Oliver Cromwell. That's just a handful of the huge array of items that this museum has to offer, so no matter where you interests lie, you'll find something that tickles your fancy in the Ashmolean. The other museums in Oxford are all well stocked too – so whether you are the sort of person who'd be agog at the Museum of the History of Science, or if natural history is more your thing then why not take a look at the Skeleton Parade in the Museum or Natural History? Another option, if you want to learn about Oxford's history itself, is the Museum of Oxford – basically, whatever you are interested in, Oxford has a museum that will scratch that itch for you!
Tour the City Streets
Oxford is a city that is filled with astounding sights and amazing features. The city centre is also compact and easy to explore on foot. There are various free walking tours if you'd like to know a bit more about the city you are in, or you could just explore yourselves and see what takes your fancy. There's something of interest down almost every street, and you could find yourselves spending hours soaking in the unique atmosphere that this city provides.
Some of the organised tours specialise in certain Oxford-centric aspects. So if you fancy a Harry Potter tour, a CS Lewis tour, a Lewis Carroll tour or any of a handful of others, you are in the right place. This city has had a huge impact on many of this countries most famous people, so why not have a look and see what influenced the best of the best?
See the Shark that attacked a house
In Headington (which is around a 50 minute walk from the city centre, though also easily serviceable by bus or taxi), there is a famous sculpture that has taken the breath away of every visitor on the road in the last thirty six years. It is, to put it bluntly, something that you don't see every day. A quick visit to Number 2, New High Street will lead you to the famous shark of Headington. This sculpture is of a shark crashing through the roof of the house, looking like something from a cheesy Sci-Fi movie where a shark has been picked up by a tornado and forcibly dropped onto a quiet residential area (Sharknado anyone?!). Trust me, it's one of those things that is worth seeing, simply because of the absolute ridiculousness of it!
Go shopping in the Oxford Covered Market
Oxford's covered market has been around for over two hundred years, and has always been somewhere great to spend an afternoon. There's a huge range of stalls available within it, supplying all kinds of different services and goods. If you are into food, then the Pie shop is legendary, the fresh fish is out of this world and the chocolate stall is so good that you'll find yourself spending a fortune there if you aren't careful! If you go at lunchtime, you can take your pick from any number of cafes, bars or restaurants, combining amazing drinks with outstanding food, all within the atmosphere of this unique location. That's not all either, there are clothes shops (the hat shop is a particular favourite of mine), jewellers, souvenir shops, plant shops, a soap shop, an ice cream parlour and even a cake shop which is so good it is simply named "The Cake Shop". That sounds like an exhaustive list, I know, but in truth I've barely scratched the surface. This market is one of the best places in Oxford to spend an afternoon, so make sure you give it a visit.
Visit (and take photos) in Radcliffe Square
There is one building in Oxford that is more famous than any of the others. The building (and surrounding square) is probably the most photographed part of the city. I am, of course, talking about about the Radcliffe Camera building. Built in 1749, this building is only open to the public on tours of the Bodleian Library, but it is a thing of sheer beauty. You'll also recognise it from a wide array of films – it's been in The Golden Compass, Young Sherlock Holmes, The Saint and The Red Violin to name just a handful. It's definitely somewhere you want to go and take photos when you are exploring the city on your Oxford Hen Do.
That's just a handful of the many things that you can do for free (or cheap) on your Oxford Hen Do. Make sure that if you do any of them, you take some photos and tag us in them (we are @staghenexp on Instagram and "The Stag and Hen Experience" on Facebook) - we'd love to see you taking advantage of the ideas we've given you today, and we'd also love to see what suggestions you'd make for any future lists of things to do on your Oxford hen do.
The Stag and Hen Experience has been creating the best bespoke hen dos since 2009, so, if you're looking to plan a hen weekend package anywhere in the UK or abroad, get in touch on 01202 566100 or via this email address admin@staghenexp.co.uk and one of our expert hen do organisers will help you put together a fantastic hen weekend package for you and your group.