Free things to do on your Chester Hen weekend
One of the most beautiful cities in the UK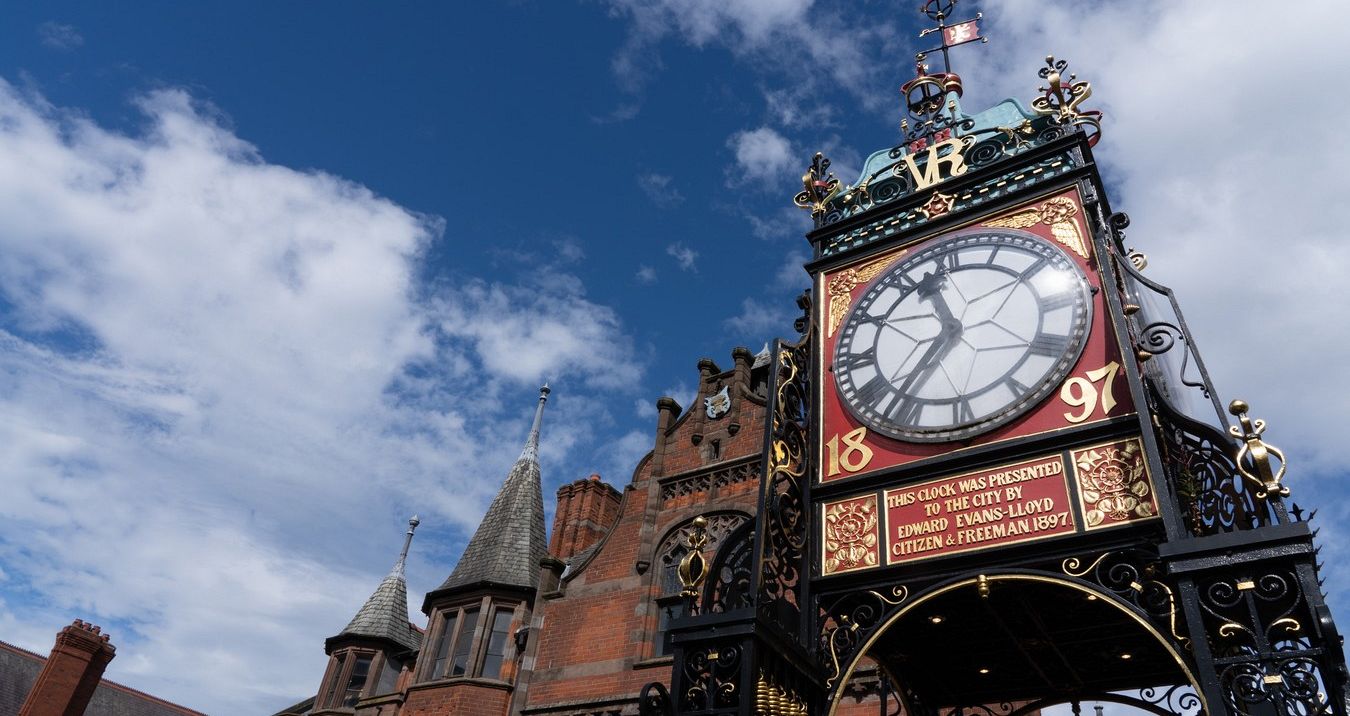 Pictured: Chester's famous Eastgate Clock which marks the original entrance to the Roman Fortress
Free things to do on your Chester Hen weekend
Despite not being a major city or holiday resort, Chester always seems to be a popular destination for Hen weekends. Chester is like some of the most popular bits of England's favourite towns and cities spliced together, the Roman walls could be from York, the magnificent gothic cathedral could be from Canterbury, the riverside could be in Bath and the canals from Birmingham. In addition Chester has a thriving nightlife with a wide enough variety of cocktail bar, pubs and nightclubs to keep any Hen party happy. Chester also has a great variety of restaurants from budget to up market, featuring all sorts of international cuisines, in addition to which there is a good selection of accommodation from family run B&B's to five star hotels and private houses. In short, although it could easily be overshadowed by bigger, brasher neighbours like Liverpool, Chester has enough history, character and style that it can hold its own in the Hen party stakes! There is plenty for you to do and see in Chester and here are a few of our favourite suggestions for free things to do on your Chester hen do.
Walk the Roman Walls
Chester city walls are one of the most popular tourist attractions in Chester. They are free to visit and a walk around the walls is a great way for your Hen party to see some awesome views of the city and orientate yourselves a bit in preparation for your Chester Hen weekend. The walls themselves were originally built by the Romans, when they constructed the fortress of Deva Victrix between 74 and 75 AD. The walls were originally an earth rampart which was reconstructed with sandstone in approximately 100AD and the original Roman masonry can still be seen on the lower levels of the wall. The walls have been added to and improved until, in the Middle Ages, they surrounded the whole city, with a length of approximately 2 miles, so make sure you have your comfy shoes on when you set out! The walls were fortified (and badly damaged) in the English Civil War and after that lost their defensive purpose and were developed for leisure and recreation.
Visit Chester Rows
No Hen weekend in Chester would be complete without a visit to Chester Rows. The Chester Rows are free to enter and are an extensive series of elevated walkways which provide a second row of sheltered retail premises throughout the city centre. These iconic black and white double decker structures date back to the 11 th or 12th Centuries and are essentially a medieval shopping mall, where you can browse the shops at ground level or under a sheltered walk way on the upper level. Unlike any other UK retail experience, shop owners in Chester Row are an unbroken link with early medieval traders. When you are shopping in Chester Rows you are shopping where people have been continuously shopping for over 800 years. Chester Rows contain a fantastic variety of shops, from major outlets to small independent retailers and international restaurants. Whether you are shopping or window shopping on your Hen weekend in Chester, a visit to Chester Rows is a must!
Visit the Grosvenor Museum
If you have free time to fill on a rainy day on your Hen weekend in Chester then you can always take a visit to the Grosvenor Museum, or to give it its full name the Grosvenor Museum of Natural History and Archaeology, with Schools of Science and Art, for Chester, Cheshire and North Wales. You will notice, if you do visit, that they did not have enough space on the front of the building for all those words. Entrance to the Museum is free and the Roman History section is particularly informative for anyone wanting to know more about the history of Chester.
Picnic in the Chester Roman Gardens
Just outside the city walls, near to Chester Amphitheatre, are the Chester Roman Gardens. They are free to enter and although the gardens themselves are reconstructions of a Roman Garden, they also include fragments of important Roman buildings, such as the main baths and the legionary headquarters. The gardens also contain original Roman Columns and a reconstruction of a "hypocaust", a Roman underground heating system. The Roman Gardens were constructed in 1949 and were a contribution to the 1951 Festival of Britain. On a sunny afternoon the Chester Roman Gardens will provide you and your girls an ideal location for a picnic on your Hen weekend in Chester, or if you are just in the mood for a stroll it is a nice quiet green space in the city centre where you can catch your breath before the next escapade!
Enjoy free nightclub admission with The Stag and Hen Experience!
We've saved the best to last! If you plan and book your Hen weekend in Chester using the Stag and Hen experience we will provide you and your girls with free Nightclub admission to make sure your Hen weekend goes off in Chester goes off with a bang. Save yourselves some money and ensure you get into your chosen nightclubs with our guest list entry and you and the girls can enjoy one of Chester's lively nightclubs for free to make your Hen weekend in Chester one to remember!
The Stag and Hen Experience has been creating the best bespoke hen weekends since 2009, so, if you're looking to plan a hen weekend package anywhere in the UK or abroad, get in touch on 01202 566100 or via this email address admin@staghenexp.co.uk and one of our expert hen do organisers will help you put together a fantastic hen weekend package for you and your group.