Hen Party Activities
For the competitive.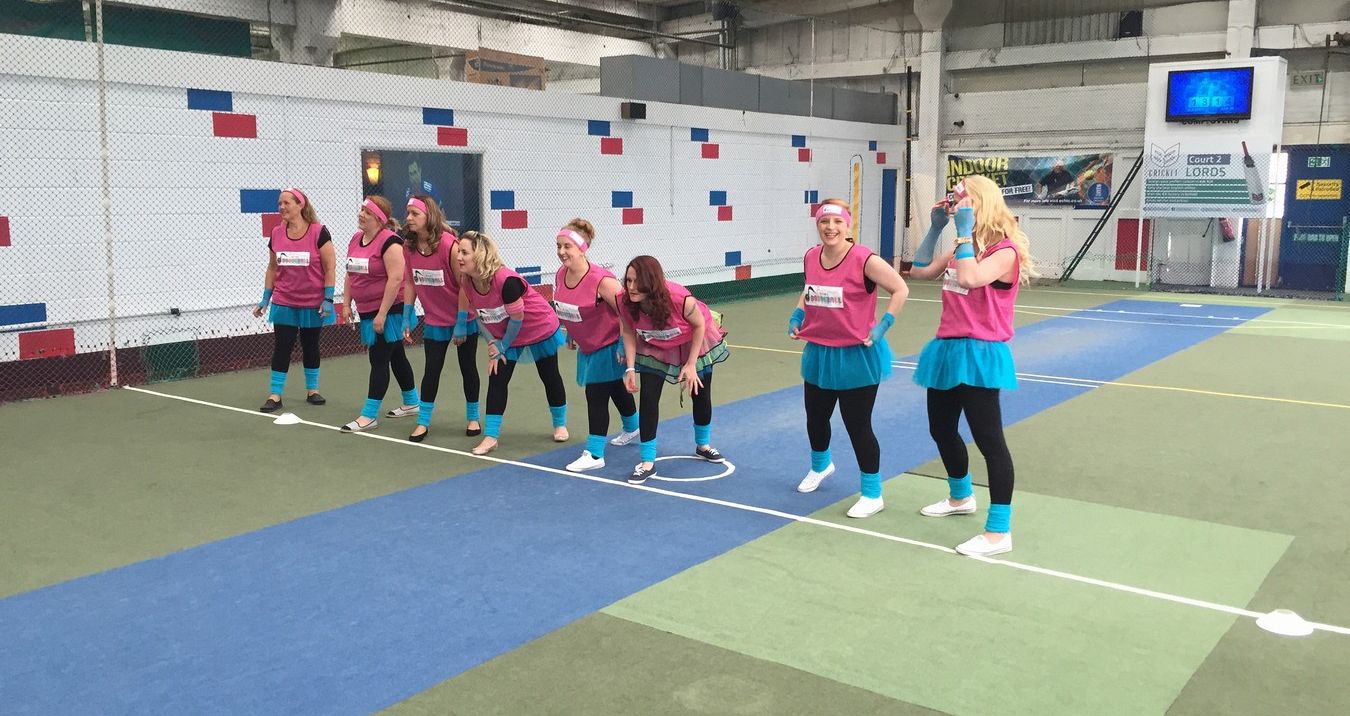 Top 5 Competitive Hen Party Activities
Here at the Stag and Hen Experience we have a wide choice of activities to make your Hen do that little bit more special, and particularly popular among these activities are the competitive Hen do activities. Competitive team activities will get your hearts pumping, provide plenty of giggles and also help create a sense of camaraderie amongst your girls, which is particularly useful if your Hens don't know each other very well. We offer a huge range of competitive Hen activities, so, in the name of simplicity, we have broken it down for you with a selection of our top 5 competitive Hen party activities.
Inflatable Games
The first thing that spring so mind for us when we are asked about competitive Hen activities is the Inflatable Games. The Inflatable Games are, quite simply, an enormous amount of fun involving water, foam, fancy dress and an inflatable obstacle course. This is very much a summer activity and is available in a number of locations nationwide, from Bath to Whitley Bay. The format is simple, after a quick warm up you will split into teams, after which you will take on the inflatable obstacles, the foam and your opposing team to see who which team will be the ultimate winners of a variety of fantastically fun games guaranteed to bring mirth and hilarity to your day! No one has got be a super athlete to take part, all you need is a sense of fun, teamwork and a willingness to throw yourself into the madcap games you will be playing! Forget the stress of organising a wedding for the day, lose your inhibitions, get covered in foam from head to toe and have the time of your life with this zany, messy top 5 competitive Hen activity.
Old School Sports Day
An automatic shoe in for our top 5 competitive Hen activities has to be the Old School Sports Day. This wildly enjoyable activity is always one of our best sellers and will take you all back to younger, more innocent days, when the world was full of wonder and stress was not a part of your daily lives, those halcyon days before having to adult became a painful reality! Old School Sports Day gives you and the girls a chance to relive the past glories of primary school Sports days, were you the champion at Egg and Spoon racing or did you excel at the Skipping race? Here is your chance to shine! Are you team player enough to triumph at the Three Legged race or the Wheelbarrow race? This is an opportunity to prove it! Old School Sports Day will get your pulses racing and your sides aching with laughter and for those reasons we can't leave it out of our top 5 competitive Hen activities.
Olympic Shames
If the Old School Sports Day sounds like fun, but you feel that maybe it's a little bit too wholesome for you and your girls, then our next entry in our top 5 competitive Hen activities, the Olympic Shames, should be right up your street! The Olympic Shames are a fantastic ice breaker to get your Hen weekend going, as basically everyone has to make fools of themselves and there is no greater leveller than dressing in a fluorescent tutu and playing silly games involving props such as inflatable penises. The Olympic Shames are basically a naughtier version of the Old School Sports Day, so if you and the girls are looking for competitive Hen act activities full of innuendo and giggles, with games such as "Twerk Off" and "Do your balls hang low" to name but two, then the Olympic Shames should always be given consideration in our top 5 competitive Hen activities.
Disco Dodgeball
Disco Dodgeball is another of our top 5 competitive Hen activities which is guaranteed to raise gales of laughter and buckets of perspiration. Dodgeball has its origins some two hundred years ago in Africa, where it was played with rocks, with a deadly intent to cause serious injury or even death, but these days it is played with rubber playground balls as a recreational sport as opposed to a ruthless military training exercise! Disco Dodgeball takes the enormously entertaining game of Dodgeball and sets it to music. Disco dodgeball incorporates a number of Dodge ball variant games, basically throwing balls at your opponents while avoiding the balls thrown at you, including Team Dodgeball, Last Person Standing and Dance-Off Dodgeball all set to classic disco tracks from across the decades! If you are looking for, quite literally, an all singing and all dancing afternoon of fun, then Disco Dodgeball may be the one of our top 5 competitive Hen activities that is for you.
Go Karting
Last but not least of our top 5 competitive Hen activities comes that perennial favourite, Go Karting. This is the one of our top 5 competitive Hen activities which is perfect for those lovers of high speed driving. Who says that ladies can't drive? You and the girls will show them all and at the same time, you can see who amongst you can clock the fastest time! Go-karting is a fantastic way to spend an afternoon on a Hen weekend, and after an initial briefing you get to put on your helmet and strap yourself into the go kart for a few trial laps to get the feel of the car and the track before you and the girls will be let loose to show them what you can do behind the wheel of a Go kart! If you are searching for a high speed, high octane challenge in amongst our top 5 competitive Hen activities, then your search is over and Go-karting is the competitive Hen activity for you!
The Stag and Hen Experience has been creating the best bespoke hen weekends since 2009, so, if you're looking to plan a hen weekend package anywhere in the UK or abroad, get in touch on 01202 566100 or via this email address admin@staghenexp.co.uk and one of our expert hen party organisers will help you put together a fantastic package for you and your group.