Inverness Stag Do
My great stag do.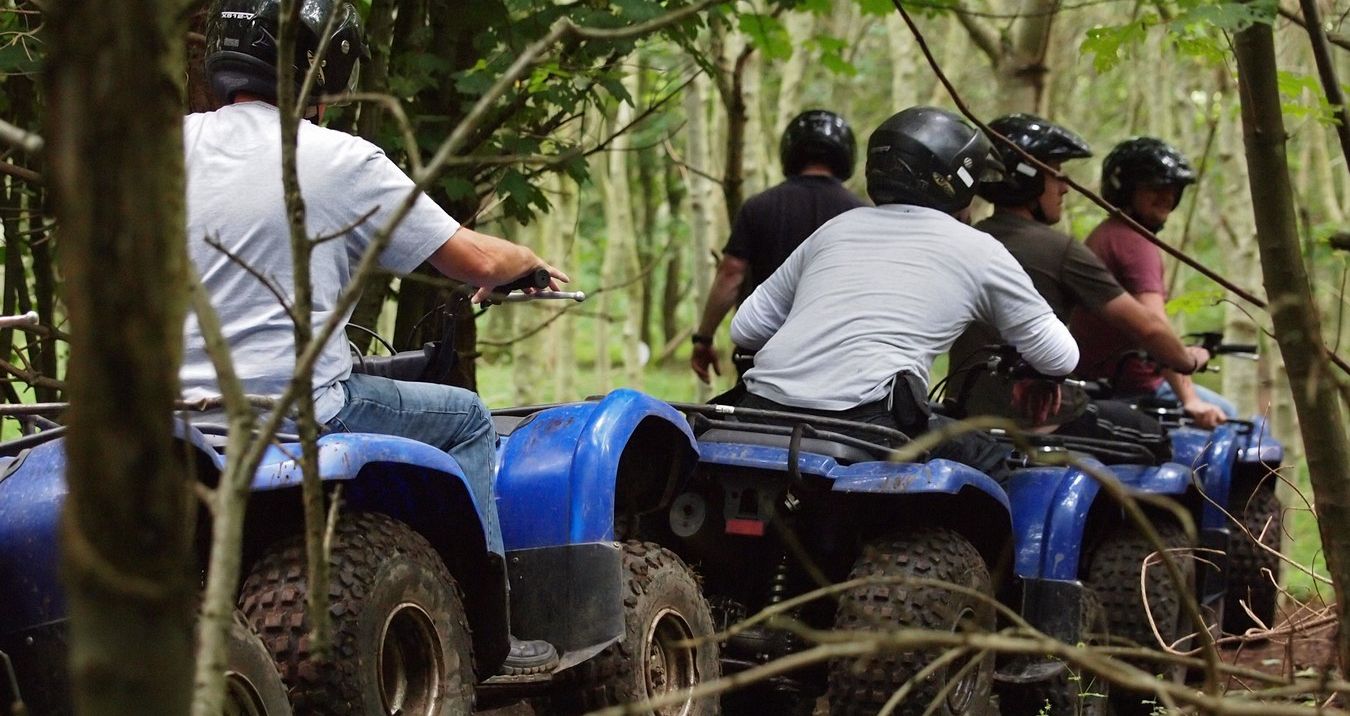 Inverness Stag Do
I wanted to have an Inverness Stag do because some of my pals are from my home in Glasgow and some are from Edinburgh, where I went to University. I wanted to have a real Scottish theme for my Stag do, so I thought where better to go than the Highlands? I set my best man, Jamie, on the case but he seemed to struggle a bit and with 6 months to go he had managed to book some stag party accommodation for all sixteen of us, but things hadn't really got a lot further than that. I kind of stepped in at this point and called a company I had used to book a Stag weekend in Spain a few years before, The Stag and Hen Experience, and I spoke to Naomi who gave me some great ideas. For my Inverness Stag do I decided to book quad biking, for the Friday, followed by a pub crawl with the Bar Crawl Babes and, on Saturday, an afternoon of gorge walking for the true highland flavour. I was really looking forward to it and best of all it all came in under budget!
The accommodation for my Inverness stag weekend had been a bit of a journey, we originally planned to get a lodge but Jamie ended up booking rooms for the sixteen of us, but after speaking to Naomi, we realised the company could get us better stag do accommodation at a better price. This turned out to be a great shout. The stag hotel was about as central as it is possible to get and was literally 2 minutes' walk from the station. The rooms were all a decent size, with four beds in one bedroom and six in each of the other two, there was decent size communal area and a kitchen, everything was spotless and we were told when we checked in that we were the only group staying there, so we had the run of the place.
After we had dropped our kit off it was time for quad biking and we were collected by a minibus to take us the 30 miles or so to Aviemore, where the quad bike centre was based. The minibus driver, who introduced himself as Jock, was one of the highlights of my Stag weekend in Inverness, he kept up a constant stream of local history and little anecdotes which kept us enthralled all through the journey and we were a little bit disappointed when we got to Aviemore! Quad biking was awesome, after a little practice on a warm up track we were taken through woodland tracks and across hillsides with glorious mountain scenery and through hidden little glades. It really was a top way to spend the afternoon, experiencing the real Scotland, and I got some amazing photos for my Instagram as an added bonus! After the quad biking it was back into the minibus for the return journey to Inverness and we all made sure that Jock got a hefty tip from us for his input to what was a great first afternoon for my Stag weekend in Inverness.
That evening, after we'd got cleaned up and had a top notch pizza at the Black Isle Bar, which was sort of a sister bar for where we were staying, we were met at our accommodation by the Bar Crawl Babes for the Friday night activity of my Stag weekend in Inverness, the pub crawl! There were three girls guiding us for the evening and they did a damn good job of it as well! They took us to a few bars, none of whose names I can remember, and they were great fun with the drinking games and general banter, and made sure we got free shots in each bar, which no-one argued with! They sorted all the drinks all night with a kitty that we gave them, so none of us had to queue for drinks and all in all they made what would have been a good night out anyway, really memorable. They finally delivered us to a local nightclub where Naomi had booked us in on the guest list and because a few friends of theirs were there at the club, they hung around for a few more drinks with us as an added bonus. The Friday night of my Stag weekend in Inverness had gone exactly to plan and a fine time was had by all!
After a very hungover breakfast the next morning it was time for our next adventure on my Stag weekend in Inverness, gorge walking. This was another activity that we were going to have to travel a bit for and when the minibus turned up we were delighted to see it was our man Jock at the wheel again, who kept us regaled with his stories and in stitches from his banter on the ten to fifteen minute journey up to Culloden, where the gorge was. The actual gorge walking did not disappoint in the slightest, we were wet-suited and helmeted up and had to scramble, jump and swim along the gorge. The views from the mountainside were absolutely out of this world and don't think I've ever felt as Scottish in my life! By the end of the session we were all absolutely knackered from the unaccustomed exercise, but we still totally exhilarated by it all. It really was a fantastic idea for my Stag weekend in Inverness and made for an unforgettable afternoon
After Jock has dropped us back at the stag do hotel I had a catnap for a few hours before it was time for the Saturday night out of my Stag weekend in Inverness. We started off with a decent curry at a local curry house, all washed down with plenty of Kingfisher beer, before we hit a few of the local bars, with a drink here and a drink there, before finishing off at the Private Eyes Gentleman's club, which Naomi had kindly booked for us. Private Eyes was the ideal way to finish off my Stag weekend in Inverness, the girls were really hot and a few of them could really throw some moves on the pole. I was pulled on stage for the obligatory Stag's dance and the guys reciprocated this by spending plenty of money on dances with the girls. We staggered back to the hotel, drunk, happy and skint, satisfied that my Inverness Stag do was a job well done.