My Blackpool Stag Do part 1
Exactly what I wanted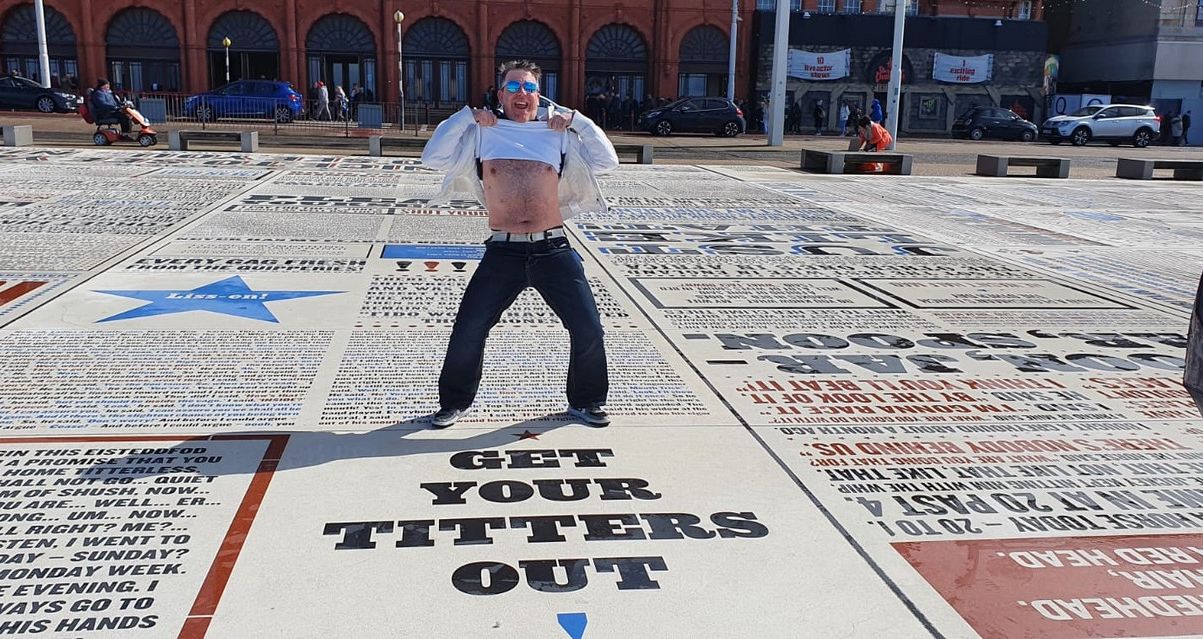 Pictured: Blackpool's comedy carpet on the prom.
My Blackpool Stag Do
There are some places that are synonymous with stag dos. Brighton is one, Newcastle is another, Bournemouth is a third, but the one that is probably the most synonymous is Blackpool. After all, this seaside resort has been the preferred destination for stag (and hen) dos for decades now. So when my good friend Ross announced that his stag was going to be in Blackpool, there was some true excitement surrounding it. Because we are based in the south of the country, trips that far north are few and far between, and most of us had never been to Blackpool before – certainly not for stag weekends.
Fuelled by excitement, coffee, red bull and bacon sandwiches, we piled into a minibus at 8am and prepared ourselves for the long but worthwhile journey that we were about to take. As always with a long journey in a bus full of lads, we went through the several stages of entertainment. Stage one, quite conversations with the person sitting next to you. Stage two, yelling opinions across the bus to interrupt other conversations that you can hear going on. Stage three, everyone abandons conversation and we ramp up some loud music. Stage four, someone opens the first beer, and from then on the journey settles down into drinking, chatting and increasing requirements to stop for toilet breaks.
We fought our way through roadworks, accidents and argumentative sat navs, and finally found ourselves rolling up to our Blackpool hotel in the mid afternoon. If you have never been to Blackpool before, you won't know just how common a stag do arrival is. Our hotel was located on a street filled with hotels all of which were advertising that they were perfect for stag and hen groups – it was the perfect area of town for Blackpool stag dos to be in.
And once we got in, we found out just how perfect the hotel was. The owner was a great old boy who loved a drink and understood exactly what stag dos were looking for on a weekend away. His bar was well stocked and cheap, the pool table was free and the entire place was inviting. Sure we were crammed into a six bed room and a four bed room respectively, but the value was amazing, and it became a real home away from home for our weekend of debauchery.
We had vague plans for our Friday afternoon and evening, but nothing solidified. We were all desperately hungry, and a bit of online searching on the drive up had uncovered a noodle bar with great recommendations, so once we had settled into the hotel, we found ourselves heading in that direction with the intent to eat everything that we could find – and the food was suitably amazing for all of us. But we're not here to discuss food, we're here to talk about our Friday night out. And what a night out it was!
While the stag intended (in his own words), to "keep Friday night quite quiet", we all knew that it wouldn't end up that way. We found ourselves drinking through a couple of popular chain pubs and bars, before heading to a Rum bar with a live reggae band and a really friendly atmosphere. After trying several strange yet tasty rums, we moved on to a gentlemen's club. Because it's not really a stag do without a gentlemen's club is it?
This particular club was very friendly and they ensured that drinks were flowing, good times were being had and that anyone who wanted a dance got a dance. Happy, healthy and more than a bit drunk, we decided to find somewhere else to go, which is when we got a recommendation about a bar that was just up the road. Filled with music memorabilia, a buzzing atmosphere and a band that were able to provide great renditions of some classic rock tunes, we spent a couple of hours relaxing and laughing there and can highly recommend it.
Which brings us to about half one in the morning, and the first divide of the night. One of the boys was very drunk by this point, so three peeled off to take him back to the hotel (via a kebab house of course), while the rest of us headed on to a nightclub where we kept drinking and explored the dance floor for a couple more hours. By 3:30 we had all decided that enough was enough, and consequentially we headed back to the hotel, staggering up the stairs and all falling into bed – I was unconscious before my head even hit the pillow!
We awoke on the Saturday surprisingly early! After much debate, the decision was made that we needed to head out for breakfast pretty quickly because we had a full day of things to do ahead of us. Given that reasoning, three of us got ourselves up and ready with no fuss, and then kept being delayed by the others all jumping in the shower (and taking ages in doing so!) After this happened a third time, we went out for breakfast on our own, with the others joining us once they were finally ready to extricate themselves from the hotel.
Once fry ups had been eaten, cups of coffee and tea drunk down and various medicines of all kinds had been taken (we're all in our forties, so painkillers, antacids and various other remedies were all needed after the highlights of the night before), then we were ready to head out and face the day. And what a day we had planned! We were going to take in all kinds of sights and sounds unique to Blackpool, and ensure that the second day of this Blackpool stag weekend was just as amazing (if not more so) than the first day. With that in mind we all got up, left the café and found ourselves walking down to the seafront at Blackpool to see what more we could get up to (and what chaos we would be able to cause!)
END OF PART ONE
The Stag and Hen Experience has been creating the best stag weekends away since 2009, so, if you're looking to plan a stag weekend package anywhere in the UK or abroad, get in touch on 01202 566100 or via this email address admin@staghenexp.co.uk and one of our expert stag do organisers will help you put together a fantastic stag do for you and your group.