​My Blackpool Stag Do Part 2
A real pleasure!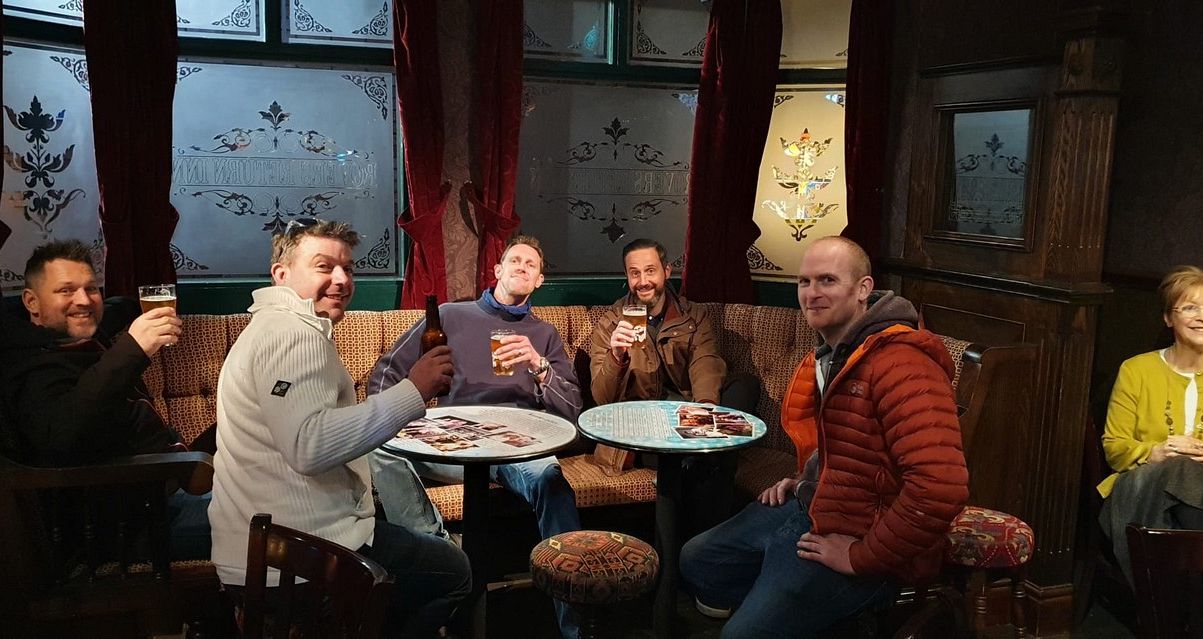 Pictured: A quick pint of best at The Rovers in Tussauds, Blackpool
My Blackpool Stag Do Part 2
At the end of part one of my Blackpool stag do, we'd all just finished our breakfast on the Saturday morning and were off out to explore the town. This had always been the plan, as since we'd travelled all the way from the south coast up to Blackpool, it was clear that we needed to make the most of all the Blackpool specific attractions and experiences that we could. We soon found ourselves on the seafront, taking in the sights of the world famous Blackpool tower as well as exploring the Comedy Carpet in front of it.
For those of you who don't know, the Comedy Carpet is a recent addition to this famous seafront and is an 1880 square metre piece of artwork that highlights quotes from all different comedians, meaning that whatever your sense of humour may be, you'll find something to laugh at here.
After the obligatory trip up to the top of the tower, and some gentle mickey taking of the one member of the group who isn't so keen on heights, we came back down to ground level and went off to do something a little more... active.
If you are on a Blackpool stag do, there's one thing you'd be foolish to miss out on – the Pleasure Beach. Most of us had never been before – I had, but about twenty years ago, and they've done a lot of work since then! The whole place is very friendly, easy to navigate and filled with things to do – whether you want to jump on a ride or sit back and watch some entertainment, all of the options are there for you.
For our stag do, it was definitely something more active that was on the agenda – we wanted to try out as many rides as we could. Luckily the queues were pretty short, so we all got to ride pretty much everything we wanted to ride. Icon, Iceblast and Avalanche were all options that turned out to be popular amongst everyone, but the real highlight was, of course, the Big One. This is the rollercoaster that put Blackpool on the map when it opened twenty-eight years ago, as it was the tallest and steepest roller coaster in the world when it was built. It may not hold those records any more (though it is still the tallest roller coaster in the UK), but the adrenaline-fuelled excitement that it offers is still something that's a perfect addition to any stag do. Though I do recommend riding it before you've had a drink, because once you've had a couple you may encounter some ill effects!
We'd had a couple of drinks at the Pleasure Beach (especially after we'd ridden the Big One, as you may expect), and after grabbing a late lunch, it was time for our next activity – and this was the only thing we were doing that wasn't Blackpool specific. After all, this stag do was the first weekend of April, which meant it was Grand National day. We needed to find a friendly pub to sit in and watch the race, while hoping that some of our bets paid off! We found ourselves in a very friendly pub where everyone else was clearly as invested in the race as we were, and the sense of sheer excitement was palpable.
With the winner being a 50/1 shot (and two of the lads having had reasonably sized bets on that horse, picked whilst sitting in a Yates pub!) the next couple of hours were spent celebrating, with drinks a-plenty. Pints were poured, shorts were swigged and more Jager bombs were drunk than should ever have been drunk in one afternoon! With our alcohol coats firmly on to counteract the increase in seaside wind, we decided to head out and explore, to see if there were any new bars to visit that we hadn't been to the night before.
There were plenty, but exploring didn't last long. As is often the way with a second night of a stag do, we found ourselves returning back to previously visited drinking establishments – ones that we knew would be somewhere that would keep us entertained for the evening. Pretty soon most of us had ended up in the bar we'd spent the most time in the night before, which had a different live band playing but still managed to have a welcoming atmosphere. And that was where we stayed. Slowly but surely people peeled off to go back to the hotel – until I was left alone, holding court with some lovely locals and drinking plenty, before deciding that it was time for me to retire.
Sunday morning. No-one likes getting up on a Sunday morning even when you are at home – when you are on a stag do, in a hotel several hundred miles away and still recovering from a night out, Sunday morning can be even worse. Suffice it to say that apart from our designated driver (who had stopped drinking in the middle of the afternoon the day before), the rest of us were a little sullen and cranky until we'd had a good meal and some strong coffee.
Then it was time to pile into the minibus and head home. The journey back wasn't quite as eventful as the journey up – everyone was in good spirits, but just a bit tired, and yawns were bouncing around the back of the bus like nobody's business. Still, it didn't take as long to get home as it had taken to get there, and pretty soon we were all being dropped off at our respective houses.
So, in summary, are Blackpool stag dos worth a total of thirteen hours round trip? The answer is a resounding "YES!" It's always nice to go somewhere different, and the wide variety of things to do in Blackpool coupled with the great value of food, drinks and pretty much everything else, meant that we ended up spending less than we would have done on an equivalent stag do down south. Basically, Blackpool is an essential stag do destination, and I cannot recommend a Blackpool Stag Do highly enough.
The Stag and Hen Experience has been creating the best stag weekends away since 2009, so, if you're looking to plan a stag weekend package anywhere in the UK or abroad, get in touch on 01202 566100 or via this email address admin@staghenexp.co.uk and one of our expert stag do organisers will help you put together a fantastic stag do for you and your group.