​My Brighton hen do in a Hen House
Hotels are so last year!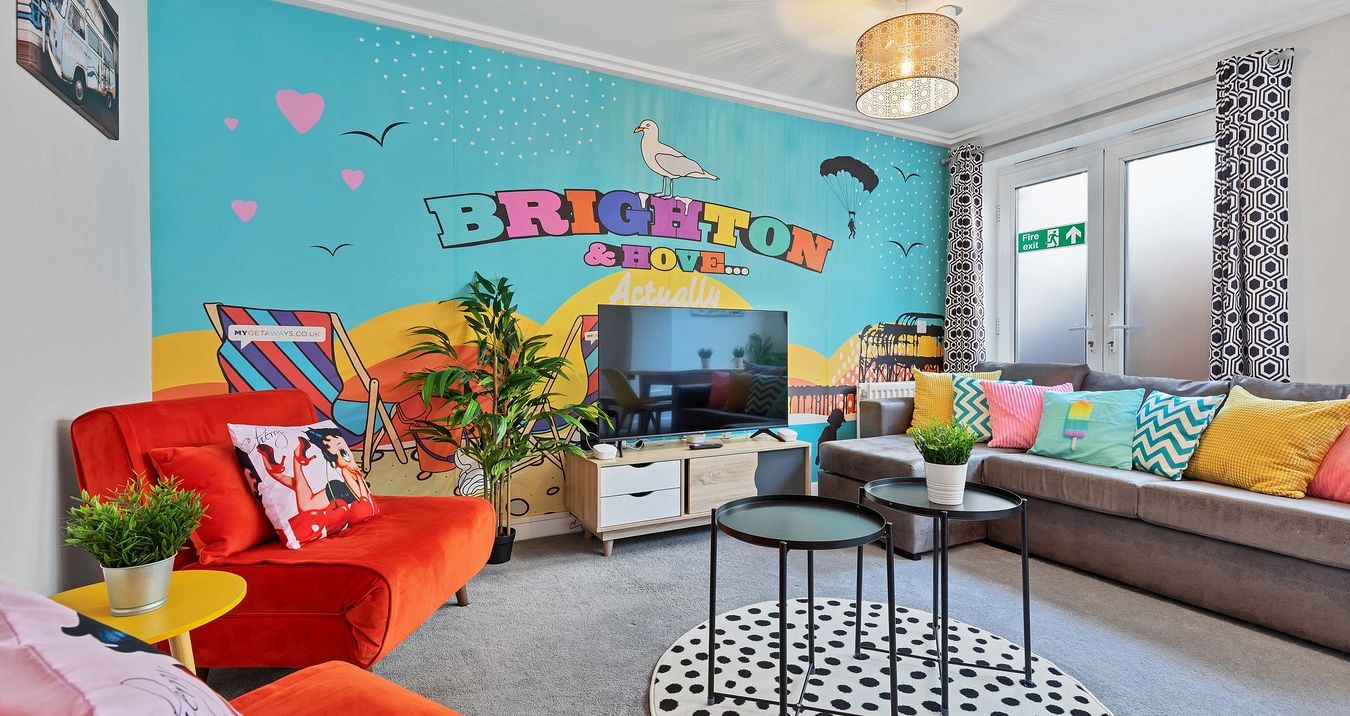 Pictured: Our amazing 'temporary' home for the weekend. Simply perfect!
My Brighton hen do in a Hen House
Planning my best friend's hen weekend took more initial planning than I had thought it would. After all, a hen do should be the easiest thing in the world to arrange, right? Get some girls together, go drinking, maybe make cocktails, go clubbing, even see a stripper – easy peasy. But what I hadn't factored in was that this particular hen (my best friend Lydia) liked all of these things, but they weren't the priority. For her the priority was everyone hanging out and having a good time, without having to traipse around from place to place.
"It'd be perfect", she said when we discussed it, "if we didn't have to go anywhere, and everything came to us."
Which sounded to me like an impossible task, until I relayed this query to Naomi at the Stag and Hen Experience, and she came up with one of the greatest ideas in the world.
"Why not book a hen house?"
Now I know that some of you reading this will know exactly what she meant, and some of you will have no clue whatsoever, so let me just clarify what a hen house is (for the sake of that second group). A hen house is exactly what it sounds like – it's a house you can hire for your hen weekend. Think of it like an Airbnb only bigger. I'd heard of them before, but I hadn't realised how great it would be.
Since we were all based in Guildford (a place known for being one of the most boring places in the world), the decision was made to book a Brighton hen do house, and I was super-excited to see what Lydia would think of this weekend away. Sadly, lots of have jobs that we can't book the Friday off, so it was about 5pm before most of us left, meaning we got to hen house by about half past six. We walked in and it was amazing. Two of the girls had managed to get down there earlier, and had decorated the place up to really make it feel personal and like our home for the weekend, which it was.
Lydia's always been someone who is very keen on the finer things in life – particularly when it comes to food. With that in mind, we'd booked something absolutely perfect, a private chef to come to the house and make an absolutely superb meal. When Lydia discovered that this was the case she actually squealled, so we enjoyed some wine, spirits and cocktails while a perfect dinner was being prepared. Once it was ready, the second surprise came into view – our dinner was being served by a cheeky butler who was wearing very little indeed! I don't know how he got his bum to look so perfect, but the entire table couldn't stop staring at it when he was serving us all.
After the meal, we got into a couple of taxis and popped out to explore a couple of classy cocktail bars in Blackpool – or at least, that was the intention. What actually happened was that we explored the cocktail bars we intended to, and then as we got drunker, we found ourselves just going anywhere that looked good!
Saturday morning was wonderful. Because we weren't going anywhere (and the activities were coming to us), we didn't have to do anything in the morning! No rushing around, no being desperate to get somewhere by a pre-determined time, just a lazy lie in and then some tasty breakfast to get the day off to a good start.
Lydia is a lady who loves to relax, so our first activity was a great surprise for her, a mobile pampering session. These wonderful ladies came right to the house and set up, giving all of us a chance to have a facial or manicure while enjoying some drinks, nibbles and giggles. This was followed by the highlight of the activities – the cocktail making. This was run by a pair of very experienced mixologists who basically turned the lounge into a custom-built bar and spent some time showing us exactly how to mix some of the best cocktails you've ever tasted. Their knowledge was amazing and their skills legendary, and by the end of the session we were all much better cocktail makers, and very tipsy!
After that, we all had a great laugh as we got ourselves dressed up and headed into town for our only activity that was booked outside of the hen house – the Funny Boyz show! This is a cabaret show that gives you everything you want and so much more besides. The entertainment was second to none (and very easy on the eyes if you know what I mean), and with some great games, drinks, nibbles and even a drag show chaperone for our group, it was an evening of entertainment that absolutely flew past!
With the cabaret done, it was time for us to go out on the town. By this point we had sort of joined forces with the hen dos on the table next to us, so all of us were hitting the bars together, determined to drink, dance and party until the sun came up. Luckily, since we were in Brighton, this wasn't a problem whatsoever. A night out in Brighton is something that you can't describe – if you've never experienced it, the only real suggestion I can make is that you should arrange a Brighton night out as soon as possible. I've been out drinking in many places around this country, and not one of them is as friendly or has such an amazing atmosphere as a night out on Brighton hen weekend.
Tired, drunk and exceedingly happy, we made our way back to the hen house and crashed out – sleeping right through until almost the time we needed to leave! After a quick pack up and organise, we all piled back into our cars and started the drive back to our boring everyday lives. As we pulled away from the house, Lydia looked back and quietly whispered "I wish we lived here." Which was a sentiment we all shared.
In fact, don't tell her new husband, but we've already booked another girls weekend away there for next year!
The Stag and Hen Experience has been creating the best bespoke hen weekends since 2009, so, if you're looking to plan a hen weekend package anywhere in the UK or abroad, get in touch on
01202 566100
or via this email address
admin@staghenexp.co.uk
and one of our expert hen do organisers will help you put together a fantastic hen weekend package for you and your group.