My Bristol Hen Do
Part Two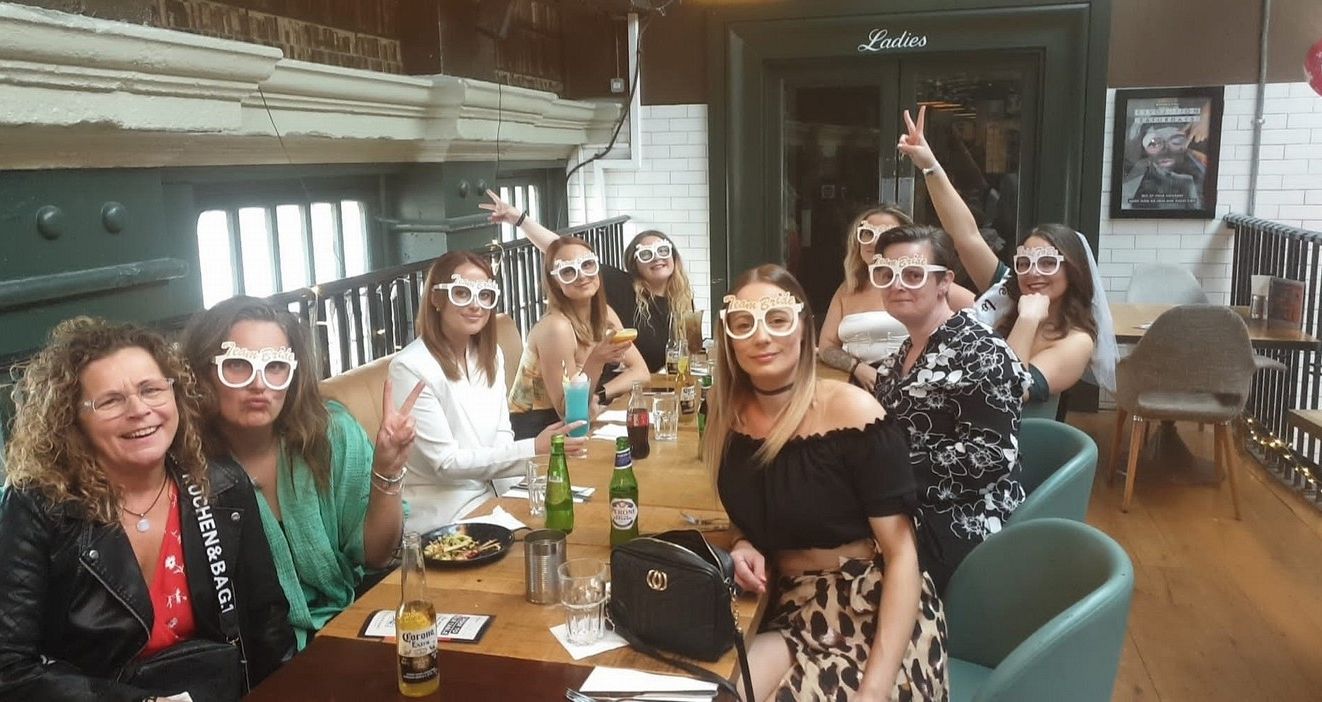 My Bristol Hen Do – Part Two
When I finished this at the end of Part One, we were just finishing up a great cocktail masterclass in the cottage that we were staying at on Louise's Bristol Hen Do. Once the wonderful mixologist had packed up and left, we all sat around letting our cocktails settle down and having a great girly chat about putting the world to rights. Louise was full of excitement and kept saying how great a time she was having, which is always nice to hear when you've put the weekend together for someone!
After some well-deserved relaxation in the cottage, we decided that it was time to head back into Bristol for some more fun (and plenty more drinks!). We had dinner in this great little burger place that offered a huge range of burgers for all tastes – even the vegetarians! (Though our friend Rosie was disappointed that she hadn't read the menu properly as she ordered a mushroom burger that she thought would be a big burger with mushrooms on top, and turned out to just be a grilled giant mushroom in place of the burger!).
The restaurant was very friendly and we stuck around for a drink or two afterwards, before realising that there was a queue of people waiting to eat and we should probably free up the table for them! Once we were done there, our next stop was somewhere that every good hen weekend in Bristol should include – a cabaret. This was an absolutely eye opening time for a number of reasons. The drinks were great, the music was great and the host was so hilarious that we were rolling in the aisles. There was also an absolutely outstanding array of male talent on the stage, and we were very grateful to have such nice things to look at (if you know what I mean!)
After the cabaret, it was time for some more dancing, which meant a nightclub. In order to make it different to the night before (when we had been to a good quality nightclub that played lots of popular dance music), we had decided that a Saturday night dance had to be done to cheesy music, so we found our way to one of the cheesiest nightclubs I've ever visited and we tore up that dance floor for hours on end. (Also, the drinks were the cheapest I think I've ever seen in a nightclub, which obviously helped!). No-one went home early on this Saturday night of fun, and we all stayed out dancing until we could see the sun starting to rise.
It made a nice change to wake up on a hen weekend on a Sunday morning and not immediately have to start thinking about packing up. Having the extra day was definitely a good idea – not just because Sunday was Louise's 30 th Birthday! We made sure she had a few gifts to open, before our day of planned fun began. Since we'd had two days of going out and about, Susan and I had decided when we planned the weekend that this day should be all about relaxing and letting things come to us.
The first thing that came to us was a mobile pampering service. Taking over the lounge, this little band of beauty professionals came in and treated us all like princesses, everyone getting a facial or a shoulder massage, and Louise herself getting a full package including a full body massage. Having this happen in our accommodation gave the entire thing a truly relaxed feel, and we all sipped Prosecco and chilled out as we were pampered to within an inch of our lives.
The pampering took up most of the afternoon, and by the time it was finished we were all tipsy and chattering away nineteen to the dozen. Not long after that, the next surprise arrived - a Private Chef to make us an absolutely outstanding dinner. The chef was friendly and chatted away to us all, with some of the girls spending a bit of time watching him cook and learning some tips and tricks, while the rest of us sipped on Prosecco that was served to us by the Cheeky Butler.
Yes, that's right, for the final part of our in-house debauchery day, we had an almost completely naked man serving us wine (and then later, the food). We'd debated whether or not to include this, because obviously you don't know what they look like when you book them, and there's always a worry that the butler that arrives isn't necessarily going to be your type.
Well there were no worries here, I think our Butler was everyone's type! The single girls were all over him from the start, and by the end even the happily married ones were staring just a little too long as he delivered yet another glass of Prosecco to their willing hands.
We'd made the decision not to go out on the Sunday night. Partly because we knew the meal would take us to a reasonably late time in the first place, and partly because going out on a Sunday night is always a bit of a damp squib. Instead we stayed in, played some utterly ridiculous games and drank our way through more bottles of prosecco and gin than I'd ever admit to.
And that is how the weekend came to a close. We all slowly passed out when we had reached our ideal level of drunkenness, and woke up the next morning, ready to pack up and head on back to reality. In all honesty, it was the best weekend away I think I've ever had with the girls, and I would go back to those cottages in a heartbeat. A Bristol hen weekend is an absolutely amazing idea, and if you have been reading this blog because you are considering it, I strongly suggest that you give it a try. It's a weekend away that you'll never forget, for all the right reasons.
The Stag and Hen Experience has been creating the best bespoke hen weekends since 2009, so, if you're looking to plan a hen weekend package anywhere in the UK or abroad, get in touch on 01202 566100 or via this email address admin@staghenexp.co.uk and one of our expert hen do organisers will help you put together a fantastic hen weekend package for you and your group.