Newquay Stag Do Day Two
Part 2 - My memory is a bit hazy to be honest!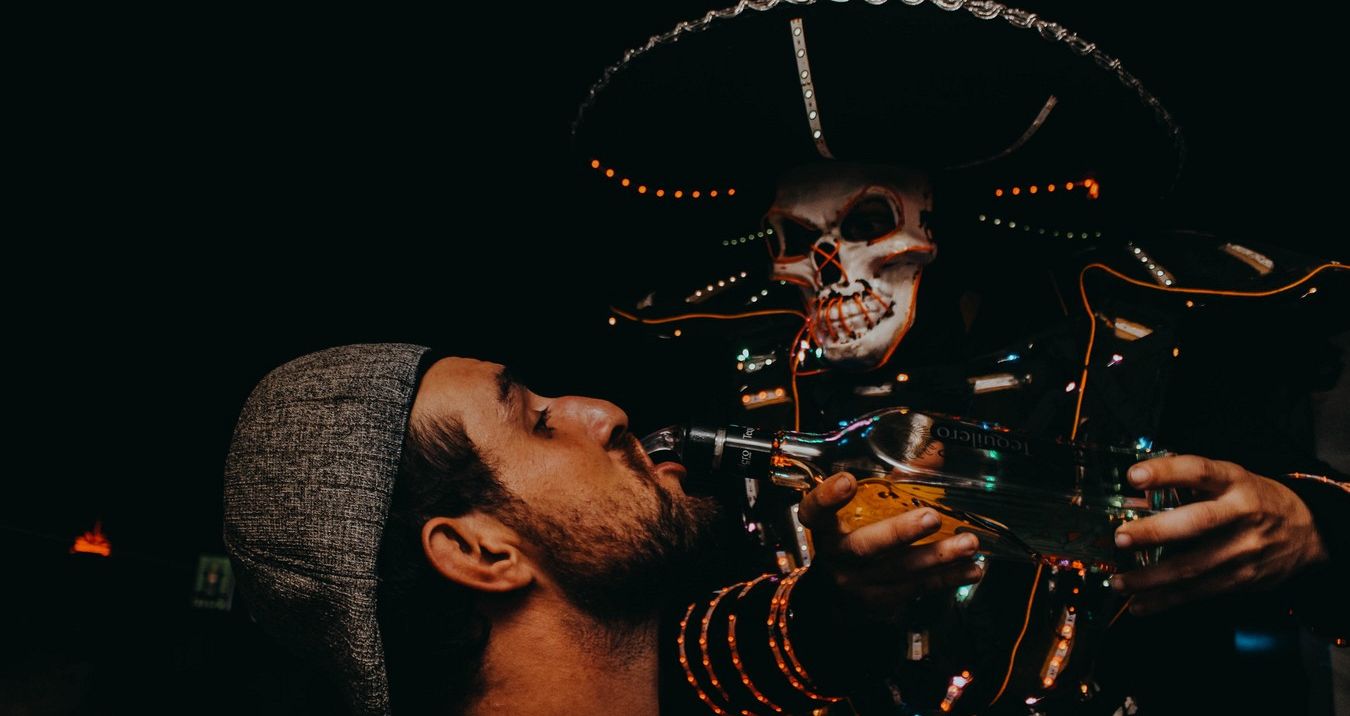 Day 2 of my Newquay Stag do - Well what I can remember of it anyway!
Oh my god! I wake up in the morning with a banging head, and the first thing is see is Gitface's cock and balls. He's sitting on the side of his bed, facing my direction, completely starkers and with his pecker at my eye level! He's definitely 'that' guy. That one friend we all have who likes getting his wanger out on special occasions. I think it's the posh school rugby player in him. I swear I once saw him down a dirty pint, throw it back up into the glass and then down the new contents! He's a proper wrong'un, but life wouldn't be the same without him, that's of sure! The smell of stale lager, last night's half eaten kebab and four lads' arses all blends together to make something the military would like to get their hands on, and it hits me harder than an absinthe. All this pales into insignificance though, because we're all together, and that was a great night. Why is it that every time I go on a stag or lads' weekend, everyone says, "We'll take it easy on Friday and it's Saturday we'll hit hard". I keep believing it and it never turns out that way. I'm sure anyone reading this will know what I mean!
We breathalysed Dessie and he came up clean, so thankfully we were good to go! It really helps when you've got at least one sensible one in the group. We decided to hit the local Spoons for brekkie before heading out for the karting. Cheap and decent. No booze though because it's a big no-no before an activity - particularly karting. Besides, I think everyone would struggle getting another beer down them at this hour! We arrive at the Karting and it's an impressive place, with both a kiddies track and an adults' track. There's a good few groups here already. Whilst one of the guys checks us in, I look around at the notice board. There's a press cutting that says Jay Kay from Jamiroquai flew in on a helicopter and had a race there. I know he's a bit of a petrol head and I'm now determined to beat him. What was his best lap time? Unfortunately, it didn't mention it in the article. I found a map of the track though, and some of the sections even have names. Nice touch! After check-in, most of us necked some energy drinks some because they needed the sugar and some because they wanted to gain any 'competitive edge' possible. Most of these guys are super competitive. It isn't long till the sledging & banter starts! Whilst waiting we watched the group in front of us. Whilst I was studying the track looking for the racing lines and potential overtaking points and places I could cause a bit of trouble for my fellow competitors who were talking behind me, they were planning on forfeits, how the hell can they make everything into a drinking game?! Tread on a drain, SHOT, drink right-handed, SHOT say a word with a vowel in it and … you get the gist. I definitely won't be downing a pint of vomit that's for sure, even if it's mine!
Forfeits were for those that were interested: -
Spin out
Crash
Slowest 'fastest lap'
Last place overall
Fastest lap (I'm in danger)
Causing a red flag (Still in Danger)
Black flag (oh shit I can almost taste the dirty pint now!)
I tried to suggest a forfeit to anyone who overtook me, but they were having none of it. Don't need it anyway. I'm shit hot at karting and pretty light, despite being 90% Kebab. I'm still gonna nail these bastards! A few of the other stags and hens were in fancy dress, there was a big baby wearing an adult nappy, cute little hat armed with a dummy, A girl (I think) wearing a morph suit and a selection of Mario characters from Mario Kart, I so wanted the Mushroom Helmet cover!
The Track is immense, I've been to karting tracks all over the UK and this one is easily in the top 3 and if you consider you can go karting at Silverstone, you know its good. They have loads of karts and because the track is so big you can have 20 people on track at the same time. We were given the standard safety briefing, which is important to listen to because it explains the flag system. We were put in our karts and ushered towards the starting grid. We had a couple of warm up laps where everyone was well mannered and polite to each other, then we were let loose and it was time for some proper carnage! Holy shit these thigs are quick, I'm glad my reactions were sharpened by my consuming a gallon of energy drink.
I came 'bloody fourth' Bloody fourth! I was tearing the race a new one, I led all the way through, then Shitface (promoted from Gitface) somehow managed to pull off a near perfect pit manoeuvre on the last bloody corner which spun me smack bang into a tyre wall. Tosser! He even waved as he sped off!! Even bigger tosser! You can see why he's been promoted. Meanwhile I'm waiting for the marshal to take the tyre off my head! Despite being a very humble good loser (honest!) Shitface absolutely loved it, he was up my arse all the way round, not bad for a big lad, he was waiting for me to make that one error and I obliged. Last corner man, last corner!
One of our group got T-boned into the same tyre wall early in the race and decided that he didn't like karting after all and begged for the Marshall to let him get out. He did of course, but not before picking himself up off the floor recovering from a fit of hysterics. He also made sure to let us all know afterwards, what a nice man. We didn't have a forfeit for that, so he earnt himself a new nickname instead, 'Driving Miss Daisy!'
Afterward everyone was hyped taking to each other about certain incidents that happened to them throughout the race and taking the piss out of Driving Miss Daisy. This really was an exhilarating activity and we even spoke about it periodically all night. What a terrific set up they have their 4 stars! (would have been 5 but hey, 4th!!!!!). Following an award ceremony where the relevant tossers got their trophies, and we said our thank yous, before leaving in what felt like the slowest minibus in the world!
Back to the hotel for a quick freshen up, then it's back to Berties. It was the nearest bar to our surf lodge and it was time for round 2. DING DING! Forfeit duties were paid, and in some cases, came right back out again. Newquay was absolutely packed. Bars, Restaurants, the lot. We ran into a load of lads who asked us if we were there for the 7's. Oh great, Newquay was full of Rugby players! I thought I was to going to learn some new drinking games, and I did!
I swear we must have been in every bar and pub in Newquay. Sometimes, not remembering every little detail of the previous evening was for the best, but not when you have eleven bloody eye witnesses who delight in reminding you of every stupid thing you did. I'm reliably informed that this included trying to break dance on concrete (that explains the grazes!), swapping clothes with several random male and female strangers (bye bye Versace, hello Primani), and eating a urinal cake for a bet. DO NOT DO THIS! I CANNOT STRESS THIS ENOUGH! NO! NO! NO! I also played drinking games with some seasoned (most likely pickled) rugby players and I'd like to think I mostly kept up with them. Finally, I let a hen group use me as a life size make up model. Personally, I thought I looked fab, darlings! We definitely made some new friends that night!
Luckily the tattoo artist refused to write 'Made in Bournemouth' on my arse, but unluckily, somehow the boys got hold of a sharpie and did a sort of home-made version. A bit larger than I'd imagined, but I appreciated the effort (not) as well as some other "creative" designs (even bigger not!). When I got back home, my fiancée really didn't appreciate their efforts at all, but I did try and remind her that it was better than a tattoo. In other news, I'm now writing this from my garden shed and I'm not allowed to go away with them on my own again!