Nottingham Hen Weekends
5 Free and cheap things to do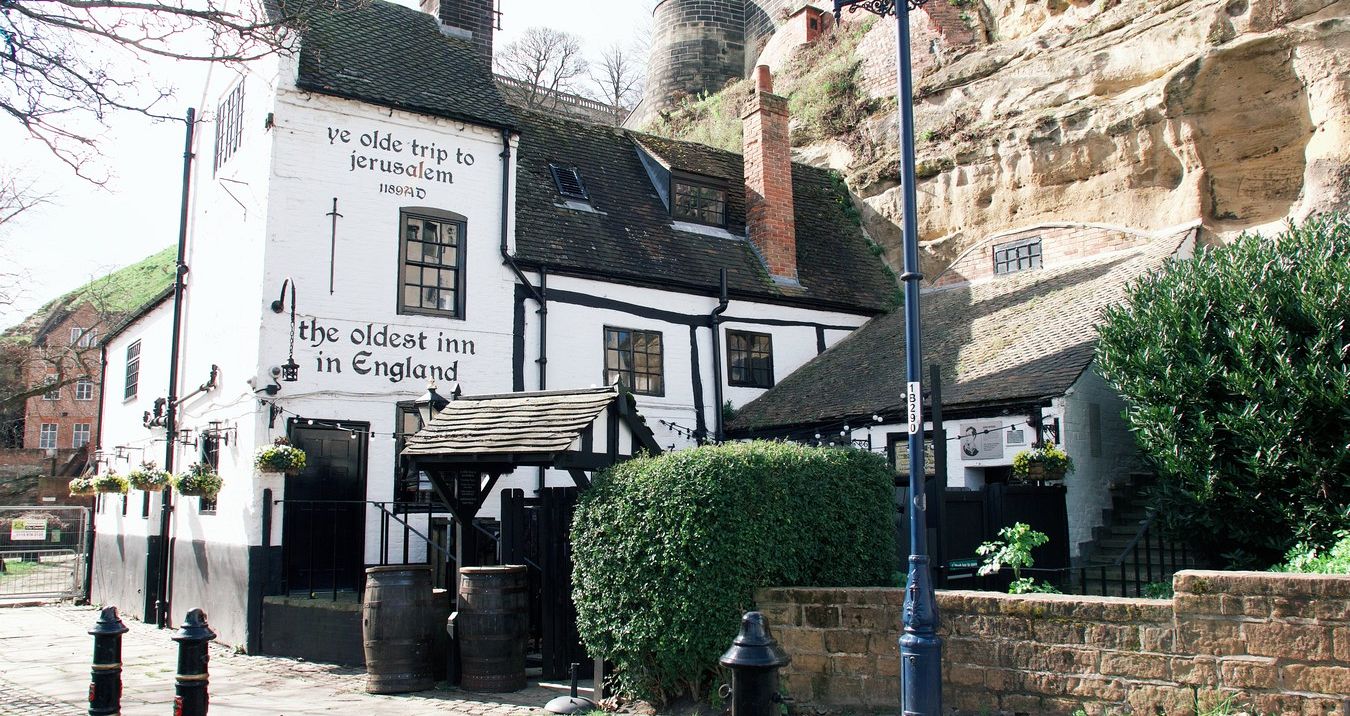 Pictured: The oldest pub in Nottingham, England
5 Free and cheap things to do in Nottingham (Hen)
A hen do in Nottingham makes for a fantastic hen weekend destination for your Hen do, with lots of history, folklore, culture and such a wide variety of things to do a Nottingham hen do has it all. With that in mind, there are going to be times during your weekend that you're not dancing the night away in one of the many amazing nightspots Nottingham has to offer. So what else is there to see and do in Nottingham that won't break the bank and offer you ladies an opportunity to unwind, learn and maybe have a picnic, so if you find yourself on a Nottingham hen do and have an afternoon to kill and you don't want to spend a fortune, why not try one of our selection of 5 free and cheap things to do on your Nottingham hen weekend.
Nottingham Trail
Free is best and so the first entry on our list of 5 free and cheap things to do in Nottingham will cost you nothing but your time and your shoe leather! If you have two or three hours and want to get a real feel for the City of Nottingham, then we recommend that you take a visit to the nearest Tourist Information Centre where you can get your free copy of the Nottingham Trail. Starting at the Centre, the Nottingham Trail will take you on a tour of iconic landmarks around Nottingham Centre, such as Old Market Square and its statue of Brian Clough (Legendary Nottingham Forest Football manager) you can also expect castles and caves, pubs and prisons and mirrors and masterpieces, well worth your time!
Nottingham Independent Shopping Trail
If you don't fancy history and retail therapy is more your bag, the Nottingham Independent Shopping Trail is another worth addition to our list of 5 free and cheap things to do on your Nottingham hen do. This is also available from the Tourist Information Centre as an alternative to the Nottingham Trail. The Nottingham Independent Shopping Trail is a guide to all Nottingham's independent shopping districts which have grown up over the years taking place of the former powerhouse industrial areas that one adorned the area during the industrial revolution. Leave no stone unturned as hidden side streets reveal hidden gems that may just have 'that' bargain you've been looking for. What better souvenir can you bring back from your besties Nottingham hen weekend. Why not spend the afternoon browsing retro arcade and offbeat districts for niche independent business offering unique items not available on the High Street? Perfect for any Nottingham hen do.
Ludorati
The next entry of our list of 5 free and cheap things to do in Nottingham for Hen's is ideal for those rainy afternoons when you want to just settle down and pass a relaxed fun afternoon. Ludorati is a board game and escape room café in Nottingham which has a selection of over 1000 board games for you to pass the afternoon with. Although this does cost, at £6.99 per person for a four hour block this is still a relatively inexpensive way to spend an afternoon and if you do fancy a go at the Escape Drome this costs £4.99 per person for groups of 6-8 people. So if your Nottingham hen weekend has a side order of rain, why not hide away and enjoy some classic board games or the Escape Drome. A Nottingham hen weekend bargain!
Geocaching at Wollaton Hall and Deer Park
Geocaching can be described as urban treasure hunting. Following clues, or using your phones GPS to locate 'caches' These can be big or small ffilled with goodies or simply leave your signature to sow you've found it, there are so may clever variations that one quick sentence can't do it justice. Geocaching in Nottingham offers your hen weekend the opportunity to take you off the beaten track and explore Nottingham 'below the surface' Wollaton Hall, in particular, is a spectacular Elizabethan mansion built in 1580 which has been the home of industrialists, barons and even, in the 2011 film The Dark Knight Rises, Batman! Standing on a hill near the centre of Nottingham, Wollaton Hall is surrounded by 500 acres of parkland which is home to all types of habitats including grassland, woodland and wetland. Herds of deer have roamed the parkland at Wollaton since the 14 th Century and there is still a herd there now. Geocaching is an outdoor treasure hunting game in which participants use GPS on their mobile phones to hide and seek containers called caches at specific locations marked by coordinates. There are 30 Geocache locations hidden around Wollaton Hall and Deer Park and the Geocache App is free to download so we have to include this as one of our 5 cheap and free things to do in Nottingham on your Hen do weekend. And if Geocaching doesn't sound like your thing, it's also an amazing opportunity to take some awesome pics for Instagram to document your Nottingham hen weekend.
City of Caves
Nottingham sits on a sandstone ridge which can be easily dug with hand tools to create cave dwellings. Bishop Asser, chronicler to Alfred the Great, described Nottingham in 868 as Tigguo Cobauc, meaning "Place of Caves". City of Caves is a must see visitor attraction in Nottingham based on a network of caves which have been in use for over 1000 years. These caves, carved out of the sandstone, have variously been used over the centuries as tanneries, public house cellars and, more recently, air raid shelters in the Second World War. The Caves are designated a scheduled monument as The Caves at Drury Hill, with Drury Hill being the medieval street the Caves were located under before it was demolished to make way for a shopping centre. None of the caves are natural and they were inhabited until 1845. City of Caves entry is not free but at only £8.75 we recommend this fascinating tour as one of 5 free and cheap things to do on your Nottingham hen do.
The Stag and Hen Experience has been creating the best bespoke hen weekends away for over 12 years, so, if you're looking to plan a hen weekend package anywhere in the UK or abroad, get in touch on 01202 566100 or via this email address naomi@staghenexp.co.uk and one of our expert hen do organizers will help you put together a fantastic hen do for you and your group.