Our Weekend in Ljubljana (Part Two)
Hangovers, Handguns and Hilarity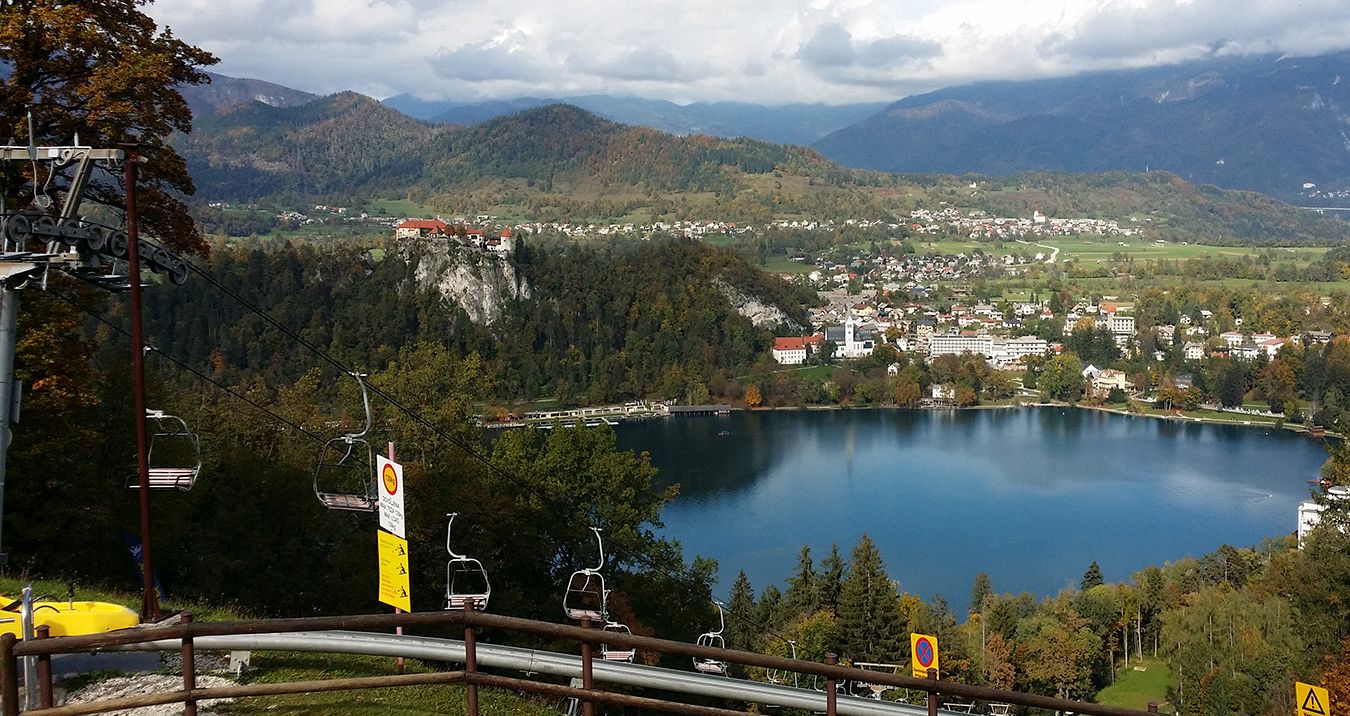 So, after our first big night out in Ljubljana (which you can read about here if you missed part one of this blog), I woke up with one of the worst hangovers I have ever had. Foolishly, I had not brought any paracetamol with me, and therefore had nothing to ease the horrendous pain I woke up with - although the tasty breakfast at the hotel did kind of take the edge off.
I was still a little worse for wear when our guide picked us up to take us out for the day. I was less than delighted to realise that the first thing we were doing was going to visit Bled - a small town nearby with a castle (which also has various activities surrounding it) which was a forty minute drive away.
I have never enjoyed a car journey less!
Once we arrived we were toured around a few bits and pieces, before being shown the castle...
Yes, that's the castle. Up a cliff. And we then had to climb up to get to it - which nearly killed me!
But once at the top, and having drunk the best cup of tea I have ever had in my entire life. I began to take notice of the surroundings again. After we admired the view and had a quick look in the castle, we decided to go and try out an activity - which was an on-rail bobsled run!
Interestingly, this is the best cure for a hangover ever. After a couple of runs down this exciting and fun activity, I was completely cured and desperate for more excitement. So I was overjoyed when i discovered that we were going shooting next!
We got to try out a selection of guns including a 9mm Glock, a Magnum and a shotgun. Reactions from the three of us varied from "Wow this is amazing" (Me), to "Please take this away before I accidentally shoot a real person with it" (One of my colleagues who shall remain nameless!). We even got to take our targets home as a memento, and the whole thing was a huge amount of fun.
That night we had some food and went out again for a few drinks, before heading to one of the cities biggest nightclubs where we found.. a Guns N Roses tribute band! Now I know it may not be everyone's cup of tea, but I freakin' LOVE Guns N Roses, so I happily spent the evening drinking and jumping around like a lunatic - and I managed to remember the entire evening!
After a better nights sleep, and waking with less of a hangover on the Sunday, we spent a bit of time touring around the city centre itself, which was insightful and fun, and then we got a lift back to the airport, got on the plane and promptly fell asleep - only to awake when arrived back in the UK.
So all in all - I would thoroughly recommend Ljubljana for a Stag Weekend - there's lots to do and lots of new things to try (at one point we ate horse burgers, which I thoroughly enjoyed - the others, not so much!) and it's a new place for those of you who have already been to a lot of Eastern European Destinations.
I can't wait to go back!