Stag Activities Newcastle
Five of the most popular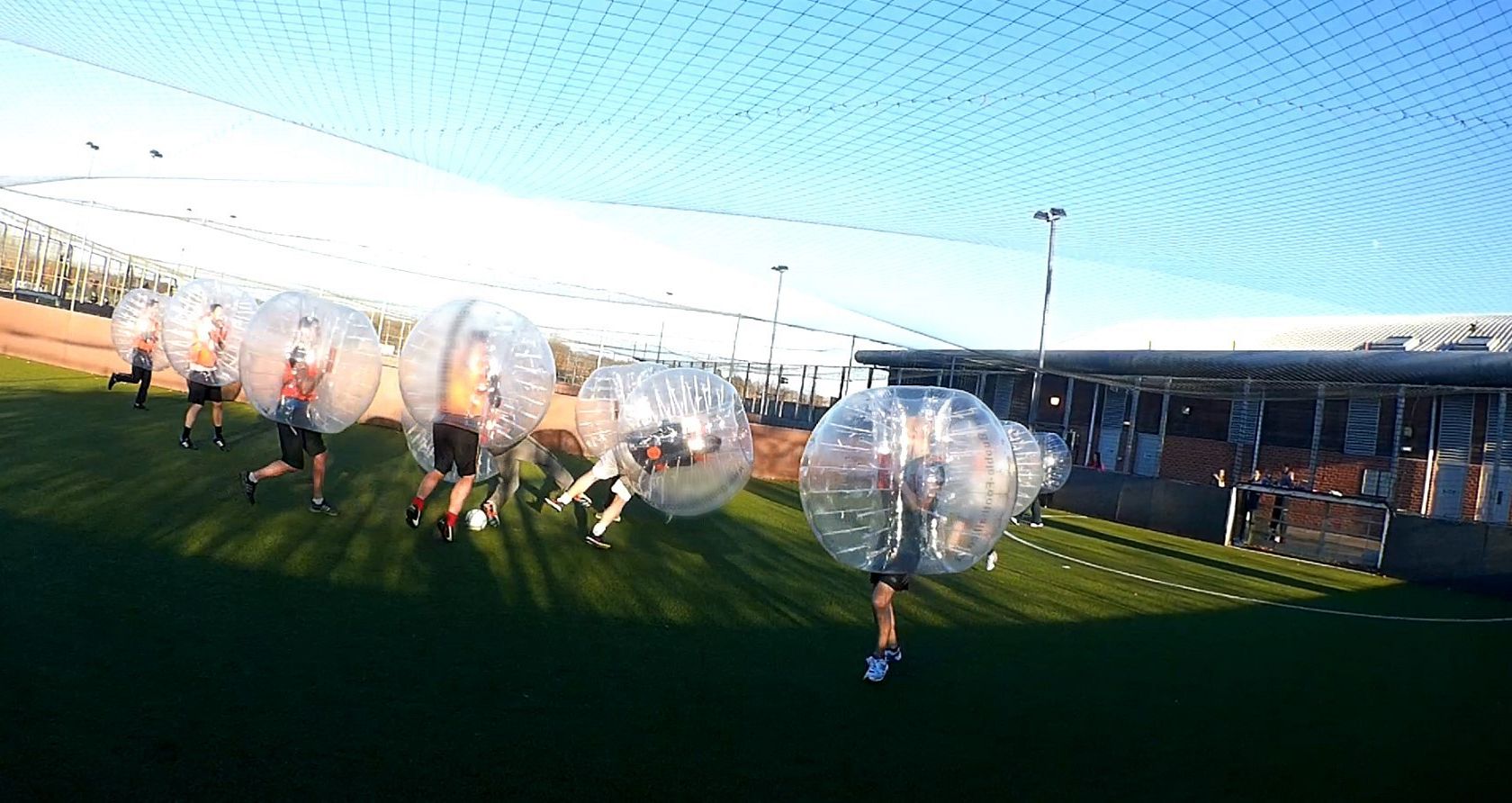 Top Five Stag Activities Newcastle
Newcastle is a haven for Stag Dos – but I'm sure you know that already! This northern city is infamous for the huge number of pubs, bars and clubs to visit on your last weekend of freedom, with a promise that you'll run out of energy before you run out of places to party. But as we all know, while going out for crazy nights out is part of any well planned Stag weekend, the other important part is finding great activities to do while you are there.
So what are the best Newcastle Stag Do activities ? What does everyone book when they go? The good news is that we've compiled a list for you to help you choose what you should be doing on your Stag Weekend Newcastle– so if you are trying to pick some options, have a look at the list below and see what appeals to you.
Zorb Football
Let's start with a modern classic. Zorb Football has been a growing Stag Do industry for several years at this point and is proving itself to be an activity that not only has staying power, but becomes more and more popular with every passing year. It's no surprise that more than half of our Newcastle Stag Do bookings of recent years have included Zorb Football as an essential part of their weekend away.
For those of you who are unaware of what Zorb Football is, put simply it's a game of five a side football, but where all the players are encased in what is essentially a giant ball! You'll find that tackling has new meaning to it when you can just launch yourself at your opponents and bounce them all around like a pinball. The act of actually kicking the ball is harder than you could imagine as well, with all sense of perspective and aim having to take a back seat to physically trying to move around as a beach ball with legs.
Beer Pong (with Beer)
Many of us may have tried playing beer pong at home after seeing it in countless American TV series' and films. But it's quite hard to set up and often you don't have the right number of glasses, or a ping pong ball, or enough players to make it worthwhile. What you really want to do is have a game that is set up for you in a great party venue, so that you and the rest of the lads on your Newcastle Stag Do are able to enjoy every shot.
Luckily, that's exactly what is on offer here! This venue specialises in ensuring that everything you need for a great game of Beer pong is provided, including ten bottles of beer. A perfect way to start a big night out in Newcastle, we can't recommend Beer Pong enough.
Gorge Scrambling
Some of you may be fans of an activity that is a bit more physical – a bit more adventurous than we've mentioned so far. If that's the case then a session of Gorge Scrambling sounds like it may be right up your alley, as this activity will bring adrenaline and excitement to any Newcastle Stag Do. Gorge Scrambling is basically a chance for you to explore the valleys, caves and rivers of the local area up close by climbing and sliding around them. With a knowledgeable and well-trained guide showing you the best places to explore, you'll be amazed by the incredible sights you will see.
One of the reasons that Gorge Scrambling is perfect for any Newcastle Stag Do is quite simply that it gives you the chance to feel like a proper explorer, and who amongst us hasn't wanted to do that before in their lives? This activity can be tailored for all skill levels, so all you need is enthusiasm and some clothes that you don't mind getting a bit dirty!
Shuffleboard
Wait up, don't scroll past this! I know that for many of you the word "Shuffleboard" will inherently bring up images of old people playing a slow boring game, but I can assure you that is just an antiquated stereotype, and that in this day and age, the popularity of Shuffleboard is on the rise with all age ranges. It's a simple game, but one that can be inherently addictive – if you've ever played lawn bowls or curling, it's basically the same but with the advantage that you can play it in a pub.
Yes, that's right, this is one of the best types of sport you can possibly play on a Newcastle Stag Do – a sport that is hosted entirely in a pub. You can even play with one hand while sipping your pint with the other if you so desire, which makes it the perfect activity for any Newcastle Stag Do.
Geordie Bar Crawl
Last but most definitely not least, we have Newcastle's unique nightlife activity, the Geordie Bar Crawl. As we alluded to earlier, Newcastle is packed so full of bars and pubs that navigating your way through them can feel almost overwhelming, so why not take advantage of the Geordie Bar Crawl and let local experts show you exactly where the best places to drink truly are. This Bar Crawl takes you around five different bars (with special drinks deals, games and who knows what else in store for you while you enjoy each establishment), before dropping you into a hugely popular nightclub at the end of the crawl.
In short, this is the evening activity that everyone wants to be a part of – there is no better way to experience the nightlife on your Newcastle Stag Do than to be a part of the Geordie Bar Crawl.
And there you have it – that's our top five activities for your Newcastle Stag Do. Hopefully that's helped you make some decisions, and we look forward to speaking to you very soon to book your weekend away – we promise it's a weekend that you'll never forget.
The Stag and Hen Experience has been creating the best stag weekends away since 2009, so, if you're looking to plan a stag weekend package anywhere in the UK or abroad, get in touch on 01202 566100 or via this email address admin@staghenexp.co.uk and one of our expert stag do organisers will help you put together a fantastic package for you and your group.