Best posh and Classy UK hen weekend destinations
For the finer things in life.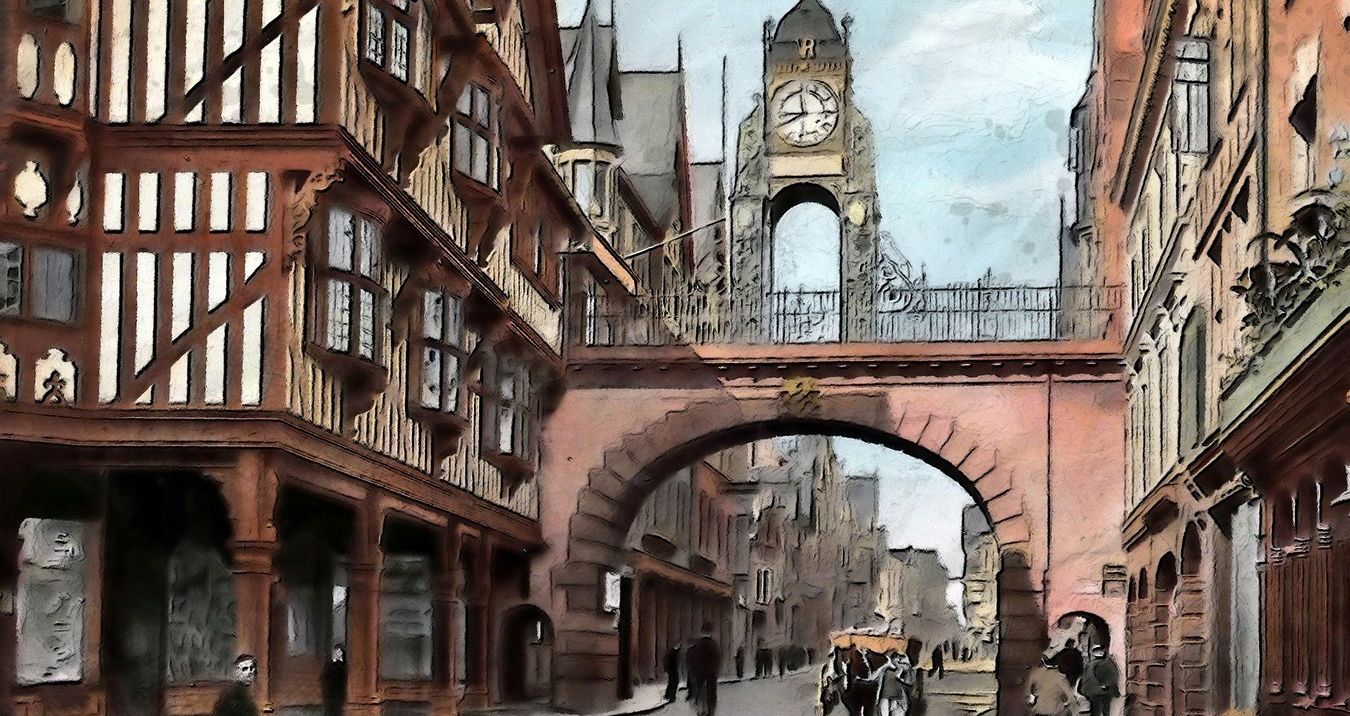 Pictured: Painting of Eastgate Street, Chester
Best Posh Hen Do Destinations in the UK
For some hen weekends, you may just want a reasonable hotel a simple activity and a cheap bar, but some you may want to step it up a notch. Maybe the hen comes from a posh background, maybe she wishes she was one of the TOWIE lot, or maybe she just wants to enjoy the finer things in life for the weekend, Made in Chelsea style! Getting away from all responsibilities, especially her husband to be and his general messiness! Whatever the reason, if you are looking for a posh and classy hen do destination, then you'd be best off picking one of our top posh hen weekend destinations as detailed below.
Chester
Chester is a beautiful city that just exudes class from the moment you arrive on your hen weekend. Even if you look at a picture of Chester it looks posh. So even from your first look, it is clear that if you want a classy hen weekend, Chester should be one of your first ports of call. But we all know that for true poshness you need to go under the surface – go behind the looks and see what it is that makes a Chester hen weekend posh. What can Chester offer you?
Apart from the high quality accommodation options (everything from posh five star hotels right through to luxury bespoke hen accommodation), the other thing that makes Chester posh is that it offers possibly the most singularly posh hen weekend activity you can think of, a day at the races. Where can you go on a hen weekend that is posher than that? You can get all dressed up (complete with posh fascinators of course, what would a day at the races be without those), and enjoy a day of watching horses run really fast while sipping champagne and having a bit of a flutter. As far as posh hen parties go, that's pretty much perfect!
York
If you are looking for a classy hen do in the north of the country, then York is definitely going to be right up there on the list of classy hen weekend destinations (along with Chester). This beautiful city is teeming with excitement and posh options for your hen do activities. Again, just like Chester there is a racecourse nearby, so a day at the races is high on your agenda of posh-ibilities (get it? Posh Possibilities), but there are many other options as well. Since there are some fantastic bespoke hen accommodation in York, one set of posh options would be to book a private chef and some private pampering, to all take place in your posh accommodation.
And of course, there is the poshest option for your York hen weekend, posher than going to the races, posher than a private chef – the chance to go horse riding yourself! Because nothing is posher than a lady on a horse, and this activity gives you the chance to embrace your inner rider and show off your equestrian skills to the rest of your fine group of friends.
London
There is an argument that you can put London in almost any list about destinations, because it's so big and so varied that it has almost everything. And this is partly true. However, if I could only categorise London as one type of destination, I think that posh would definitely be it. Because the levels of luxury you can enjoy on a London hen weekend are so superior to everywhere else that it would be foolish to ignore it.
Our poshest London Hen do packages tend to include a weekend at a five star hotel, based in the very centre of London. These hotels have all of the amenities you can possibly imagine on site – including swimming pools, saunas, full treatment spas, restaurants, bar and everything else. We've had some hen parties say that they barely left the hotel for the entire weekend, because they so enjoyed being treated like a princess while staying there! Obviously if you do feel like heading out into the real world at any point, then there's lots of posh activities await you. Whether you want to go to the theatre and relax at a west end show, or whether you'd prefer to be guided through the many different types of wine available in a posh wine tasting session at one of London's' excellent bars, London will happily provide to ensure that your posh and classy hen do is absolutely divine.
Bath
Like Chester at the start of this list, poshness is one of the first things that people think of when they imagine Bath. I would imagine that this impression of poshness stretches all the way back to Roman times, as the Roman Baths in Bath are one of the poshest things you can think of, because they are powered by naturally occurring hot springs and would therefore be one of the best places in the empire to relax. And while you are no longer allowed to relax in the baths themselves (something to do with them being a historical monument and lots of people visiting them etc), Bath does have the best and poshest place in the country to relax right nearby – the Thermae Bath Spa.
Like the original Roman Baths, these are fed by the same hot springs, meaning that you get to relax in pools, saunas and steam rooms that are powered naturally and will help you to feel like a proper lady of the realm. And this is just one aspect of the poshness of Bath. It has some beautiful hen weekend accommodation – some of which even have four poster beds and other such amenities to give your Bath hen weekend a little extra pizazz. Couple this with the beautiful architecture of the town and the huge number of bars that delight in serving you posh cocktails, and Bath is definitely one of the best posh hen do destinations in the UK.
So if you are looking for a posh hen do, all of these places can offer a slightly different variation on that same theme. If you don't know what you are looking for, or are having trouble deciding between them, why not get in touch with us? We'll happily give you all the answers and advice that we can to ensure that we can tailor make you an absolutely amazing posh hen do. Plus, for the true posh hen weekend experience, you don't want to have to deal with the nitty-gritty of organising things, that's what we are for!
The Stag and Hen Experience has been creating the best bespoke hen weekends away for over 12 years, so, if you're looking to plan a hen weekend package anywhere in the UK or abroad, get in touch on 01202 566100 or via this email address naomi@staghenexp.co.uk and one of our expert hen do organizers will help you put together a fantastic hen do for you and your group.