Free things to do on your Blackpool Hen weekend
More than just a party town.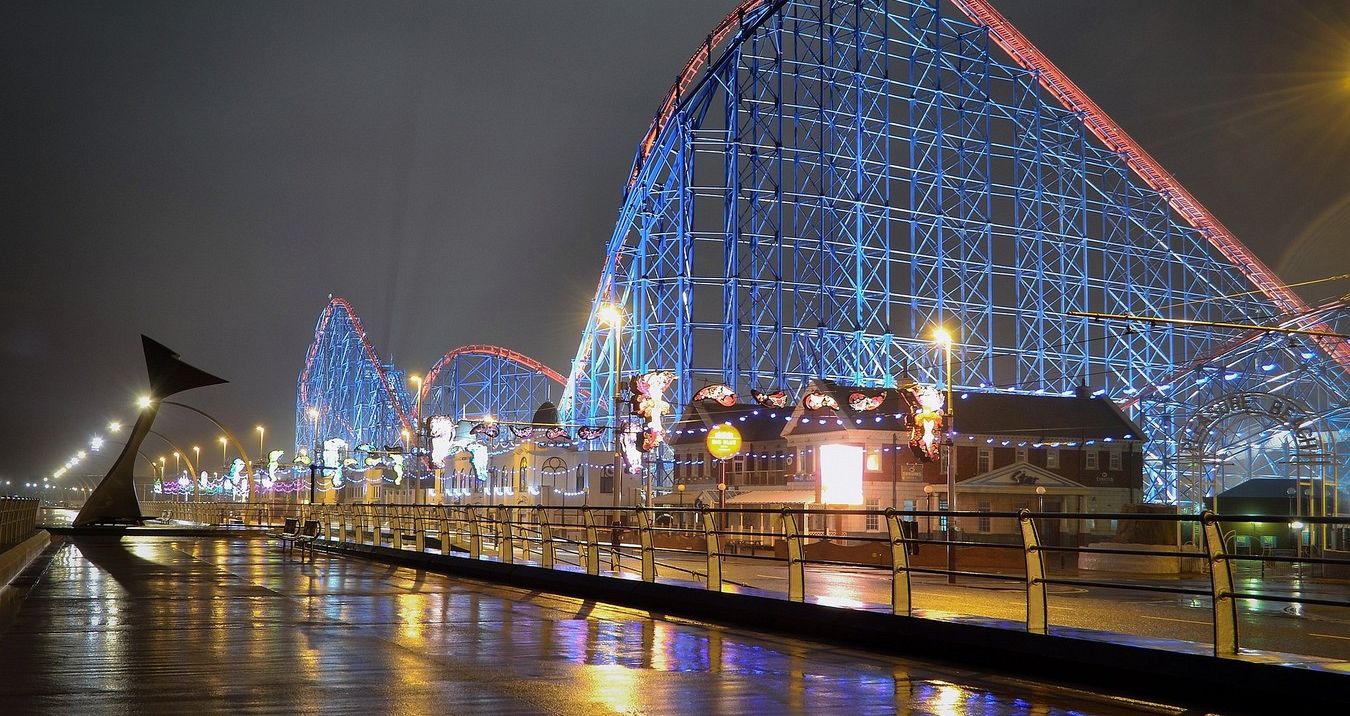 Pictured: The world famous promenade with The Big One, Europe's tallest rollercoaster
Free things to do on your Blackpool Hen weekend
Blackpool is ever popular as a destination for Stag and Hen weekends. As well as a great selection of hotels and private houses for accommodation, a lively nightlife and a wide variety of bars and restaurants, Blackpool is the quintessential British holiday resort and there are plenty of other attractions you can pay to visit, such as the famous Pleasure Beach or the iconic Blackpool Tower. Not everything in Blackpool costs money however and here is our selection of the best free things to do on your Blackpool Hen weekend.
A stroll along the Blackpool seafront has to come top of our list of free things to do in Blackpool for your Hen weekend. Blackpool has a long seafront, stretching 7 miles in total, although the best known part is the Golden Mile which is the stretch between the North Pier and the South Pier. The Golden Mile dates back to the late 19 th Century, but takes its name from a later period, mainly due to the abundance of slot machines in the area. The Blackpool seafront has recently benefited from a regeneration program which has provided six new headlands, sculpted public spaces and Spanish steps leading down to the beach to give it a much more continental style.
Blackpool Beach itself is a sandy beach and well worth a visit as one of our free things to do on your Blackpool hen do. If you are lucky enough to get sunny weather on your Hen weekend in Blackpool, then a visit to the beach is going to be a must. Even in less clement weather a walk along Blackpool Beach will blow out the cobwebs and on a clear day provides fantastic views across the Irish Sea.
Blackpool is the only seaside town in the UK to boast three piers. All three are free to visit and we recommend visiting at least one while you are in Blackpool on your Hen do. The oldest and longest of the three is the North Pier, which was built in the 1860's and catered for the better off market. The Central Pier was opened in 1868, following the success of the North Pier and from the start the emphasis was on fun rather than the genteel relaxation of the North Pier. The Central Pier is currently distinguished by a 33 metre high Ferris Wheel constructed in 1990. The South Pier opened in 1893 and is shorter and wider than the North and Central Piers and currently houses a number of amusement and adrenaline rides, which are not free. A promenade along the pier definitely belongs on our list of free things to do on your Blackpool Hen weekend!
The Blackpool Illuminations annual light festival is world famous and one of Blackpool's most popular tourist attractions, with 3.5 million visitors every year. The Blackpool Illuminations are on between late August and early November most years (they were extended to January in 2021/2) and were first switched on 18 th September 1879. Blackpool Illuminations are spread almost 6 miles along the seafront, from Bispham to Starr Gate. The Blackpool Illuminations cost nothing to enjoy and therefore have to make it on our list of free things to do on your Hen weekend in Blackpool.
The iconic Blackpool Tower will cost you money to visit, however you can admire the Comedy Carpet, which lies at its foot, for free. The Comedy Carpet is a work of public art by the artist Gordon Young and cost £2.6 million to create. The Comedy Carpet contains over 1000 jokes, catchphrases and songs from some of the UK's best loved comedians, so if you and your Hens are looking for a laugh we recommend the Comedy Carpet as another for the list of free thing to do on your Hen weekend in Blackpool.
Whilst strolling along the promenade, don't forget to check out the sculptures that make up the Great Promenade Show. This is another one of our recommendations for free things to do in Blackpool on your Hen weekend and consists of a series of 10 outdoor art installations along the South Shore. Here you can find, for example, the world's largest dance hall mirror ball, the 7.3m mirror ball is known by the name "They Shoot Horses Don't They" and its 47,000 mirrored faces are illuminated at night by a colour changing light show. The High Tide Organ is a musical manifestation of the sea powered directly by the swell of the high tide and The Swiveling Wind Shelters do exactly that to provide a constant shelter from the winds.
A picnic in the park is always a popular activity for Hen weekends and we recommend a picnic in Stanley Park as something you can do for free on your Hen weekend in Blackpool. Stanley Park is Blackpool's main public park and covers some 309 acres. Stanley Park is a Grade II listed park which was opened in 1926 and features a boating lake and a bandstand for live music, as well as formal gardens and woodland and provides an elegant oasis of calm away from the hustle and bustle of the seafront.
For lovers of Victorian and contemporary art, a visit to Grundy Art Gallery should also get a mention as another free thing you can do in Blackpool on your Hen weekend.
This is by no means an exhaustive list of free things you can do in Blackpool on your Hen weekend this is just a selection of our favourites. We should also mention that if you book your Hen weekend in Blackpool through the Stag and Hen Experience we can offer you free guest list admission to the cream of the local nightclubs, a freebie which will make your Hen weekend in Blackpool one to remember!
The Stag and Hen Experience has been creating the best stag weekends away for over 12 years, so, if you're looking to plan a stag weekend package anywhere in the UK or abroad, get in touch on 01202 566100 or via this email address admin@staghenexp.co.uk and one of our expert stag do organisers will help you put together a fantastic stag do for you and your group.