My Leicester stag weekend
A banging stag weekend.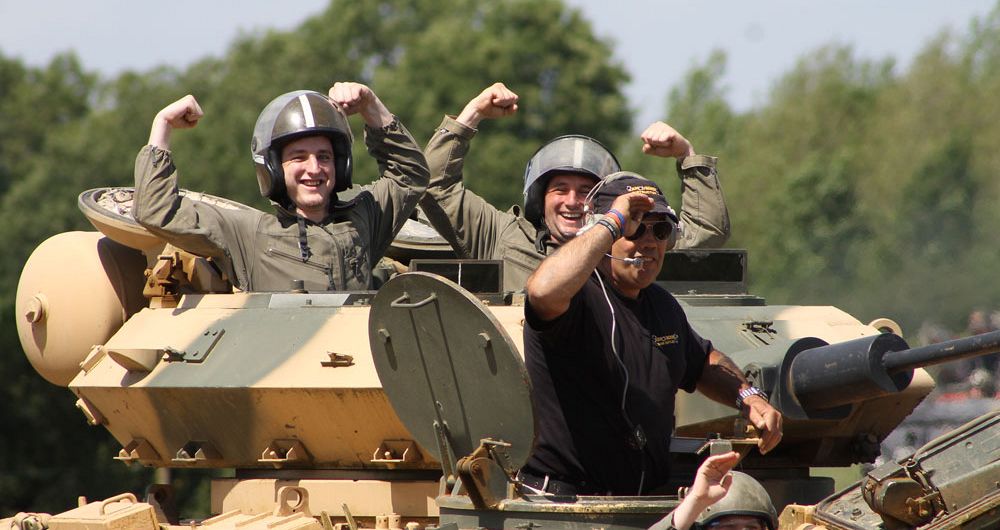 My Leicester Stag weekend
My Leicester Stag weekend was awesome! My best mate Dave was in charge of organising it and he used a company called The Stag and Hen Experience to book it all up. The itinerary, as Dave told me, was two nights in a city centre hotel in Leicester, a pub crawl on the Friday night with some local girls to guide us and then on to a Nightclub. Saturday he'd organised Tank paintballing, which I didn't even know was a thing but which I was really up for! Saturday night was due to be a proper Stag night, with admission lined up for a local strip club and the casino, with nightclub entry at the end. My Stag weekend in Leicester was going to be a big one!
We checked into our hotel which was a Travelodge and right in the city centre. We were three to a room and there were twelve of us and the rooms were pretty much what you would expect from a Travelodge. Clean and tidy, but basic.
We had a few hours to kill before we went out for the evening, so we had a bit of a mooch around the city centre. Most of it was pedestrianised and it seemed pretty busy with plenty of shops and bars and a pretty impressive Clock Tower in the middle.
We met up with the girls for the pub crawl at our hotel reception at 7.30pm. There were three of them and they were all pretty fit and dressed up as Beer Maids which was really cool. We hit three bars along the way, we started out in the Brewdog, then headed over to Walkabouts and finished off in Revolutions. The girls looked after the money and sorted the drinks out and they had a few drinking games for us to play as well. They did a really good job of herding us together because by the last bar we'd all had quite a few drinks and shots and it must have been like herding cats for them! We ended the Friday night of my Leicester stag weekend with a visit to Waikiki nightclub where we had guest list admission sorted out as part of my Stag weekend package. This club was as cheesy as the name suggested and it was just the ticket to end off an awesome night!
Saturday morning we were collected by a Minibus from the hotel and they took us to the site where the Tank paintball was taking place, which was about half an hours' drive outside the city centre. For me, this was the absolute highlight of my Leicester stag do. The tanks were actual tanks and they were massive! We started off with a safety briefing and then we had a chance to drive the tanks round a massive track so everyone could get a feel for driving them. We had a crew of three for each tank, one to drive, one to load and one to fire the 40mm paintball cannon and then it was one on one tank battles. We beat all comers with my tank, of course, with a superb display of teamwork! All in all we had about two hours on the Tanks and we all had massive smiles plastered all over our faces. If you are going to have a Stag weekend in Leicester then you have to give Tank Paintball a go! There was also a tank museum on site which we got free entry for and that was good for another hour or so, they had a Sherman Tank and a Centurion tank as well amongst the exhibit and you really don't appreciate the size of them until you are standing next to one!
After then Tank Paintball we headed back to the hotel and round the corner to the Cosy Club for a late lunch and then back to the hotel to get ready for the evening ahead, the Saturday night of my Leicester Stag weekend was going to be a large one.
We started off hitting Revolutions bar to warm up because we'd had such a good time there the night before. We had a few bars and got a meal, which was pretty good for pub grub! We headed for the Strip club, Platinum Lace, for about 9pm and I've got to say it was a good choice, the girls were really tidy, the music really banging, and the staff were really professional and friendly. Everyone got at least one dance and I got pulled up onto the stage as the Stag for a bit of mild, ritual humiliation! Typical Stag weekend behaviour!
After Platinum Lace we headed to the Grosvenor Casino to try our luck, this was set over two floors and there were loads of tables doing roulette, blackjack and poker, all the usual. I set myself a budget of £50 and when that was done it was time to round up all the lads and head off to Venom nightclub, which we had heard was really good. Guest list admission got us past the queues and then it was into this really dimly lit nightclub with this amazing laser show! The music was banging and the dancefloor was heaving and it really went off in there!
Leicester was a great place to have my Stag do. It was really friendly and a lot less expensive than a lot of other places. The guys at the Stag and Hen Experience really sorted us out, getting us such a central hotel and organising all the bars and clubs so that they were all really close to each other. The Tank paintballing was definitely an absolute winner and we're all going to be talking about my Leicester Stag weekend for years to come!
The Stag and Hen Experience has been creating the best bespoke stag weekends away for over 12 years, so, if you're looking to plan a stag weekend package anywhere in the UK or abroad, get in touch on 01202 566100 or via this email address admin@staghenexp.co.uk and one of our expert stag do organisers will help you put together a fantastic stag weekend package for you and your group.