My Prague Stag Weekend
Part 2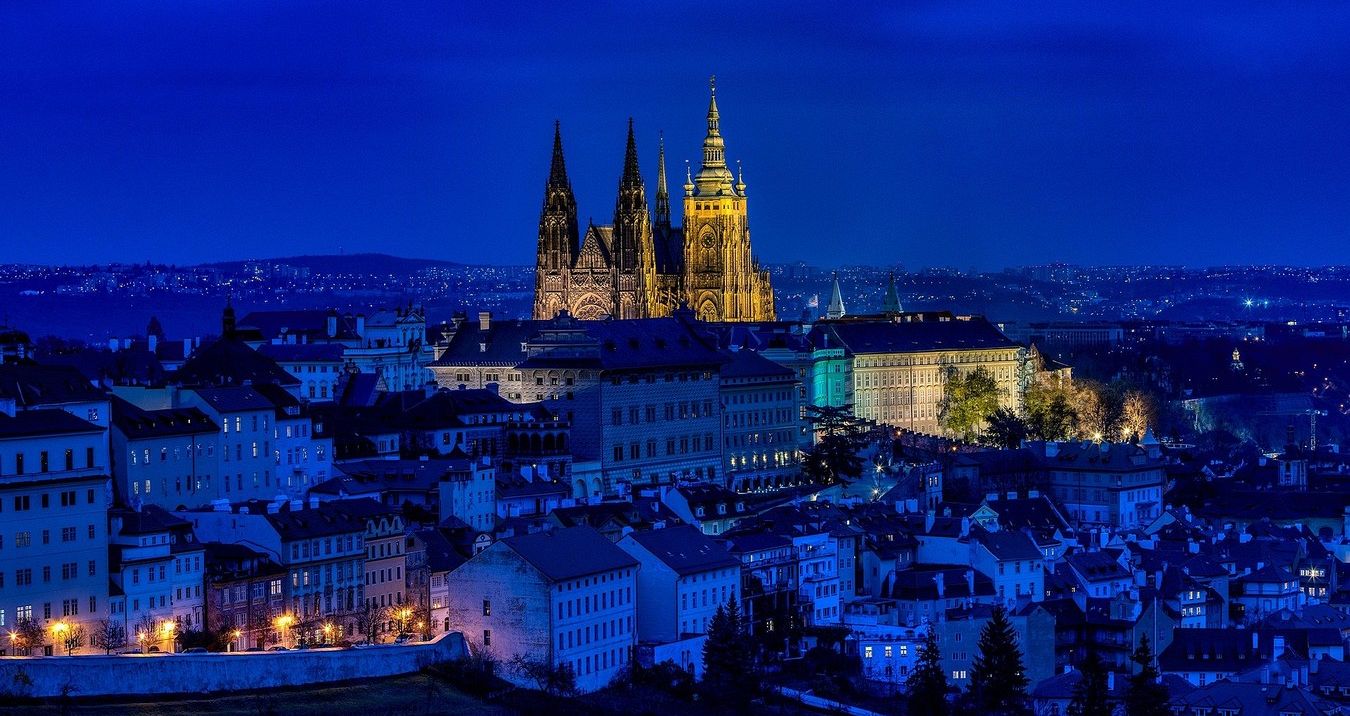 Pictured Wenceslas Square from our hotel
My Prague Stag Weekend (Part Two)
Prague Stag weekend Day 2 cont. SATURDAY
So when I left you, we were on our way to pick up some guns and see who was the best at shooting. Travelling abroad for your stag weekend brings wit it a whole load of unique stag do activities that you simply can't do in the UK. Who was the best shot, wasn't me, though I did have a great time trying out a wide selection of pistols as well as the legendary AK-47 – all in all it was a great stag weekend activity and I'd highly recommend it. What made it more interesting was there was a hen do there at the same time, so there was a friendly competition boys v girls, damn!, they were annoyingly good! Afterwards, when the guns were made safe we were allowed to pose with them for some piccies. We felt amazing when we had finished – the adrenaline rush was immense and we made some new friends too!
Once we'd finished, we were back into the cars and back to the hotel to get scrubbed up and dressed up before we headed out for our big stag do Saturday night out. We intended to go big on this one, so lining your stomach is good stag weekend strategy, grabbing some early street vendor food around six-ish before heading out to pubs, bars and clubs galore for stag do round 2. That intent was well-justified. After spending the evening in the Wenceslas square area on Friday night, we decided to head out to the famous Old town area and really let our hair down and explore the Prague stag weekend nightlife further out.
And if I'm honest, the number of options of places to get a drink was overwhelming! We went to bar after bar, trying all kinds of different drinks including something called Slivovitz which was a plum brandy, which pretty much knocked me on my arse! It was both amazing and horrendous at the same time! We spent loads of time reveling in all of the different atmospheres of these great places that Prague old town had to offer– including spending a little time at a place called 'The Pub', which is a bar that allows you to pour your own beer from taps in the centre of the tables, which is a brilliant idea, it even has a league table showing whose had the most pints!!
But after this stag weekend tour of great Czech bars, we moved onto the main event of the evening – Karlovy Lazne – the biggest club in central Europe, and one that definitely deserves its reputation! I lost track of how many floors there were in this amazing club (I'm told it's five), but with each floor having its own music style, and the main dancefloor being in an old swimming pool, this nightclub is absolutely crazy and worth spending a lot of time in if you enjoy spending the night dancing away it also has an ice bar which I didn't go in as I was having too much fun dancing! Worth mentioning its 30 minutes slots you have to book separately and warm clothing is provided.
It was five in the morning when we left, and for the second night in a row we absolutely failed to hit any strip clubs, so the only tits I've seen are my mates dancing, so I'm determined this is going to change tomorrow! As the dancing had taken its toll and we were all just too tired to think straight! So we staggered back to the hotel and fell into bed. Happy, drunk and exhausted.
Prague Stag Do Day 3 - SUNDAY
Sunday was lie-in day. This is why it was such a good idea to get the extra night, ample time to recover and not having to rush round pack up, round everyone up and get to the airport to check in with a hangover is a dream! Almost all of us missed the hotel breakfast except for the two dads, who went down because, and I quote, "We've paid for it, we're going to eat it!" The rest of us stayed in our rooms, sleeping off our stag night out, for most of the morning, eventually meeting up in dribs and drabs by about midday. We had nothing specifically planned for the Sunday, instead deciding that our best bet would be to see what we were in the mood to do. So with that in mind, at around 1pm we decided to head out and see the sights of Prague. (Well most of us did, a couple crept back off to bed!)
With that in mind, our first stop was something we'd caught a glimpse of during our nights out – the old town square. While the old town had been our haunt during the night before, in the daytime it has a completely different vibe, with street performers and other entertainments dotted around, and the impressive and famous astronomical clock in the centre, all worth a look. We wandered around a bit more, exploring the local streets, until we came across someone offering Segway tours... one look at those hilarious wheeled machines and we decided that it would be rude to turn down the offer! So off we went on an impromptu stag weekend tour of Prague, being guided by a knowledgeable local and all the while trying desperately to stay on the segways and not to fall off and make an idiot of ourselves!
A couple of hours later, we treated ourselves to a chimney cake from a local street vendor - if you don't know what a chimney cake is, the short version is that it's essentially a giant dough cone rolled in sugar, cinnamon and nuts, and it tastes amazing. You can have one on its own, or you can have it filled with a variety of options, and you absolutely must try one if you're on a Prague stag weekend!
Back at the hotel, we made a plan for our night out. Because we'd missed strip clubs both Friday and Saturday nights, we decided to stick in the Wenceslas Square area and not worry about hitting a nightclub because the nightlife is pretty quiet on Sundays, even in the centre. Instead going to the local bars where the locals go and one of the biggest strip clubs I've ever seen called Goldfinger– and that's exactly what we did! I'm not going to into too much details of Goldfinger, except to say OMG, the woman were incredible and it was classy not seedy like I'd imagined. I will be going back! but suffice it to say we all had a great time, and it was another late night for all concerned. Whooo hoooo I've ticked the tits off my Prague stag weekend to do list finally!
Stag Weekend in Prague Last day - MONDAY
We didn't do much Monday. Woke up, had breakfast and got ourselves ready to check out of the hotel. Once we were checked out we had a couple of hours to kill before the taxi took us to the airport, so we had a couple of farewell beers in a nearby bar (except for the guys who were driving later). And then it was time to pile into the taxis and head to the airport.
And then, at the airport, we had to wait. As usual at an airport this was done in yet another bar, so by the time we ended up on the plane, most of us were enjoying the comforting feel of having had a few beers to keep us going!
In short, my Prague stag weekend in was a once in a lifetime event – and I highly recommend it as a destination for anyone who wants a stag do that will live in infamy. We all still regularly chat about how great it was, and it's definitely somewhere I'd go again in a heartbeat!
If you are looking to plan a stag weekend package in Prague or anywhere in the UK or abroad, get in touch on 01202 566100 or via this email address naomi@staghenexp.co.uk and one of our expert stag weekend organizers can help put together a fantastic stag weekend package for your and your group.