​Best Stag Do Destinations in the North West
in the North West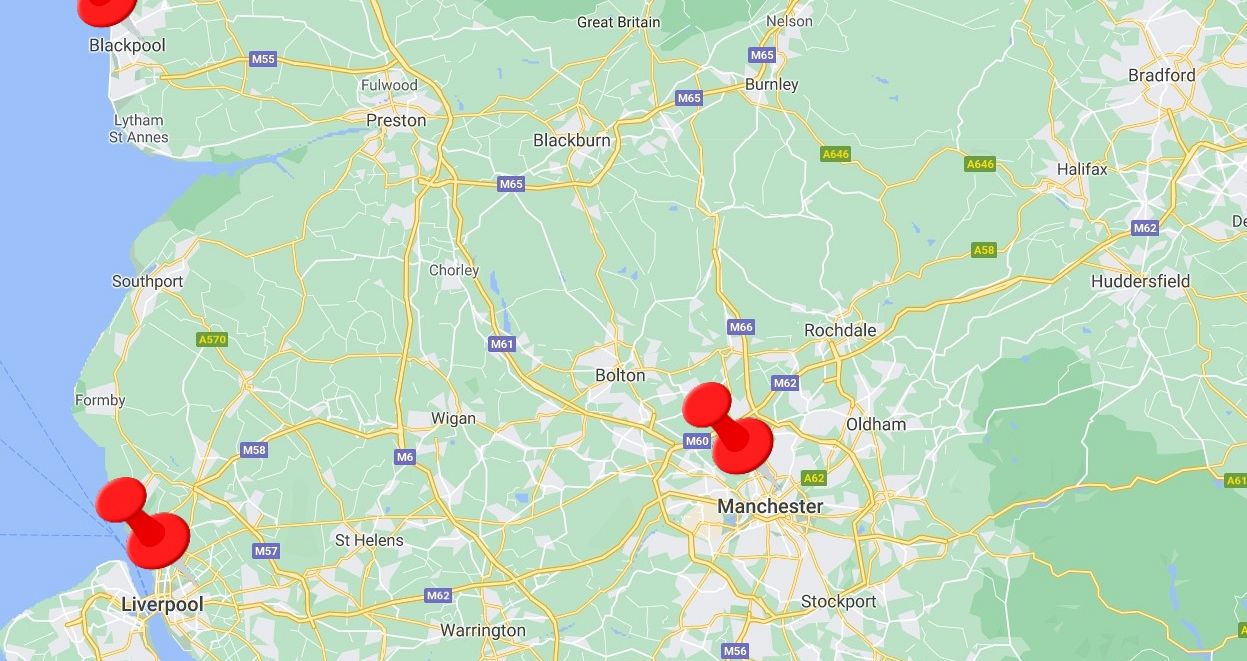 Best Stag Do Destinations in the North West
Sometimes, your stag do destination will depend on local geography and where the stag groups are based. You may not know exactly where you want to go, but you'll know what rough area you want to be in. Well, we are aware that it can be tough to compare stag weekend destinations that are near to each other, so we thought we'd do it for you with this helpful list of the best Stag Do Destinations in the North West of England. There are three destinations in the North West that are absolutely perfect, for different reasons – so here you are, here are the three best destinations for a North West stag do, and what each one can offer you and the boys for a perfect weekend away.
Blackpool – The One with the Record-Breaking Rollercoaster
Blackpool is a traditional stag do destination. There is something about seaside towns that has always attracted stag weekends – Bournemouth, Brighton, Blackpool, they are all traditionally a brilliant place for your stag do. So if you are planning a North West Stag Do, then Blackpool will already be high up on your list of possibilities, I'm sure. But why is Blackpool considered such a jewel in the crown of stag do locations?
Well the answers are many and varied, and the bad news is that I don't have the time or space here to list every reason that Blackpool is one of the best north west stag do destinations, so I'll just list a couple of the things that really appeal to me. The first (as you can tell from the subtitle) is that Blackpool is the only place where you'll go on a stag do and find basically an entire theme park within the town itself! Blackpool is famous for the pleasure beach, which provides a huge amount of entertainment (and is always a great activity to add to a stag do). It includes the UK's tallest rollercoaster – the Big One – which is an absolute thrill to ride on! In fact, activities are one of the best things about having a Blackpool stag do – as well as the pleasure beach there is a go-karting track that is, once again, located in the centre of town, rather than having to drive out into the middle of nowhere as you do at many other locations.
These are just two of the brilliant stag weekend activities that are popular in Blackpool – I haven't even got round to mentioning any of the myriad of other activities, or the brilliant nightlife, or that the whole place is incredible value for money (it's an especially good location if you are watching your budgets!) In short, Blackpool is one of the best North West Stag Do Destinations, so you should definitely be considering it.
Liverpool – The One with the Beatles
Liverpool is known for its culture as the city has been famous for many cultural events over the last few decades. Obviously the birthplace of the Beatles, as well as being the European Capital of Culture as recently as 2008, Liverpool is a perfect combination of interesting and fun, making it one of the best places to have a stag do in the North West of England.
As a big city, it has all the advantages that you would expect from a big city. The first advantage is the huge range of accommodation styles that suit any budget, from "cheap as possible as long as there is a bed in the room" right through to "I want to live a life of luxury in the poshest hotel you can imagine". Which is a great start when planning a Liverpool stag do, but obviously there is more to a stag do than your accommodation choices. Liverpool is also filled with great activities both in the centre and in the surrounding area – particularly if you like adrenaline-fuelled activities, with options such as River Bugs, White Water Rafting and Quad Biking being some of our most popular activities in the area. Combine all of this with a big city nightlife, and Liverpool is one of the most popular north west stag do destinations on offer.
Manchester – The One with the Famous Nightlife
Manchester is known for many things. It was famous for being an integral part of the industrial revolution, being the location for creating railways, founding the textile industry and even inventing the submarine! In modern times, and among most stag do participants however, the city is famous for two key things. The first is having two long-standing Premier League football teams located in the same city (sparking a fierce rivalry that is still ongoing to this day) and the second is in having a clubbing scene that is famous throughout the world.
It doesn't matter what sort of music you like, whether you are gay or hetero, whether you are a dancefloor maniac or just someone who likes to hover about near the bar nodding your head, Manchester's huge array of large, popular nightclubs will serve you something different on every stag night out you have. And the atmosphere is unlike anywhere else you've ever been on a night out. So whatever kind of night out you want, it's safe to say that a Manchester stag do is going to be able to deliver it in a hugely memorable fashion – and let's be honest, that's exactly what you want for a perfect stag weekend away!
That's our recommendations for the top three stag weekend destinations in the North West – what do you think? Have we missed somewhere that you think rivals Blackpool, Liverpool or Manchester as somewhere that is an absolute must in the North West? If so, why not let us know and we'll update this with your thoughts and suggestions.
If you are planning a stag do in the North West on the other hand, and you want us to help you to arrange the perfect weekend at the best possible price, then please get in touch and we'll tailor make you a quote for the best stag do you'll ever have in the North West.
The Stag and Hen Experience has been creating the best stag weekends away for over 12 years, so, if you're looking to plan a stag weekend package anywhere in the UK or abroad, get in touch on 01202 566100 or via this email address naomi@staghenexp.co.uk and one of our expert stag do organizers will help you put together a fantastic stag do for you and your group.