Best Stag Weekend Destinations in the West Midlands
In the West Midlands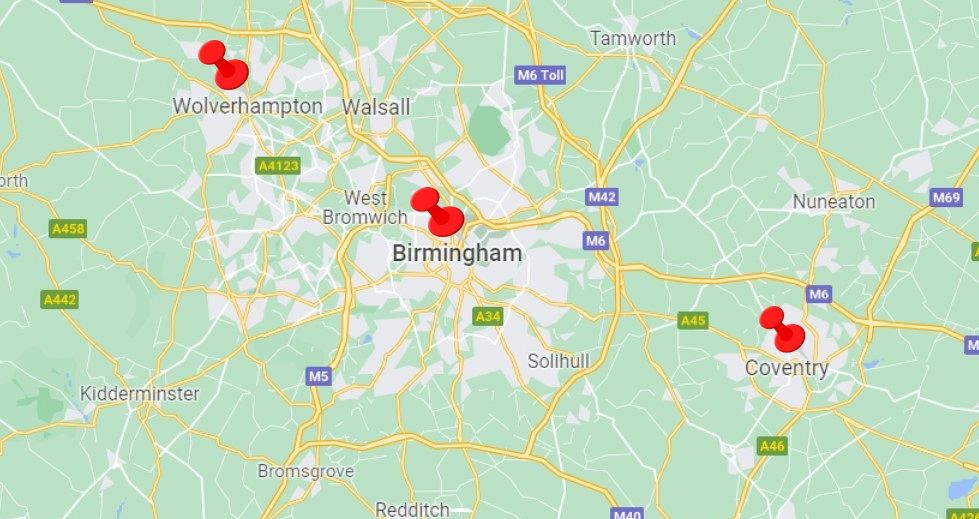 Best West Midlands Stag Weekend Destinations
Our "Best Stag Weekend Destinations in the UK" tour has reached the West Midlands, an area that has some absolutely amazing destinations for your stag weekend. But which are the best? As always with our helpful guides, we've picked a small number of destinations that are our most popular options, and we'll give you some advice around each one to help you choose which is the best option for your West Midlands stag weekend.
Birmingham
The largest city on the list today, Birmingham is somewhere that has always been popular as a destination for all kinds of UK based breaks, and that level of popularity has made it an absolutely essential stag weekend destination. If you are looking for a big city stag weekend in the West Midlands, then a Birmingham stag weekend should be number one on your list of considerations.
This city has everything you could ever want for your stag weekend. The accommodations are plentiful, well located and great value – in fact, everything on a Birmingham stag weekend is great value. If you took a list of all of the big cities in the country and plotted the costs of a stag weekend at each one, you would almost always find Birmingham at the bottom of the chart cost wise, and therefore the top of the chart value wise! Another great aspect of a Birmingham stag weekend is location – it is located smack banng in the centre of the country and is a well recognized transport hub, with it being easy to get to no matter what type of transport you are using – public or private, you'll find it easy to get to your Birmingham stag weekend no matter where you are travelling from.
Another real advantage of Birmingham is the range of activities available. There are all of the stag weekend activities you'd expect to see –Electric Shock Football, Quad Biking, Zorb Football, Inflatable Games et al – but then there are a couple that you'll find are limited to a very few stag weekend destinations, and Birmingham is among them! The most popular unique stag weekend activity that we offer in Birmingham is the Zombie Apocalypse activity. Because what party of lads wouldn't love spending an afternoon running from and fighting off the hordes of the undead?
We've talked about all kinds of reasons that Birmingham is perfect for your stag weekend, but there's one last one that we need to address. The cost of drinks. We all know that if you are on a big city stag weekend, you normally find yourself paying close to a tenner a pint – whereas in Birmingham a tenner will get you two pints and a bag of chips as you stagger back to the hotel – just one more great aspect of this amazing stag weekend destination.
Coventry
A Coventry stag weekend has a lot of the same advantages that Birmingham offers – an easy to reach location, some great value for money and a great selection of things to do. Since that's the case, I know that most of you are thinking "Why would I pick Coventry if Birmingham does the same thing but bigger?" Well for some stag weekends, you often find that bigger isn't always better. A lot of groups want the convenience of a larger city but without the crowds and long distance between venues that a larger city provides. So with that in mind, a Coventry stag weekend is a perfect compromise.
With over fifty activities easily available, your options for a stag weekend won't be restricted – whether you want adrenaline-fuelled activities like 4x4 Off Road Driving, Indoor Snowboarding or a High Ropes Course, or whether you'd prefer something more relaxing like a poker tournament, archery or even hot air ballooning, Coventry is able and eager to provide brilliant experiences throughout your stag weekend.
And when it comes to your nights out, Coventry is able to provide a great selection of pubs and bars for you to spend your evening touring around. There's a lot of them very near each other as well, meaning that you can explore your way through all of the nightlife without having to travel large distances between each one. Essentially, if you want a slightly smaller city for your stag weekend in the West Midlands, then a Coventry stag weekend is your perfect bet.
Wolverhampton
A Wolverhampton stag weekend has a different feel than either Birmingham or Coventry. With some classic architecture and a friendly atmosphere, this city feels more like a town in the way that it is able to provide you with something new on every street but still keep everything so close together that you don't have to spend twenty minutes on a bus to get from one place to another. This city has been around since the 600s, so it's had more than a century and a half to perfect its appeal to tourists, and that appeal is well and truly cemented by now.
A Wolverhampton stag weekend can be whatever you want it to be. If you want to embrace the footballing history of the city (the Wolverhampton Wanderers have, after all, been around since the 1870s), then a weekend with a game of Five a Side football might appeal. Or if you want something football based but a little bit different, then FootDarts, Zorb Football or Electric Shock Football are great alternative stag weekend activities.
As well as the football, Wolverhampton is famous for its motor industry, so if that's the side of the city you are interested in, then feel free to pick one of the many driving activities available. Whether you want to tackle some 4x4 Off Road Driving, zip around a dirt track in Rage Buggies or just put your foot down and see who is the fastest at Go Karting, a Wolverhampton stag weekend will easily provide entertainment that you'll remember for the rest of your life.
And there you have it – our top three west Midlands destinations for a perfect stag weekend. If any of those sound like somewhere you'd love to visit, then why not get in touch – it'll only take a few minutes and we can tailor make you a perfect stag weekend.
The Stag and Hen Experience has been creating the best stag weekends away for over 12 years, so, if you're looking to plan a stag weekend package anywhere in the UK or abroad, get in touch on 01202 566100 or via this email address admin@staghenexp.co.uk and one of our expert stag do organisers will help you put together a fantastic stag do for you and your group.