5 great value activities for stag dos
It doesn't have to be expensive to be awesome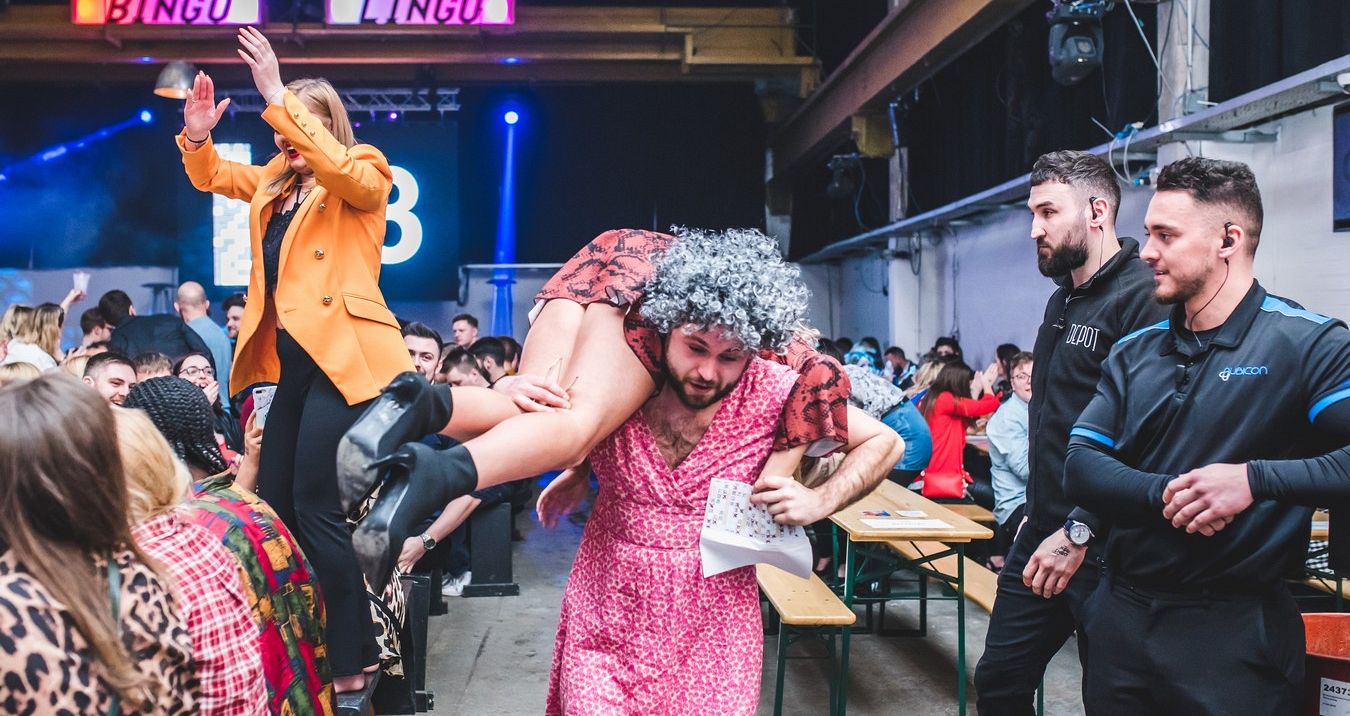 Pictured: Bingo Lingo is party carnage and it always attracts the ladies if you want to try your luck!
5 great value stag do activities
When you have finally decided on when your Stag do is going to be and where you are going to go, the next step in booking your stag weekend is deciding what you are going to do when you get there. There are a massive selection of activities you choose from for your Stag weekend and so to help you out with that, here are our choices for 5 great value stag do activities for you and the boys!
Electric Shock Football
Electric Shock Football provides a shockingly fun, great value stag do activity! This hilarious variation of five a side football is generally played on outdoor pitches and is available nationwide. In a nutshell, it's a classic five a side football game where each team member wears an electric shock ankle tag and one player from each team is put in charge of the other team's electric shock tags. Maybe someone is lining themselves up for a shot at goal, see if they can make it while they're getting an electric shock, or if you think someone's diving, give them a shock to make sure! Everyone gets a turn at the buzzer and there are also a variety of mini games to play. Electric shock football is fantastic fun that will have you in stitches of laughter and that's why it is one of our 5 great value stag do activities.
Paintball
Paintball is another great value activity that is always popular with stag dos. Paintball is good exercise and gets everyone in the fresh air away from their phones, and is also a great excuse to shoot your mates with a 0.68 calibre ball filled with gelatin paint! The paintballs sting enough to make you want to not get shot, but one you've been hit a few times and the adrenaline has kicked in you'll barely notice when you've been hit. So, if you fancy spending the afternoon running through the woods, hiding in bunkers and picking off the opposition with your gas powered paintball gun, paintball is the activity for you! Aside from being a whole lot of fun, paintball is a great social experience and if your stags don't know one another very well it is a great bonding experience for everyone, so we have no hesitation in recommending paintball as one our 5 great value stag do activities.
Escape Rooms
When we think about great value stag do activities, we think of Escape Rooms. Escape Rooms are a relatively recent craze which have taken the world by storm and have been particularly popular with stag parties. The basic format is that you are locked in a room which symbolises a closed place, whether it is a dungeon, a castle, a science lab in a zombie apocalypse, or even a distant alien planet! The purpose of the Escape Room is for you and your team to solve a series of clues and puzzles in the room in order to escape the room within a limited time period. Once you are locked into the room, everyone has to work together in exploring the room, finding the clues and solving the puzzles to progress step by step to opening the room and escaping. Escape rooms are great value stag do activities as solving an Escape room calls for cooperation and information sharing toward a common goal, while having a whole lot of fun at the same time!
Bingo Lingo
Bingo Lingo is a new craze which is massively popular and has to be mentioned in our list of great Stag do activities. So what is Bingo Lingo? Bingo Lingo is like the old school Bingo your Gran used to play, but with the rules thrown out and a whole lot of drunken tomfoolery thrown in! This fantastically simple, but utterly ingenious winning formula of getting pissed while playing Bingo is massively popular among Hen Parties, which is a great reason for making sure your Stags are there too! Bingo Lingo combines audience participation with strong character led Bingo hosts to provide an unrivalled experience and in addition to 2 pint steins of beer, there are also a selection of prizes which can be won, from random items like a Darth Vader costume to a Nerf Gun set, to £400 cash prizes and even a car! If two people call Bingo at once then prepare for a face off to win the prize, this can take the form of a twerking competition or a dance off, or even a sing off, so be prepared to throw dignity to the wind and give it your best effort in the chase for prizes! Be careful with your calls, because false calls mean forfeits, which can range from downing your drink to having everyone else in the room pointing at you and howling abuse! So between a fun format, an entertaining host giving it their all, steins of beers, lots of lovely ladies, insane prizes and madcap games, we believe that Bingo Lingo has earned its place in our choice of 5 great value activities for stag dos!
Bar Crawl Babes
Last, but never, never least in our selection of 5 great value stag do activities are the Bar Crawl Babes! The format for this is very simple, you and your stags would like to go on a bar crawl in whichever town or city you choose for your stag weekend, but you don't really know what bars are good to go to. With Bar Crawl Babes we provide you with lovely hostesses with local knowledge who can take you to a selection of the liveliest nightspots that area has to offer, hold the money and organise all the drinks from the bar, keep you all amused by getting you and all your stags playing fun drinking games, before finally depositing you at your chosen nightclub at the end of the night. If you want your traditional Stag do pub crawl to be a total success then the Bar Crawl Babes will make sure that happens, all while dressed as traditional Bavarian Bar Maids, which is why we have to mention them as one of our 5 great value stag do activities!
The Stag and Hen Experience has been creating the best stag weekends away since 2009, so, if you're looking to plan a stag weekend package anywhere in the UK or abroad, get in touch on 01202 566100 or via this email address admin@staghenexp.co.uk and one of our expert stag do organisers will help you put together a fantastic stag do for you and your group.